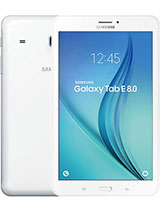 U
The phone look good its Samsung they will do anything to be on the top hooray for samsung.
?
shubhamJain, 26 Jan 2016one more stupid products by samsung very low ppi 189 no proximity sensor, compass 5mp camer... moreInstead of upgrading american version of Tab s2 (8.0 variant ) with LTE -
in order to truly compete with iPad mini, Samsung canme up with a low end junk tablet again.
Total of 51 user reviews and opinions for Samsung Galaxy Tab E 8.0.