Samsung has been investing heftily in its local India research and development divisions lately and consequently, more and more interesting offers and innovations, tailor-made for the fast-growing market have started to appear. The latest such device is the newly announced Samsung Galaxy Tab Iris, which as its name suggests, is equipped with specialized iris-recognition technology.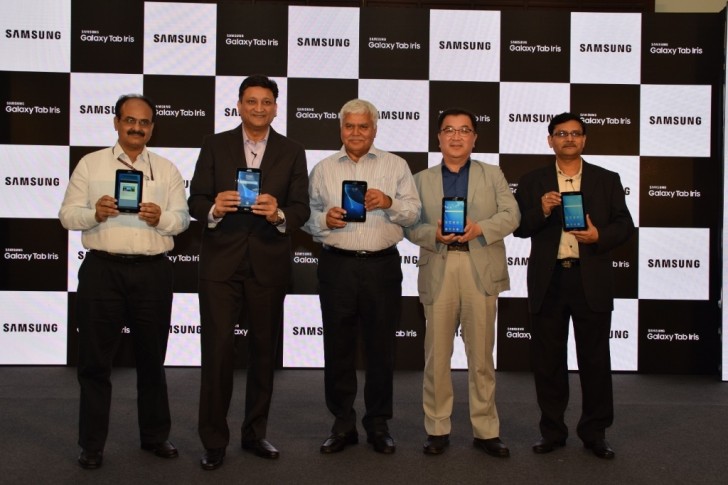 The model is meant to be used with certain biometric-based services within the government, like Aadhaar - a centralized biometric and demographic database, operated by the Unique Identification Authority of India (UIDAI) agency. The tablet is fully compatible with said system and is also STQC-certified and thus proudly wears the "Made for India" moniker as a tool aimed to simplify adoption and usage of the Aadhaar system among others.
As for the device itself, it is far from a tech powerhouse by today's standards. It is based on the 2014 Samsung Galaxy Tab 3 Lite, which it might actually based on, with its 7.0-inch, 600 x 1024 pixels display. It also packs a quad-core processor, clocked at 1.2 Ghz, 1.5GB of LPDDR3 RAM and 8GB of expandable storage.
The 193.4 x 116.4 x 9.7mm, 327 gram tablet has a 5MP camera on the back, alongside the iris-recognition hardware itself. There is also Wi-Fi b/g/n on board, Bluetooth 4.1 USB host functionality, which might come in handy and a 3600 mAh battery pack powers the show. The only notable absence seems to be 4G, which is odd, considering the Korean giant's push towards the technology in its India-tailored offers of late.
The price point for the Galaxy Tab Iris is set at INR 13,499, or around $200, but most units are likely to arrive in bulk orders for professional use, rather than see much exposure on the end user market.
C
That is not what a placebo effect is
D
Hi I was lucky to have the trial product for quite some time and was excellent. The linkage with aadhar is going to create revolution in indian service industry especially banking, telecom, law and order etc.. Regards Deepesh george
ADVERTISEMENTS