The Carphone Warehouse has started selling the Android Froyo powered Samsung Galaxy Tab in the UK. This is right on schedule - it's been on pre-order for the last two weeks with the launch set for 1 November.
The terms haven't changed - you can get the Samsung P1000 Galaxy Tab contract-free for 529 pounds (608 euro) or on a rolling 1-month contract on the Talk Mobile network for 499.99 pounds and 10 pounds a month for 1GB of data (it's data only).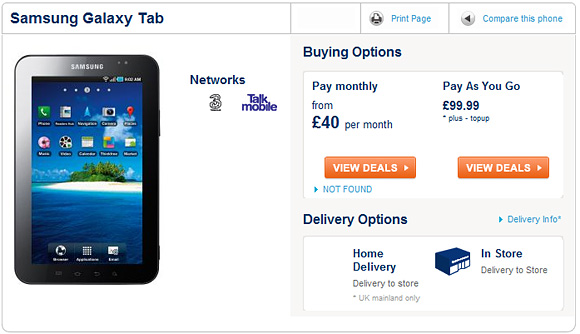 The other option is the 3 network - they offer a long term contracts with the Galaxy Tab ranging from 99.99 pounds to 349.99 pounds - with 17.50 to 40 pound monthly tariffs. Some of those contracts include texts and are for 1GB or 5GB (again, no voice call minutes included).
T-Mobile UK will be launching the Samsung Galaxy Tab this month too - it still shows up as "coming soon" though (no exact date is listed either).
m
i would love to have this gadget as a gift for myself this xmas.but it hesistates me buying coz its weaknesses compare to ipad.it has 2MP which is so disgusting.i want to spend my money wisely.would it be worth waiting for an ipad(i should be more pe...
?
without fully understanding how we can right our discounts then you are in no place to comment on this i have worked for p4u for a long time now and in many stores to we never force people to take the insurance if they really dont want to however i w...
p
Phone4U stores are also sellingthe Galaxy Tab as well as the Comtiva tablet also running froyo 2 very nice tablets on stronger networks and cheaper than carphone warehouse and even currys and pc world!!! shop around b 4 u buy
ADVERTISEMENTS