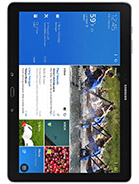 D
A good solid tablet that works well enough I use as my primary Internet device. Camera quality is decent, not as good as my S6 Edge+ but passable. My only concern is whether or not it will get Marshmallow. Sammy pulls that off and I won't replace for quite some time.
r
Awesome tab i love my tab , since the time i am using tab pro i dnt care about my lappy and phone only thing that i dont like is there is no sim feature.......other than that good screen , can watch movies on big screen ,video call , can carry , it almost work as lappy.i suggest to buy but with sim feature .
D
Great Tablet.

Super fast, super big screen, high quality. Five Stars.
F
Disappointed that this model does not have an Spen. i have a Samsung Note 2 that includes an spen...wanted to use that on here just to find out the TAB PRO doesnt have it...its the NOTE PRO that has this feature.
D
Disappointed that I can't change the battery. Gaming sucks up the battery and it gets hot. Bought a tablet cooler stand for it.
T18
Dears,

Kindly I want to have a good idea & details to help me in my decision between T900 & T800? I mean between Wi-Fi Tablet; Tab Pro 12.2 (T900) & Tab S 10.5 (T800)...

I need to know which is better for me?! Is it right that bigger is better?!
What about the quality of (sound) & (display)? and system upgrade?
What is the difference between LCD 12.2 & LED 10.5? is it a major difference for watching HD media?

Plz help me to make the right decision.

Thnx n advance
l
This thing is gorgeous runs everything. Audio video is great for skyping. I have my Phone for my sim i wouldnt even want to stick it in this tablet and then have to take it out. Highly recommneded got it for a steal on amazon also
n
It is really an nice device,but a useless one since you can not insert a sim.
V
I want to buy this Tab but How can I connect this Tab to my 40in LCD TV and play my downloaded 1080 HD Movie? If this Tab support MHL, can it really play and support 1080 HD movie TV out? My 40in LCD TV support One HDMI and One USB connector with NO support for Internet and MHL. Any comment??
A
The 1rst day and has a big problem with the internal video card,,,, I'm very frustrated!
D
Yannos, 05 Apr 2014Very disappointed with this tab: Did'not noticed that tab pro 12.2 is sold with and without S ... moreOnly the note series come with spen. Samsung never said about a tab series with spen. So thas is pretty clear
Total of 15 user reviews and opinions for Samsung Galaxy Tab Pro 12.2.