The Professional
Samsung Galaxy Tab Pro 8.4 review: The Professional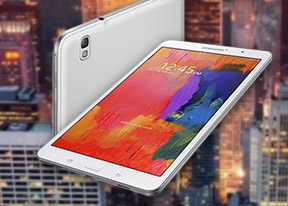 Great image gallery
The gallery on the Galaxy Tab Pro 8.4 offers various sorting and viewing options. Pinch zooming in or out will increase or reduce the size of the thumbnails.
The Album view shows a stack of photos with a navigational bar on the left with all the albums.
The gallery supports bulk actions, photo notes, there are lots of sharing options as well, plus there is a powerful embedded image editor you can launch when viewing a single image.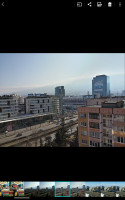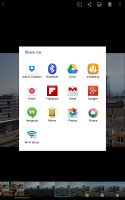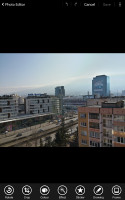 Viewing a single image • sharing and editing options
Another cool feature is Buddy photo share - it recognizes faces in a photo, you link those to your contacts and the tablet will learn to recognize them itself in the future and tag them automatically. Then the faces in the photo become handy shortcuts to that contact. This way you can quickly send that photo you took of your friend just by touching their face.
The Gallery also supports highly customizable slideshows, too.
Brand new music player, still offers a plethora of features
Samsung Galaxy Tab Pro 8.4 brings a completely redesigned TouchWiz music player. It offers the same rich functionality as the previous version, but introduces a much better interface. Naturally, the player supports a variety of file formats, including the FLAC format.
The new Music app relies on a customizable tabbed interface, instead of the previous split-screen UI. Playlists are supported as well. The bottom of the screen, just like before, has the music controls.
The Now playing screen, even though it's got a new skin, gives you the usual options - a timeline scrubber for the track, playback controls, and an AllShare shortcut. A coverflow-like list of album art lets you know what the next song will be and is an easy way to skip to it. The music player will also try to find the lyrics for the song you're listening to.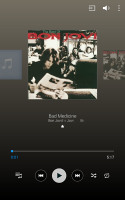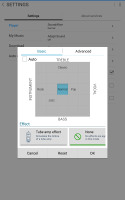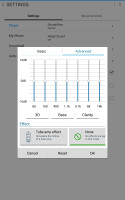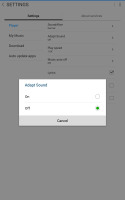 Now Playing • Audio enhancements
Samsung has implemented several audio-enhancement features. The equalizer presets (called SoundAlive) are cleverly organized into a square similar to the Music Square. The presets balance between Treble and Bass, Vocals and Instrumental. You can also just tap the Auto toggle or enable a Tube amp effect.
The advanced view of the equalizer gives you a proper seven band equalizer you can tune manually and enable additional effects like 3D, Bass and Clarity.
Audio features don't end here. Smart sound will keep the sound level between tracks, while Adapt sound tests the performance of your headphones and tunes the equalizer based on that.
No DivX and AC3 codecs for the video player
The video player found on the Samsung Galaxy Tab Pro 8.4 is pretty much the same we found on the Galaxy Note 3, Note 3 Neo and Note 10.1 2014.
Unfortunately, the video codec support is quite subpar. Most videos we tried resulted in an "audio codec not supported" message and even some basic video codecs don't work (i.e. DivX). MKV, AVI (XviD) and MP4 videos do play, but anything beyond MP3 or AAC sound is no-go.
The video player has three tabs - Personal, Downloads and Nearby devices - complete with a search field. The available videos show up as a grid of animated thumbnails, but list and folder view are also available.
An interesting feature of the video player is the ability to have a video running in a pop-up, which is visible throughout the user interface.
The same SoundAlive audio-enhancing technology from the music player is available here too. There are additional settings for the brightness, playback speed and feeding the audio through Bluetooth (if you have wireless speakers).
If subtitles are available, the video player will automatically find and load them. You can also manually load subtitles, if the video and subtitle file names don't match. You can change the zoom mode (100% or fit to screen with and without affecting the videos aspect ratio) and there's a pinch zoom too, in case you want to get close to a specific part of the action.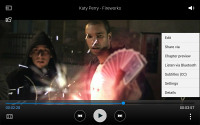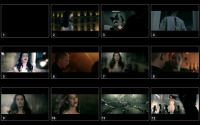 Video options and subtitle selection • chapter preview
The chapter preview detects chapters in the video and shows a rectangular grid, with live thumbnails (just like the grid view above). Hovering your finger over the timeline scrubber lets you preview part of the video in a small thumbnail - just like YouTube videos do when you hover the mouse of your computer.
Audio quality is great
The Samsung Galaxy Tab Pro 8.4 did excellently in our audio quality test. When docked to an active external amplifier, it produced stellar audio, scoring greatly in every part of the test. Its volume levels were just above average, but that's enough for an excellent overall mark.
The only degradation when you plug in a pair of headphones is a slight spike in stereo crosstalk. It's nothing to worry about though and it's way better than most competitors have it. A gifted performance by the Galaxy Tab Pro 8.4 on this occasion.
Check out the table and see for yourself.
| | | | | | | |
| --- | --- | --- | --- | --- | --- | --- |
| Test | Frequency response | Noise level | Dynamic range | THD | IMD + Noise | Stereo crosstalk |
| Samsung Galaxy Tab Pro 8.4 | +0.02, -0.07 | -93.3 | 93.3 | 0.0019 | 0.011 | -89.2 |
| Samsung Galaxy Tab Pro 8.4 (headphones attached) | +0.04, -0.06 | -93.1 | 93.1 | 0.0074 | 0.037 | -70.2 |
| LG G Pad 8.3 | +0.14, -0.11 | -93.8 | 92.9 | 0.0021 | 0.0082 | -93.8 |
| LG G Pad 8.3 (headphones attached) | +0.29, -0.11 | -90.7 | 92.7 | 0.0074 | 0.208 | -53.6 |
| Google Nexus 7 (2013) | +0.00, -0.23 | -92.2 | 92.3 | 0.036 | 0.020 | -92.3 |
| Google Nexus 7 (2013)(headphones attached) | +0.83, -0.12 | -92.4 | 92.3 | 0.010 | 0.208 | -49.3 |
| Apple iPad mini 2 | +0.04, -0.39 | -93.8 | 93.7 | 0.0011 | 0.0067 | -82.9 |
| Apple iPad mini 2 (headphones attached) | +0.11, -0.00 | -93.6 | 93.6 | 0.0023 | 0.030 | -62.2 |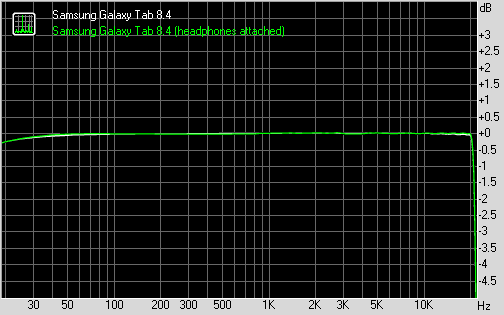 Samsung Galaxy Tab Pro 8.4 frequency response
You can learn more about the whole testing process here.
Loudspeaker performance
While our Galaxy Tab Pro 8.4 doesn't have telephony features, we still tested the loudspeaker performance as it will be used for music and videos. It scored a Very Good score and we can confirm the stereo speakers are indeed quite loud.
| | | | | |
| --- | --- | --- | --- | --- |
| Speakerphone test | Voice, dB | Pink noise/ Music, dB | Ringing phone, dB | Overal score |
| Amazon Kindle Fire | 66.6 | 63.7 | 66.9 | Below Average |
| Microsoft Surface RT | 61.7 | 60.2 | 64.2 | Below Average |
| Sony Xperia Tablet Z | 66.0 | 64.6 | 70.1 | Below average |
| Google Nexus 10 | 68.3 | 66.1 | 67.8 | Average |
| Asus Google Nexus 7 | 68.6 | 65.9 | 75.8 | Good |
| Apple iPad mini | 68.2 | 65.7 | 75.7 | Good |
| Apple iPad 4 | 67.2 | 66.1 | 75.9 | Good |
| Samsung Galaxy Tab Pro 8.4 | 75.7 | 66.6 | 76.8 | Very Good |
| Samsung Galaxy Note 10.1 2014 | 75.7 | 66.6 | 77.2 | Very Good |
| LG Optimus G | 74.6 | 71.3 | 82.7 | Excellent |