Samsung at MWC 2017
MWC 2017: Samsung Galaxy Tab S3 hands-on
Android Nougat with a Grace UX flavor
The Galaxy Tab S3 ships with a fresh new Nougat-based ROM, Android 7.0, to be exact. That, of course, means you get the use of native multi-window support, among other things. This is not only a great way to save some development effort on Samsung's end, which used to implement its own powerful version of this feature. But should also finally bring about uniformality and proper app support in the long run.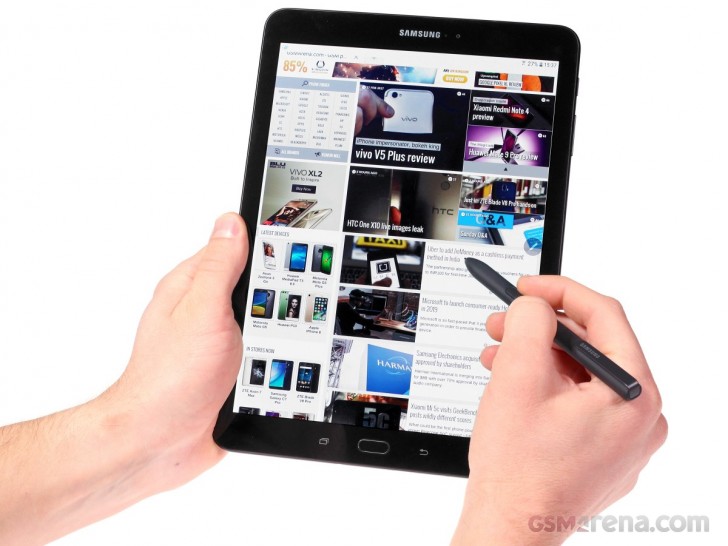 Grace UX is now the norm on recent Samsung devices. The new white and blue color scheme is admittedly an acquired taste, but then again, TouchWiz had its fair of aesthetic criticism as well. If nothing else, the launcher does look clean and neat, at least on the surface. The homescreen is the usual affair. You get multiple panes to the right, along with the freedom to add, remove and rearrange. There is also the Briefing feed on its own separate left pane, which can be toggled off as well.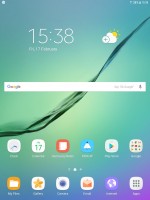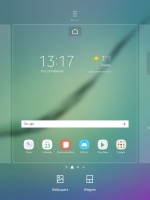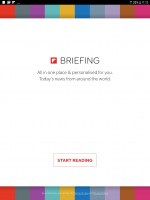 Home screen • Editing panes • Briefing
You have widget support, as well as folders, with custom color backgrounds on the home screens for some extra organization. Holding down on a shortcut brings out some iOS style options. Speaking of icons, Samsung has included a neat framing option for a more uniform look. It is on by default.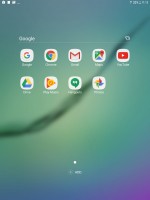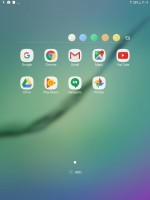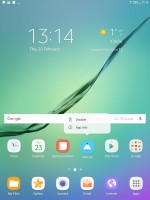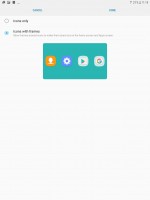 Folders • Folder colors • Shortcut options • Icons with frames
The notification shade has undergone some major reconstruction in Grace UX. Besides the color change, there is now a search bar and the brightness slider has been repositioned. The quick toggles can be edited in or out of the notification area, reordered and there is even a number of column setting to adjust. As for the notifications themselves, you get the new Nougat style of clustering and grouping.
Samsung offers some level of granular per-app control over notifications. It is nothing really that spectacular, but it gets the job done.
Just like the classical back and menu button arrangement, Samsung has also stuck with the app drawer over the years. It offers alphabetical or custom orders, as well as a search bar and convenient menu for mass uninstalling. Folder support is present here as well.
In terms of traditional settings, there isn't really all that much to phone home about. The sound menu offers a few nifty options, like the equalizer and Adapt Sound. These should come in handy when using the four symmetrical speakers. There is also a blue light filter.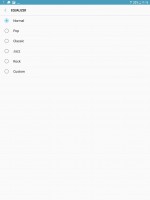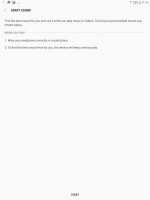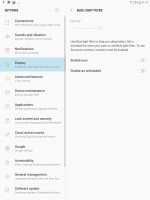 Sound settings and blue light filter
Other notable software features include the now standard device maintenance menu. It can easily clear up some storage or RAM and prolong your battery life. The latter has some settings to play around with and decide what gets cut or reduced in case of a low battery situation.
The real treat, however, comes with the advanced features menu. Here, among other things, you have a few settings for the Multi window functionality. Samsung might have based its implementation on the Nougat core, but there are still some neat additions that give it back some distinct Galaxy Note flavor. For one, you can minimize an open app into a floating icon and keep it handy on screen. The Multi window really works great along with the S Pen to provide a power-user level of productivity.
Speaking of the S Pen, we really can't praise it enough. It might not be the most precise or powerful stylus currently out there, but Samsung's software package and deep integration within Android, just make using it a breeze. As far as options go, you get your say on how hovering gestures will behave, as well as the signature Air view menu. It pops up every time you click the S Pen button and its contents and shortcuts are fully customizable.
To top off a well-rounded productivity package, Samsung also threw in its coveted Secure Folder feature. It promises a great level of protection for your personal or sensitive business data and communications. If nothing else, it can easily be made useful for its support for a second app instance, running on the same device.
As long as we are on the topic of advanced productivity, it is worth noting that the Galaxy Tab S3 has a lot more going for it than a big sharp screen, keyboard and S Pen accessories. It is rocking a powerful Snapdragon 820 chipset and 4GB of RAM - a potent combination, more than capable of handling heavy multi-tasking. We did check out some benchmark scores on our review unit, but since the software on it is far from final, they are not really indicative of the finished product's performance. We won't be sharing any numbers yet, but the Tab S3 does have plenty of power to go around.
To top software off, it is also worth saying a few words about Samsung Flow. While not a new concept, this is the first time we have seen it pop-up on an Android tablet. The app is currently designed to work on the Galaxy Tab Pro S and its Windows 10 OS. It's kind of like Samsung SideSync on steroids. You download the app on the tablet and a companion one on your Galaxy phone and you get synced notifications, a quick trigger for setting up a Wi-Fi hotspot and a few other seamless transfers back and forth, between the two devices. Probably best of all, however, you can use the fingerprint scanner on you phone to unlock the Galaxy Tab Pro S.
We can only imagine the Tab S3 will eventually be able to take the server part of this exchange. We say eventually, since we did try to get the companion app on a compatible Galaxy S7 (anything newer than the S6 should work) and it refused to connect to the Tab S3. We are likely missing a zero-day update to enable the feature. Still, once Samsung Flow eventually starts working on the Tab S3, there is potential to see it spread on other Samsung tablets as well. Perhaps even non Samsung ones through modding.
Also, there are rumors that once the new Creators update for Windows 10 finally hits, Samsung will try to integrate Flow into Windows Hello and launch it on a wider scale.