Samsung Galaxy Tab S6 is the world's first tablet with an HDR10+ certified display
Samsung recently announced the Galaxy Tab S6, its latest Android tablet and a true flagship offering at that, boasting the Snapdragon 855 at the helm, unlike its predecessor which for some reason had to make do with the previous year's top SoC.
Samsung felt it necessary to omit a rather important detail about the tablet in its initial press materials, namely the fact that its display is HDR10+ certified. Not only that, but this is the first ever tablet to be graced with that honor, so it's even more outstanding of an achievement - and thus apparently worthy of a separate press release sent out today.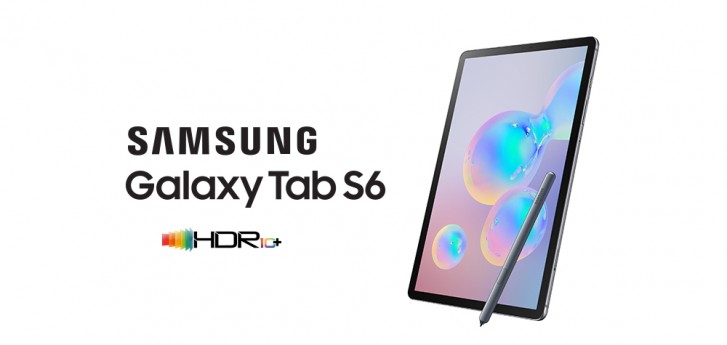 Samsung says the Tab S6 "achieved the esteemed HDR10+ certification after extensive quality testing". If you're wondering what the "+" stands for, as in what's the difference between this standard and good 'ol HDR10, it's that HDR10+ has dynamic tone mapping for each scene, continuously fine-tuning settings as content plays. As opposed to HDR10's static nature, this results in richer, more vivid colors, and even better shadow and light detail.
If you're confused about how you can put all that to use, it's easy: just watch HDR10+ content in Amazon's Prime Video app, which supports the standard (for specific movies and shows). Earlier this year, the Galaxy S10 was the first mobile device to receive HDR10+ certification, and in the meantime the Note10 has followed suit.
Whether this, or any other of the Galaxy Tab S6's features, will persuade you to buy an Android tablet in this day and age is a good question, of course. These mostly seem like a dying breed now, but Samsung is still pushing, and at least this time around it gave its premier tablet the flagship specs treatment.
m
+1 The optimization and intuitiveness terms are marketed by Apple to make people understand that Apple is the only company in the world that does it. The optimization problem that exists is visible in iOS indeed. There exist practically ZERO apps t...
D
Android is, by nature, perfectly optimised for all screen sizes and resolutions. We're not gullible enough to buy the same app twice, "optimised" for two different screen sizes.
S
Disagree strongly. I use the Tab S4. Apps work just fine. I also much prefer it to my work iPad.