Splashing colors
Samsung Galaxy Tab S 10.5 review: Splashing colors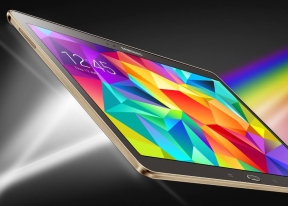 Final words
Like its smaller sibling, the Samsung Galaxy Tab S 10.5 is well worthy of carrying the S moniker in its name. The slate seamlessly combines class-leading display, powerful hardware, and an ultra-slim, easy to handle body.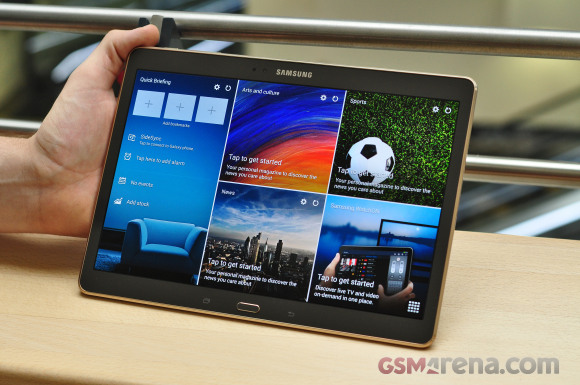 Samsung Galaxy Tab S 10.5 key test findings
The screen is absolutely gorgeous and in a class of its own
Both the battery life and the hardware performance are up to Galaxy S standards
TouchWiz is really user-friendly and split-screen multitasking is great on a full-size tablet
The bundled free content is easily presented and saves a good deal of money
Handling is easy thanks to the grippy texture on the back of the device
GPU performance is below par for a flagship device
Both color versions ship with golden bezels, which may not be to everyone's taste
The 10.5" WQXGA Super AMOLED display is an absolute design and engineering marvel. Thanks to its stunning resolution, deep blacks, as well as variety of available modes the screen alone is a good reason to put the tablet on your shopping list.
Samsung Galaxy Tab S 10.5 is not a one-trick pony though. The rest of its hardware and features are worthy of being put alongside that gorgeous display. The IR blaster and the fingerprint scanner in particular, together with the screen, set the tablet apart from its competitors.
Samsung TouchWiz is an integral part of the experience too. The Korean manufacturer has been constantly improving its custom Android UI and the latest tablet-centric iteration is as user-friendly and rich in features as it gets. It literally does everything out of the box - from remotely running you desktop PC, through helping you flip your TV channels and manage your social networks, all the away to seamlessly sync your multimedia across multiple devices.
The great amount of bundled premium content is quite important too. In an age when high-end hardware is increasingly common, premium content helps the Samsung Galaxy Tab S 10.5 make a convincing case for itself in today's marketplace.
Like in the case of its smaller relative, we weren't particularly happy with the available color schemes of the Samsung Galaxy Tab S 10.5. Dazzling White and Titanium Bronze both feature a good deal of gold and are certain to be perceived as over the top by many, including us. We reckon that a good ol' black color scheme at launch would have done wonders for the tablet's appeal.
Samsung Galaxy Tab S 10.5 is priced at $499.99 for a Wi-Fi-only version with 16GB of memory; pricing of LTE variants is yet to be known. As always, we have taken a look at some of the notable alternatives to the device available at the moment.
Apple iPad Air is the Samsung Galaxy Tab S 10.5's biggest rival, as well as the device whose crown the newcomer wants. The Cupertino offspring entices with all-metal build and plenty of tablet apps, though we consider its display to be let's say, less impressive than the Tab S 10.5.
Samsung Galaxy Tab Pro 10.1 and Samsung Galaxy Note 10.1 (2014 Edition) are two worthy alternatives to the newcomer sans Super AMOLED display. The duo entices with lower price and powerful hardware - Samsung won't mind if you opt for either one.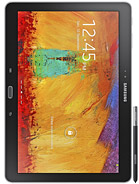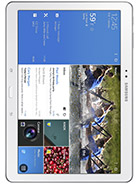 Samsung Galaxy Note 10.1 (2014 Edition) • Samsung Galaxy Tab Pro 10.1
For those seeking ultimate productivity and loads of screen estate, there's the Samsung Galaxy Tab Pro 12.2 and Samsung Galaxy Note Pro 12.2. Both devices have their price tags hovering around $500 (for 32GB versions) and are made to take full advantage of the split-screen multitasking and have the hardware to match their productivity chops. Once again, Samsung will be just fine if you go for one of those.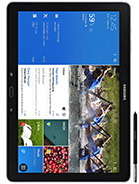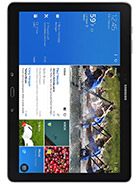 Samsung Galaxy Note Pro 12.2 LTE • Samsung Galaxy Tab Pro 12.2 LTE
Sony Xperia Z2 Tablet is the most prominent non-Samsung competitor to the Galaxy Tab S 10.5 in the Android realm. The slate is slim, waterproof, beautiful to look at and hold, as well as more powerful. However, its display trails roughly two years behind that of the Galaxy Tablet S 10.5 in terms of both resolution and quality.
Asus Transformer Pad TF303CL is a non-mainstream alternative to the Samsung Galaxy Tab S 10.5 with Intel Atom internals, complete with a sleek docking station with full QWERTY keyboard. The slate's IPS display lacks the resolution of Samsung's Super AMOLED unit though.
A number of Intel-based tablets with full-blown Windows 8.1 are also available in this price range. HP Omni 10 5620 is a fine member of the bunch. Its display is inferior to that of the Samsung Galaxy Tab S 10.5, but its lower price and serious work credentials make it worth a look.
Samsung Galaxy Tab S 10.5 is undeniably the best full-size tablet to come from the South Korean manufacturer to date. Despite facing much stiffer competition than its smaller relative, the big fella is just as worthy of sporting the famous S in its name. It therefore deserves a spot at the top of the shopping list of anyone looking for such a device regardless of the OS.