First look
Samsung Galaxy Tab S 10.5 and 8.4 hands on: First look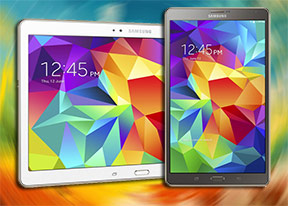 Samsung Galaxy Tab 10.5 and Samsung Galaxy Tab 8.4 hands-on videos
We covered the specs, we showed you the images and now it's time for the videos. The first tablet we took for a spin in front of our video camera is the Galaxy Tab 10.5. Here's what its UI looks like, including a look a SlideSync 3.0.
Here goes a video comparing the Samsung Galaxy Tab S 10.5 display with the iPad Air's.
Of course we didn't forget the smaller Samsung Galaxy Tab 8.4 either. Here's how it did in front of our camera.
And here goes a video comparing the newcomer's display with the iPad Mini with Retina display.