The Samsung Galaxy Tab S lineup is set for unveiling in less than a month - on June 12. We've got our invite already and you can bet we'll be there to cover the whole thing for you guys.
The information is backed up by Samsung Mobile head J.K. Shin who said in an interview with the Wall Street Journal that Samsung will launch a new line of tablets in New York on June 12.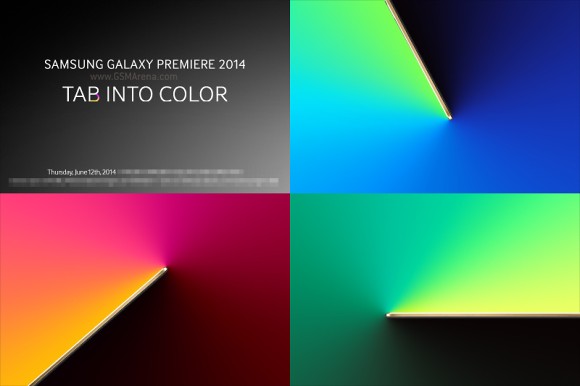 The Galaxy Tab S will have a 10.5" AMOLED display of 2,560 x 1,600 resolution and will tip the scales at around 287 lovely pixels per inch. We've also brought you exclusive report of its smaller and bigger siblings, which might be the other two in the "new line of tablets" - all sporting WQHD resolutions.
The slate codenamed Chagall corresponds to the 10.5" Galaxy Tab S, the Klimt is an 8.4" version with a pixel density of 359 ppi and the Warhol with a 13.3" 227 ppi screen, which is the only tablet here to sport an LCD. All three will come in Wi-Fi only and cellular form (likely 3G + LTE).
We've also even seen the 10.5" device in a series of photos.
It looks more or less like a current-gen Samsung top-end slate but does feature slimmer edges that slope towards the back panel - much like on Samsung's line of ultrabooks. The inclusion of an AMOLED panel has allowed for a slimmer waistline as AMOLED screens lack one of the layers that LCDs have.
The innards are expected to be an Exynos 5420 chipset with Android 4.4 under Samsung's tablet-friendly Magazine UI. Cameras are expected to be an 8 MP and 2 MP unit for the back and front.
Meanwhile JK Shin also said that the Galaxy S5 has mounted 11 million sales since launch. That's 1 million more than the it was three days ago, suggesting that the flagship is still going strong.
D
How's to many tablets bad? They give different options to different taste people may have, not just 1 or 2 options. If you cant decide what to buy don't blame samsung, blame yourself for not knowing what you want.
s
does this mean that apple with roll out displays for these new 13' screens so that i can use them in my bars?
O
You misses one more series... the Note 2014 series... indeed Samsung is lame! Too many tablets in a very short period of time!!