Gallery and file browsers are at your service
The Samsung Galaxy W uses the standard Android gallery. The gallery automatically locates the images and videos no matter where they are stored. It even imports the online photos from your Google Picasa web albums.
Little about the Gallery should surprise you. It displays full resolution images and supports double tap and pinch zoom. It supports sharing images over Bluetooth, email, messaging along with uploading to Picasa or using DLNA to push the image to a compatible TV.
The Gallery also offers some editing options - cropping, 90-degree rotation and some more advanced features such as image adjustments, effects and selections.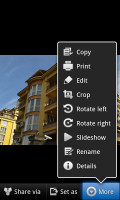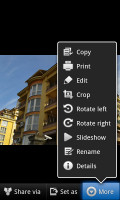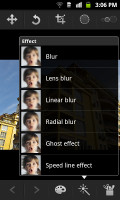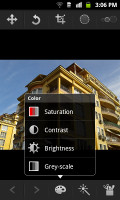 The Gallery offers some image editing options
The My Files app is a simple to use but efficient file manager. It can move, copy, lock and rename files in bulk, even send multiple files via Bluetooth. My files will only browse the memory card and the large internal storage (it can't access the system drive).
The usual TouchWiz music player
The Samsung Galaxy W I8150 uses the standard TouchWiz music player. Samsung have enabled equalizer presets (including a custom one) along with the sound-enhancing DNSe technology and 5.1 channel virtualization.
By default, tracks are sorted into four categories - All, Playlists, Albums and Artists. From the settings, you can add or remove categories to set up the music player just the way you like it.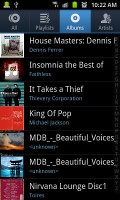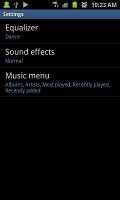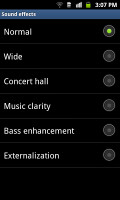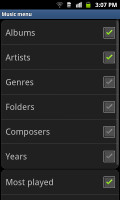 The music player is great • The DNSe settings • Choosing which categories to use
The album art has a central place in the Now Playing interface, but you can replace it with an equalizer. You can skip songs or FF/rewind by sideways swipes.
A nice feature allows you to quickly look up a song on YouTube or via Google search. The handset also prompts you to select whether to look up the artist, the song title or the album.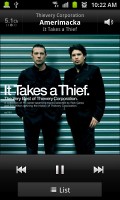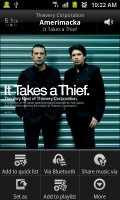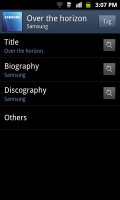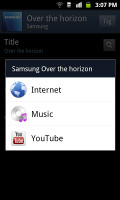 The Now playing interface • Looking up a track
Capable video player
The video player offers a simple list-based interface. It displays all video files stored on the phone and you can sort them by name, date, type or size. The video player also remembers the last viewed position of the video, so you can resume exactly where you left off.
The video player lets you choose between three crop modes for how the video fits the screen. There's 5.1 channel virtualization and subtitle support. You can change font size and adjust subtitle sync (time them back or forth) but there's no option to manually load subtitles, they have to have the same filename as the video file to load.
The video player handled most videos we threw at it with ease. DivX and XviD videos at 720p resolution weren't a problem, but 720p h.264 lagged. The player had no trouble with sound codecs (most other phones choke on AC3 or DTS sound).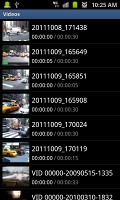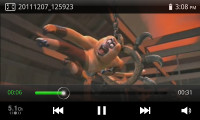 The video player has a simple interface but don't let it deceive you
Good audio quality
The Samsung Galaxy W I8150 passed our audio quality test with a good overall mark. It's among the quieter phones we have seen, but its output is decently clean, so its potential user base should find it more than adequate.
When connected to an external amplifier, the smartphone got some really impressive scores with a couple of minor exceptions. The IMD reading is only average and the cut-off extreme bass frequencies damage the otherwise flawless frequency response.
Fortunately, the hit that the Galaxy W audio output takes when headphones are connected is quite modest - stereo crosstalk spikes and a tiny bit of extra intermodulation distortion creeps in, but that's about it. The relative performance of the smartphone here is actually much better than in the first test.
And here come the full results so you can see for yourselves:
| | | | | | | |
| --- | --- | --- | --- | --- | --- | --- |
| Test | Frequency response | Noise level | Dynamic range | THD | IMD + Noise | Stereo crosstalk |
| Samsung Galaxy W I8150 | +0.17, -1.32 | -87.8 | 87.4 | 0.011 | 0.122 | -87.3 |
| Samsung Galaxy W I8150 (headphones attached) | +0.21, -0.97 | -85.2 | 85.2 | 0.013 | 0.211 | -54.7 |
| Samsung Galaxy Y S5360 | +0.03, -0.32 | -87.0 | 86.8 | 0.0042 | 0.064 | -76.9 |
| Samsung Galaxy Y S5360 (headphones attached) | +0.21, -0.08 | -85.3 | 85.8 | 0.013 | 0.238 | -44.2 |
| Samsung S5830 Galaxy Ace | +0.11, -0.47 | -84.9 | 86.8 | 0.025 | 0.084 | -82.1 |
| Samsung S5830 Galaxy Ace (headphones attached) | +0.82, -0.22 | -84.5 | 86.7 | 0.083 | 0.628 | -42.3 |
| Samsung I9000 Galaxy S | +0.03, -0.04 | -90.7 | 90.6 | 0.014 | 0.019 | -90.6 |
| Samsung I9000 Galaxy S (headphones attached) | +0.40, -0.12 | -90.7 | 90.6 | 0.018 | 0.329 | -43.3 |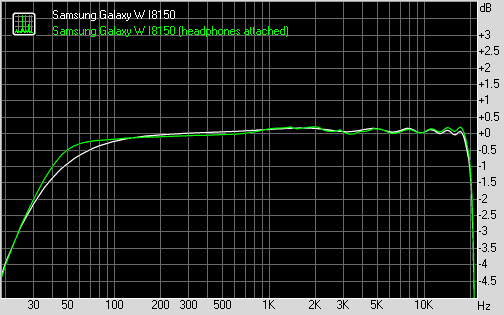 Samsung Galaxy W I8150 frequency response
You can learn more about the whole testing process here.