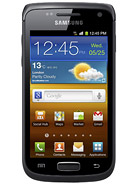 J151
It actually comes with a Super Clear LCD(S-LCD) as seen on the sneak peek video of Three.
G
i will definitely buy this phone if it is better than samsang galaxy sl and at cheaper price
c
if i get this phone till september m ready to sacrifice blackberry phones coz samsung dsnt provide these kinda phone wid flash light under this range...
K
Sir/Madam, you really need to compare the specs before commenting!, and recently most phones look alike sort of, but your Zte is lower in specs from this new samsung, in my own opinion, this samsung phone out weighs the ZTE blade that you compared it with, the one thing I like using is their day to day performance, I don't expect complete perfection everyday, but if it can serve impressively like the wave, then be realistic.
M4017285
I don't think that it's a waterproof handset. To make waterproof phone you need much more money to put those materials on the phone.
g
Excelent for daily use 768mb ram 2gb rom is so better than the galaxy i9001 plus and the camera has a flash light
M4017285
I love you Samsung!!! :) You can crush every company you want. I will be a Samsung fan forever. :->
What about the Ram and internal storage?
Total of 3515 user reviews and opinions for Samsung Galaxy W I8150.