What if you're an iPhone user but don't want an Apple Watch? We knew that as an iPhone user we'd take a hit in some functionality and features but would they be enough of a turn-off to turn us away from using the Samsung Galaxy Watch in conjunction with an iPhone?
Galaxy Watch app
During our testing, on the 22nd August Samsung released an update to their companion iOS app to officially support the Galaxy Watch while re-branding the app 'Galaxy Watch'.
The Galaxy Watch iOS app provides the battery, storage and RAM status of the Galaxy watch, configure many of the settings on the watch itself, as well as providing a method of finding and installing watch faces and apps.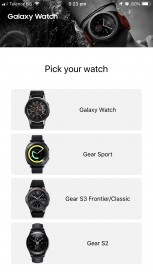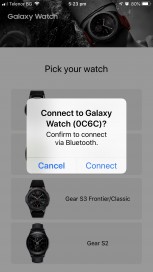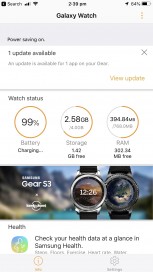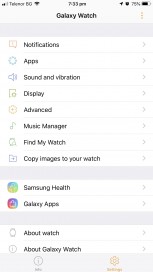 Setting up the Samsung Galaxy Watch and the Galaxy Watch app in action
During our time the app proved to be reliable and coherent in its layout.
And that 'chunk of functionality that we knew we'd lose?
Unable to respond to messages due to Apple's closed iOS ecosystem
Unable to set up Samsung Pay
Transferring music is cumbersome via a web browser as opposed within the iOS app. However, Spotify support provides a better experience for online and offline listening
Unable to transfer watch screenshots to your phone - probably only an issue for this reviewer but something to bear in mind
Unable to configure SOS message functionality for Galaxy Watch
iPhone Reminders not synced
Notifications, while the majority of notifications are shown on the Galaxy Watch, you can only view them or dismiss them. E-mails were notable by their absence though, and during our time with the Galaxy Watch we didn't see a single E-mail notification
Can't sync Wi-Fi networks from an iPhone, these have to be added manually
Find My Phone is pretty much useless if your phone was on silent when it slipped down the back of the chair cushion! Stick to Find my iPhone instead. While conversely, Find My Watch from the iPhone works as advertised vibrating the watch while playing an alarm sound
iOS version doesn't support the setting up of Samsung SmartThings
Phew - got all that? Those were the major ones that we came across during our testing.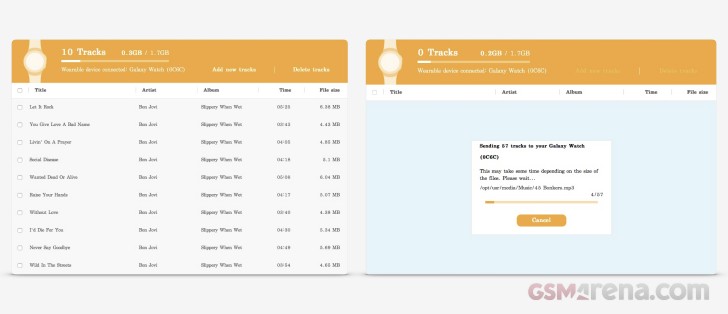 Transferring music to the Galaxy Watch via a web browser if you use iOS
Samsung Health app
The app itself falls far short of the offerings from the likes of Fitbit, Garmin and Apple lacking a coherent look and feel resulting in a much higher learning curve and even then the lack of organization makes delving into your stats frustratingly slow.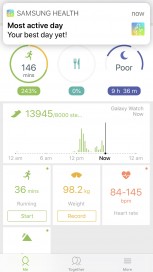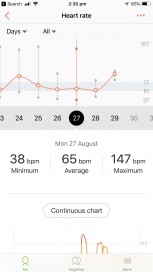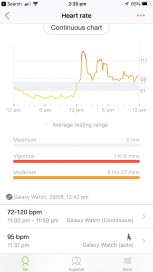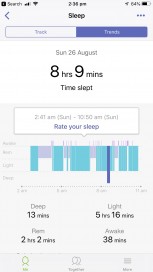 Samsung Health App • All day HRM weekly overview • All day HRM daily drill down • Sleep tracking
No links exist to Apple health or other apps such as My Fitness Pal. This means logging double the amount of food and no ability to link smart scales to automatically suck in your weight. The Android version supports partner apps such as those described above and more
Stress tracking not yet available within the Health app, only on the watch itself. Again, the Android version of Samsung Health does support Stress tracking
Lacks Android fitness Programmes
We found several activities didn't transfer the full data to the Samsung Health app. At one point we thought we'd lost the Heart Rate data through several activities. Further investigation revealed the full data on the watch, but the full heart rate track didn't transfer over.