Tizen 5.5
Tizen is undoubtedly one of the best OS' for smartwatches out there. Samsung's Tizen feels pretty mature, polished, snappy and provides a wide selection of apps and watch faces to download. And that's in case you get bored of the numerous default watch faces.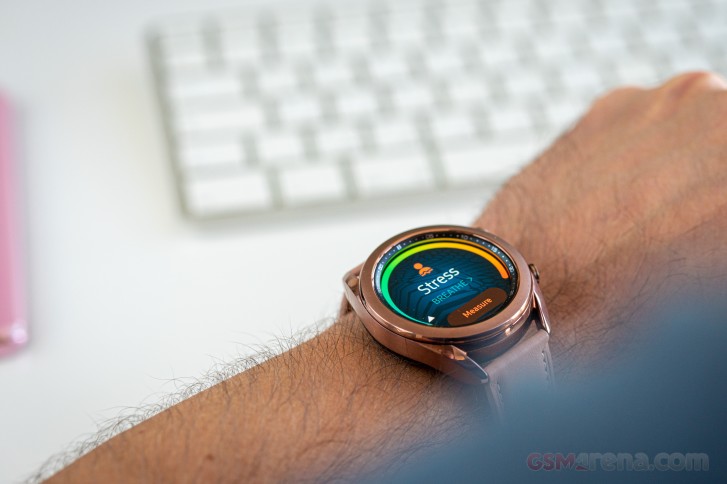 Scrolling through the available default watch faces, we see a couple of familiar faces, no pun intended. Really. The new ones, however, impress mostly with its functionality. You can customize almost every aspect of some of the watchfaces. You can switch colors and choose what relevant information you want to appear on the screen such as steps, activity level, heart rate, weather, remaining battery, etc.
The UI itself, however, hasn't changed over the last couple of iterations. Only minor updates to the aesthetics have been introduced lately to go in line with the current flat-looking One UI on Samsung phones. A couple of features that aren't necessarily new, however, stand out.
For example, the drop-down menu is customizable and gives you access to the most commonly used functions such as find my phone, battery saver, screen brightness, theater mode, good night mode, GPS, etc.
The theater mode and good night mode are particularly useful as they disable sounds for notifications and the wake up gesture.
You can imagine how annoying it is when you are trying to sleep, turn around and the watch just wakes up and blasts the screen in the pitch black room. The same goes for when you are in the cinema.
There's also the so-called Water Lock, which disables the touch screen in case you are swimming or taking a shower to prevent any accidental touches from the water drops. Holding the power button deactivates the screen lock and the loudspeaker blasts a couple of tons to get out any trapped water within the loudspeaker. It's a neat feature, which Samsung borrowed from Apple's Watch.
Don't forget to use screen lock when in contact with water because this one time, a watch we had did a full hardware reset as drops from the shower found their way through the UI all the way to the reset menu. Not joking!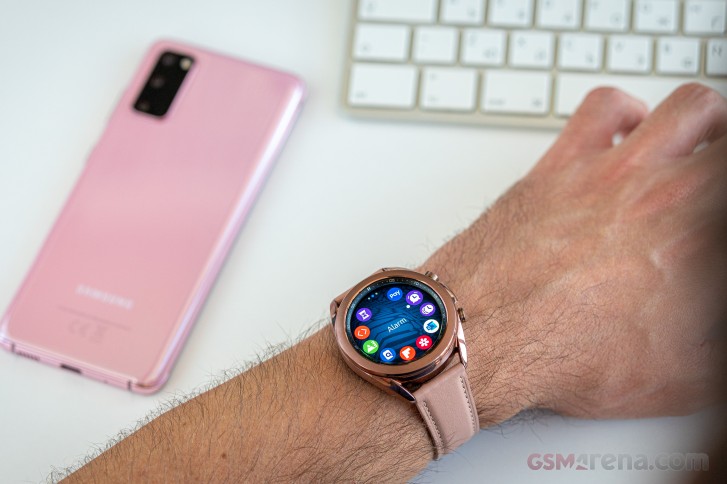 When it comes to apps, TizenOS does have more than most Werable-based OS, except Apple's WatchOS and Google's WearOS, of course. The Galaxy Store for wearable apps might have you interested in a couple of paid and free apps. The better ones are paid, however. There's a standalone map with navigation available, a ton of fitness-related apps, but the one that stands out with proper integration is Spotify. The app allows you to download your favorite playlist onto the watch and since the device allows you to pair Bluetooth headphones, you can just leave your phone behind and still listen to Spotify. Of course, the app also allows you to control remotely the device on which Spotify is playing. That can be your smartphone or even your PC.
In all fairness, most of the apps on the Galaxy Store are just alternative versions of the pre-installed apps like timer, alarm clock and even Samsung Health. Rarely have we felt the need to install additional apps on our Tizen-based smartwatches.
Oh, and if you are a Samsung smartphone owner and there's Samsung Pay enabled in your region, this watch supports it. Obviously, since the Watch3 isn't running on WearOS, Google Pay isn't supported.
Samsung Galaxy Watch3 plugin
Upon starting the device for the first time, Samsung asks you to install its Galaxy Watch3 plugin on your phone so you can adjust a variety of settings and customize your watch through your phone. It's also necessary for your notifications to get through.
And speaking of notifications, this is by far the best notification handler we've seen for a smartwatch. There are plenty of controls, per-app toggle and even though it's not essential, the fact that Samsung is able to extract the correct app icon (even if you change your icon pack on your phone) and display it on your watch, is awesome. It just adds to the overall experience.
We also found the option to mute your phone's notifications when you are wearing the watch and is connected to the phone pretty clever and useful. Why would you want to hear your notifications on your phone if you are already getting them on your watch anyway?
Most of the settings found within the app can be adjusted on the watch but things like re-arranging the app list or widget screens as well as browsing for new watch faces is much more convenient on your phone's big screen.
If you are coming from a previous Samsung watch, you will definitely find your way around the app itself. Even the old Gear Sport has most of the features and settings the Galaxy Watch3 plugin has to offer. With one small exception - gestures. In the Labs sub-menu, you will find two experimental gestures. Rotating your wrist twice will mute incoming calls or alarms while making a fist and opening your palm again will answer an incoming call without having to touch the smartwatch at all.
Samsung Health app and fitness tracking
As with almost all smartwatches, one of the main selling points are the fitness and health tracking features. And the Galaxy Watch3 along with the Samsung Health app can do plenty of tracking. From extracting detailed information during your sleep and rating your sleep patterns to measuring your stress levels and VO2 Max during a training session. In case you are a bit stressed out, the watch will guide you through a short breathing session to calm you down.
Things such as irregular heart rate and notifications about abnormal heart behaviour can only be turned on if the watch's ECG has been certified in your country as all such metrics are associated with the ECG monitor.
Now as far as heart rate tracking goes, we can say that heart rate measuring seems about right even though we haven't tested it against a chest strap or other smartwatches. We believe that smart wearables, especially high-end ones, have matured enough to do some proper heart rate readings.
Sleep tracking on the other hand is pure guess-timation and hardly anyone does it right. But the level of detail is enough to bring your attention to potential issues with your sleeping routine - like going to bed too late or not getting enough Z's.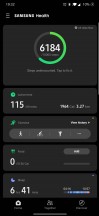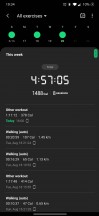 Samsung Health app home screen and weekly activity summary
No on to the available workout modes. And they are a lot. The list just goes on and on but the most important thing is that you will definitely find a workout mode suitable for your type of activity. Even weight training isn't left out and most of the commonly performed exercises are there such as bench press, overhead press, deadlifts, squats, all kinds of cable machines, pull-ups, crunches, rows, biceps curls and even lateral dumbbell raises.
Setting up a workout routine might come useful for those who hate counting reps and keeping track of sets. The watch can do all of that for you by counting each and every rep with audio and visual feedback, tell you when to rest and when to get back under the bar.
However, we didn't find a way to adjust the rest times between sets, you can only choose the number of sets and reps. Not everyone will be fine with the 30-sec rest pauses. Moreover, we found that it may miss a rep or two at times.
Hiking and bike rides are one of the most reliable modes for obvious reasons. They are much easier to track the burned calories based on your weight, heart rate, speed and distance. Calories burned during weight training are ranging a lot from person to person and the watch seems to calculate that based just on heart rate and personal data you've put in. It doesn't account for how much weight you put on the bar, which is pretty important. Additionally, you burn a lot more calories after a weightliftibng session and less during one. The same isn't true for running, hiking or cycling.
Overall, there is room for improvement in this respect.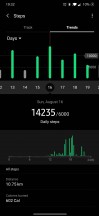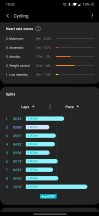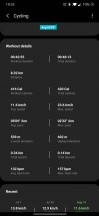 Walking and cycling information
If you turn on your GPS during a cycling session, you will be granted with tons of data like average speed, average heart rate and how much time you spent in each heart rate zone, elevation, pace, distance, average speed, maximum speed, etc. During the cycling session, the assistant's voice will give you audio feedback on how fast you are going, your average heart rate and what distance you've covered within certain time frame. The best part is that the wake up feature when you look at the watch works while in the previous Tizen iteration you had to bump the screen with your nose to see what's going on. Not very convenient.
And without going into much detail about steps, as this is a feature that every single wearable has, we just want to say that it's pretty darn accurate. Even when you aren't swaying your arm while moving, the watch counts every step correctly.
And one setting we feel is pretty important - the Samsung Health app lets you turn off step counting on your phone (as we found this to be a battery hog) and extract data just from your watch instead.