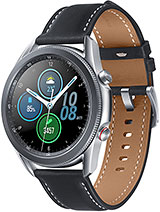 ?
Its codename is renaissance rather ironic if its using the same chip as the Active2!!!
A
You know what, i have Samsung Gear S3 frontier, bought it in 2017, biggest praise i can give is that is looks like a watch, works like one, feels like one. only differece is that i need to charge is 2 times a week, witch is fine by me, sometimes 1 a week. it is still really good, and ill probably change it when it dies, not before because i dont see an upgrade for what i do. i like a smartwatch that looks and feels like an actual watch.
and lets me read eamils, messages, answer calls and do some fitness tracking, and listen to spotify, and check the weather. that is my usage for the most part. and for that, and samsung has made that experience a really good one. so ill upgrade if something big and life changing comes along.
S
I like it much, very beautiful I can wear every day without feeling that am wearing a toy or kid watch full of usable features and elegant, good battery, ram, and sensors, just want to know if health features like alarms are there or not
s19230
It's an Active 2 with Bezels.
Same sensor, same Operating System, same interface.
I don't know ..... Active 2 does the same thing.
If I were a candidate for a job and gave the same thing like any other candidate, I would lose the opportunity to get that job.
But if you are Samsung you can rub the same shit in customer's face and be fine with that.

No No No, until I see something radically different I won't be buying their product.Thank you.

m12228
Manufacturers compete to see how far they can resemble an ordinary watch.
T93
Arun_c, 25 Jun 2020Pure copy of huawei watch gt2you really need some research, huawei is copying samsung bro.
E
Arun_c, 25 Jun 2020Pure copy of huawei watch gt2does huawei watch come with rotating bezel?
d
what would be a good step up if it has a narrower frame, still not worth of upgrade ;d
Total of 91 user reviews and opinions for Samsung Galaxy Watch3.
ADVERTISEMENTS