Introduction
The Galaxy Watch Active2 is the latest smartwatch from Samsung targeting the fitness conscious audience while being largely similar to the standard Galaxy Watch. The Galaxy Watch Active2 runs on Samsung's Tizen platform and comes in both LTE and non-cellular variants. It comes in two metal finish options with multiple colors and strap choices. The Galaxy Watch Active2 is more expensive than the standard Galaxy Watch and does feature a few improvements. We got the silver stainless steel version with LTE and spent the last few weeks using it as our main smartwatch.
Setting up
The first step to using a smartwatch is setting it up and with the Galaxy Watch Active2 the process is a bit more inconvenient than something like the Apple Watch. Even wearOS devices require simply installing a single app for setup.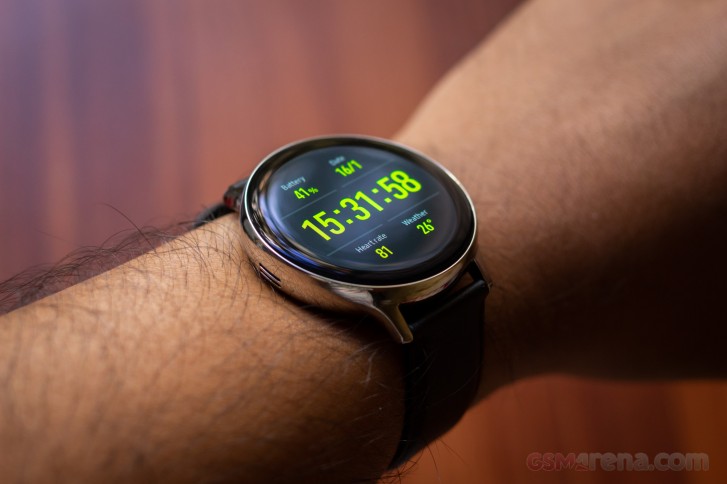 With the Galaxy Watch Active2, you first have to install the Galaxy Wearable app to setup the watch on an Android device. During the setting up process, the app will prompt you to install the Samsung Accessory Service app from the Play Store and then the Watch Active2 Plugin app. These icons then hang around in your app drawer and if your launcher does not support hiding icons then you will have to hide them in a folder to get them out of the way.
We used a OnePlus 7T Pro for pairing the watch and it made no difference - the Galaxy Watch Active2 is designed to work with any Android smartphone, or indeed, even an iPhone. If you have a Samsung smartphone, some of the required apps may already be pre-installed on your device although you may still be prompted to install some of the plugins necessary for the particular watch during setup.
Surprisingly, the process of setting up the watch with an iPhone was easier. All you have to do was install the Samsung Galaxy Watch app from the App Store and you are good to go. The single app handled everything and at no point does it ask you to install anything else.
We wonder why Samsung cannot make the process this easy on Android as well, especially since the Galaxy Watch Active2 will likely be bought mostly by Android users. Both Apple and Google also manage all their watch related tasks through a single app, so Samsung is really behind the curve here.
The apps themselves are fine. You can only really open the main Galaxy Wearable app on Android, as the other two are plugins with no UI. The app lets you adjust all settings on your watch, change watch faces and download new ones from the built-in store. The app is also how you update the apps and firmware on the watch. The iOS app looks a bit outdated due to the lack of a dark mode, even though the app is updated fairly regularly and doesn't seem to miss any functionality.
As a watch
Before we delve into how the Galaxy Watch Active2 is as a smartwatch and a fitness tracker, we need to discuss how it is as a watch.
In that role it is mostly okay. It looks decent if unspectacular, at least in this stainless steel silver variant we received with a black leather strap. It has a simple, classic watch look to it but you're not fooling anyone with this.
We also don't get why a smartwatch has to look like a classic watch at all, a boring one at that. If you ignore all the smartwatch and fitness tracking functionality of this watch and ask us if we'd buy it just for how it looks as a watch, the answer would be a no.
The design and naming is especially odd compared to the standard Galaxy Watch, which has a sportier design despite not having Active in its name, while the Active2 has a more classic look.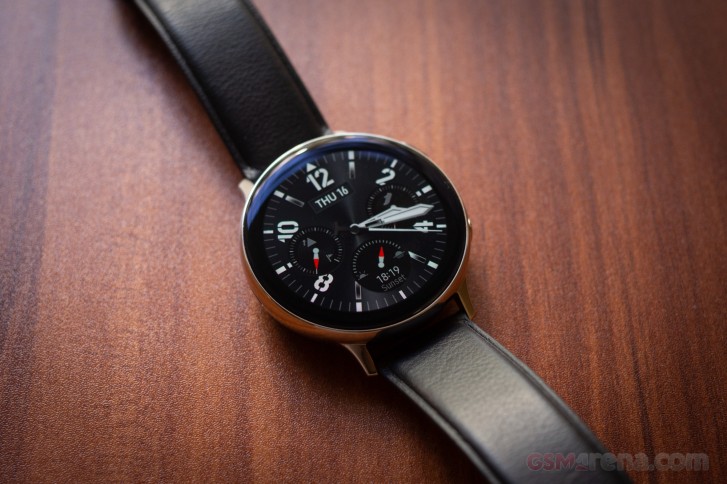 The Galaxy Watch Active2 is available in two sizes, 40mm and 44mm, although in some regions you may get one of those. Our review unit came in 44mm, which is the only size available in India, for example. The 44mm option is quite large and because it's circular, it takes up more space than a square smartwatch of similar display size.
It's also a thick watch that protrudes a fair bit from your wrist and that takes some getting used to as you will find yourself bumping it into things in the beginning. If you have small wrists, you should get the 40mm one if it's available but be warned it also has a smaller battery inside.
For the watch band design, Samsung has opted for standard lugs to attach the straps to the watch. This means you have a lot of options when it comes to finding bands for this watch. The leather straps that came by default with our unit got all wrinkly near the slots within a couple of days of use, which is to be expected of leather. We didn't see any water damage, however, even though the watch would get splashed all the time while washing hands. Having said that, we wouldn't choose the leather straps if you intend to go swimming with it. Also, the straps aren't all that annoying if you wear the watch while typing on your keyboard.
As a timekeeping device, the Galaxy Watch Active2 is just fine. The always-on display is a welcome feature, so the time is just a glance away at all times. What makes it even more valuable is that the watch's raise detection is atrocious and if the always-on display is disabled, you have to make very large, deliberate movements to make the display turn on and show you the time.
You can't just twist your wrist lightly for it to make you show the time, a gesture which works just fine even on older Apple Watch models. For this reason we left the always-on display enabled on the Galaxy Watch Active2, even at the cost of additional battery drain.
Speaking of battery, the Galaxy Watch Active2 does have very good battery life, at least on the 44mm version. Without using any of the activity features but keeping the heart rate monitoring on at all times along with the always-on display gave us about 2-3 days of battery life. If the heart rate monitoring was set to every 10 minutes and the always-on display was disabled, it was possible to get about 4 days of battery life.
This is with LTE and Wi-Fi disabled - having those enabled along with everything else will likely knock the battery life down to just one day but that's not too bad considering everything going on on this watch.
The charger is a tiny puck that magnetically sticks to the bottom of the watch and charges wirelessly. Samsung does not provide any actual wall plug with the watch so we used a standard 10W charger with it, which took about 2 hours for a full charge.
As a smartwatch
The Galaxy Watch Active2 runs on Samsung's Tizen OS. While in the mobile operating system space, Tizen couldn't quite get a foothold, as far as smartwatches are concerned, Tizen is at least as good as Google's Wear OS.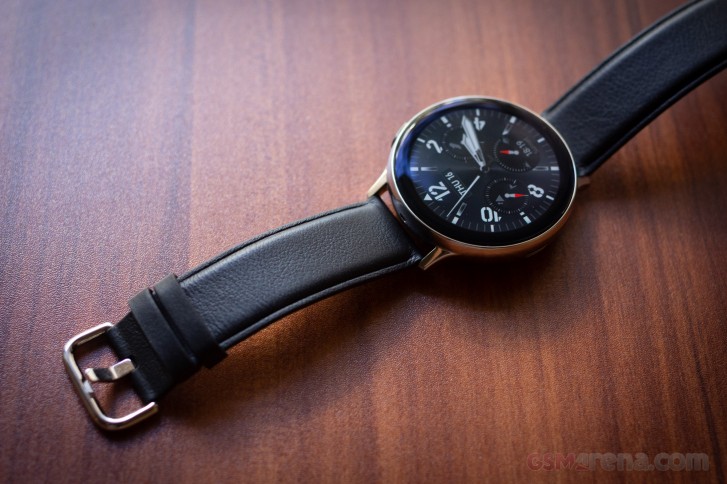 In terms of basic operation, the Galaxy Watch Active2 is fairly intuitive. From the homescreen, which is basically your watchface, you can swipe left to access all of your widgets. The watch has a lot of widgets, most of which are related to fitness. Most of these provide enough information that you never have to go into their respective apps. Just make sure you change the default display timeout from 10 seconds to something more reasonable like 30 seconds or else it will keep turning off on you while you're trying to read all the information.
If you swipe right on the screen, you get into the notifications screen. Here you can choose which apps from your phone or the watch itself can push notifications. You can swipe up on each notification to dismiss it or keep swiping right for the dismiss all button.
Swiping down on the screen shows all your toggles for the various watch features like night mode, do not disturb, always-on display, theater mode, flashlight, battery saver, water lock mode, Wi-Fi, LTE and more. The icons for all of these are fairly self descriptive.
If you have to change your watch face, just press and hold down on it to enter the watch face gallery. Here, you can pick from the installed watch faces and also customize them. The UI here again is intuitive enough but we still prefer using the app as it's a lot more comfortable to use for these tasks.
The Tizen OS UI for smartwatches was originally designed with the rotating mechanical bezel in mind. The Galaxy Watch Active2 does not have that, so you have to scroll using the touchscreen or swipe around the edge of the display in a circle. The scrolling feels a bit awkward at times, especially while scrolling through dozens of different complications for the watch face, and the rotating gesture feels imprecise compared to the mechanical dial on other Gear watches. It's also not supported in all apps.
Having a round watch face does mean you don't see as much information on it at once as you would have with a square watch face. This is one of the pitfalls of trying to make a smartwatch look like a regular watch. It also limits how many components you can pack inside the watch itself without making it huge.
Coming back to the notifications, one of the bugbears with the Galaxy Watch Active2 is the vibration. It is extremely vague and subtle, even at the strongest setting. Even the speaker on the side isn't particularly great. It's audible in a quiet room but you could totally miss it outdoors and the ASMR vibrations don't help either.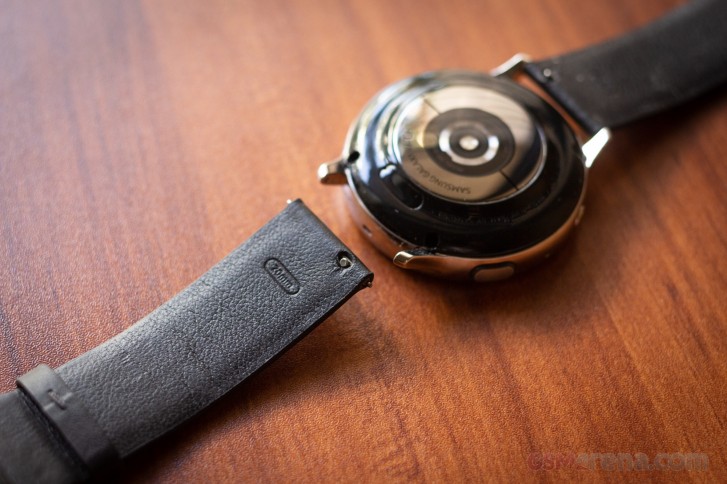 In terms of third party application support, there isn't a ton of variety here. This is largely the case with all smartwatches but Tizen and Wear OS are particularly bad at this. You have some third party apps from companies like Spotify, Uber, Strava, Edomondo, etc. but most of them come from Samsung itself. Also, if you look at all apps in total, majority of them are just watchfaces.
However, after a few years of having smartwatches around, we are no longer that upset at the lack of native smartwatch apps. The Apple Watch had the best collection of native smart watch apps around but the developers stopped developing them because no one used them.
At the end of the day, using apps on a tiny smartwatch screen simply isn't a great experience, so the fact that there aren't a ton of apps to install doesn't really feel like a problem. We'd rather the watch just show notifications and let the phone handle the app duties, and the Galaxy Watch Active2 does this just fine.
You do get a ton of watchfaces to choose from, however. The watch itself comes with a fair number of them, with some good ones but nothing particularly great. Some of the Samsung watchfaces even make a ticking sound through the speaker, which is a bit much. Then there's a lot more to choose from the store within the companion app. Most of the good ones there are paid but if you've paid this much for the watch then a dollar or two for a watchface isn't going to make you go broke.
One of the disadvantages of using a Tizen OS smartwatch is that you're pretty much stuck with using Bixby as your voice assistant. The watch version of Bixby is even more limited than what you get on smartphones and can mostly do things on the watch itself. Asking it any internet related query will usually result in it telling you it can't do that. But if you just want to set alarms or timers or start a workout then it works reasonably well.
In terms of connectivity, the Galaxy Watch Active2 worked fine. Once you put a couple of walls between yourself and the phone, the watch does drop connection but as long as you're moving about in the same room or even an adjacent room you stay connected pretty well to the phone.
The Galaxy Watch Active2 does have an LTE version and our review unit did support LTE. Unfortunately, due a carrier restriction, we couldn't enable it on the SIM card that the phone was paired with so we couldn't test the LTE functionality.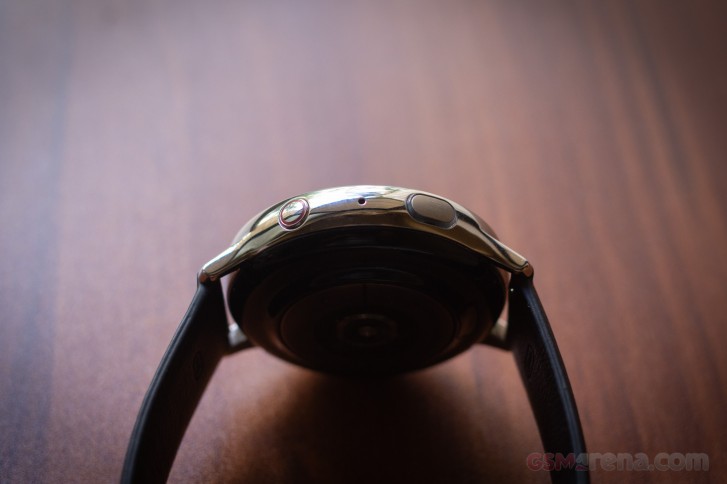 The LTE support works pretty much exactly the same way it does with the Apple Watch and you need a carrier with eSIM support to enable it on the watch. Depending upon your carrier, you will need to enable a separate plan, which may or may not cost you extra but you will be able to use the same number on the watch as on your phone.
This should allow you to make calls, use data and send SMS from the watch even when not paired with your phone, like when you're out on a run and leave the phone behind. However, there aren't a ton of apps here to use the data functionality, so you may just be using the LTE connectivity for the occasional call.
Music streaming also worked fine on the watch. We paired Bluetooth headphones to the watch and manage to stream some music from the Tidal app. The app didn't work great all the time and there were times it just showed endless loading screens but that seemed more of an issue with the app than the watch itself. If you don't have a Tidal account, you could also use Spotify or just transfer some music to play locally off the watch's admittedly limited internal memory (1.4GB).
While doing all of these activities, the Galaxy Watch Active2's performance was solid. It's not particularly smooth or quick but for a smartwatch that is capable of doing so many things at once, the little 1.15GHz dual-core chipset with 1.5GB of RAM seemed to perform quite well.
Making all of this look good is the 1.4-inch, 360x360 resolution Super AMOLED display. It's a great looking display with bright, vibrant text and iconography that's easy to read in any lighting condition.
As a fitness tracker
When it comes to fitness tracking features, the Galaxy Watch Active2 is loaded to the gills. First of all, it's the sheer variety of exercises that the watch can track. It can do it automatically when it detects a workout or you can choose from one of the dizzying number of options that basically covers most commonly performed exercises.
Starting with the basics, the watch can do step counting for all the walking you do during the course of the day. It keeps a track of this in the background and with the help of various watch faces have it being displayed on the screen at all times. It also keeps a track of when you're sitting idle and for how long and if you've been idle for an hour, it will alert you to move around a bit. Apart from that, the watch can also track any inclination changes and counts any stairs you've taken separately.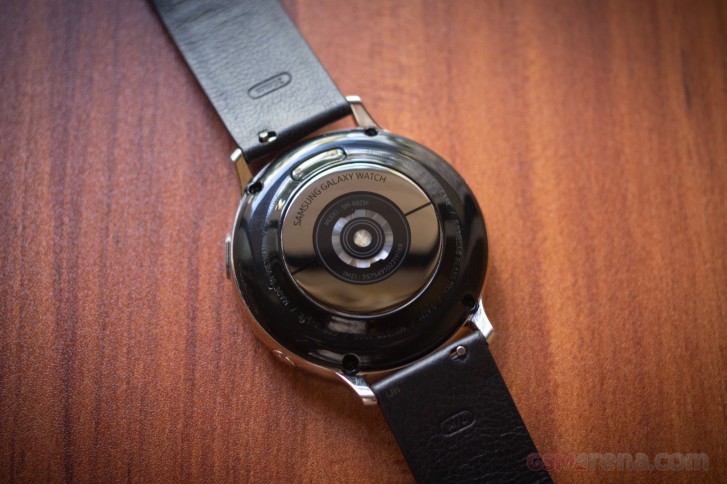 Then there are the different workouts, and there's a lot of them. Here's the full list of everything the Galaxy Watch Active2 can track for you: running, walking, cycling, hiking, swimming (pool or outdoors), treadmill, exercise bike, elliptical trainer, circuit training, weight machine, arm curls, arm extensions, back extensions, burpees, crunches, deadlifts, front raises, lat pulldowns, lateral raises, leg curls, leg extensions, leg press, leg raises, lunges, mountain climbers, pilates, plank, pull-ups, push-ups, rowing machine, shoulder presses, sit-ups, squats, star jumps, step machine, stretching, and yoga.
Whenever you enable one of these modes, the watch starts looking for corresponding movement patterns and starts tracking your reps. You get a sound from the watch for every rep and an alert for every five. After ten you complete a set and the watch will let you rest for a minute before getting back for another set. You can choose how long you want to keep going before finishing the workout.
For swimming, there is a special mode that locks the screen before you start so that the touchscreen doesn't get triggered by the water. You have to disable it by pressing and holding the home button, which also plays a tone that ejects any remaining water from the speaker grille.
One of the annoyances with the watch during workouts is that it doesn't stay on the workout screen. You get audio cues for your reps and sets but the screen just goes to the watch face as soon as the display timer is up so you don't get any visual information at a glance. With an always-on display and an OLED panel, there really is no need for such aggressive power saving and we'd rather the watch just stayed on the workout screen till the workout is over instead of rushing to turn off.
The Galaxy Watch Active2 does include the usual bells and whistles you'd expect from a fitness tracker. There's GPS for tracking your outdoor workouts. The heart rate monitor can be set to track your heart rate over ten minute periods or be on at all times and it's always running during workouts.
The watch can also calculate your stress level and recommends breathing exercise if it's too high. A sleep tracker is also included, which automatically detects your sleep times and keeps a record of them.
Apart from that, you can also manually feed information regarding how much water you drink, your caffeine consumption, calorie intake and so forth for a more detailed analysis of your health. All this feeds into the optional Samsung Health app, which keeps track of all this data. You can use it to set fitness goals and check your progress.
Overall, the fitness features included in the Galaxy Watch Active2 seem quite adequate for most people and commonly done workouts. We didn't see any options for crossfit, aerobics, kickboxing and some other types of workouts and there was also no option for people in wheelchair working out, all of which the Apple Watch supports. If you want those options, you may want to look into a dedicated fitness tracker. However, for most people, the Galaxy Watch Active2 workout list should be adequate.
Verdict
The Galaxy Watch Active2 is a well-rounded smartwatch and fitness tracking device. It does most things that people expect from smartwatches today and comes with a long list of supported exercise tracking options, which should be plenty for most people. The optional LTE is convenient for those who would want to take calls or stream music while on the run while leaving their phone behind. The battery life is also quite good.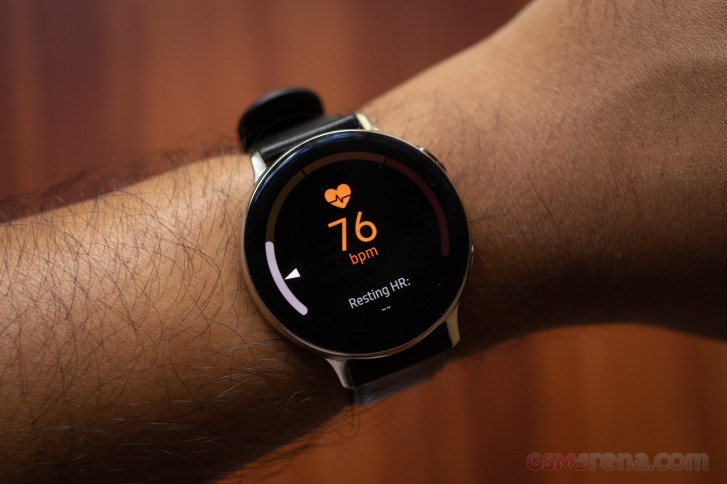 It's not the most attractive looking watch, however, and Samsung needs to make the setup process on Android more streamlined. The haptic feedback is also quite weak and barely noticeable. Also, some users might find a few workout options missing compared to other fitness tracking devices. However, at $250 starting price on Amazon, these are reasonable compromises to make.
So if you want a good, all-round smartwatch for your Android smartphone, the Galaxy Watch Active2 is one of the best options on the market.
M
Samsung pay not available in india
K
Please help me setup my esim on my samsung galaxy active 2. I am using a one plus 6 and it isn't configuring esim. HELP
p
There should be a mistake in the specified screen to body ratio. It can't be only 32%?
ADVERTISEMENT