Samsung Galaxy Watch gets a new update that improves charging and music playback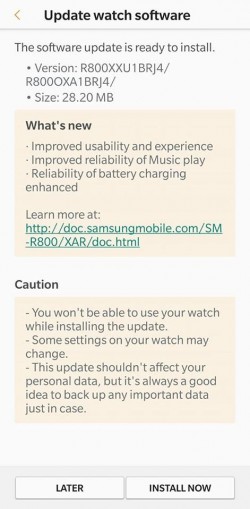 Samsung's latest wearable, the Galaxy Watch, debuted alongside the Galaxy Note9 back in August. Today it's started to receive a new software update.
This isn't a big one, nor does it bring with it new features. Instead, what it does is enhance the reliability of battery charging and improve the reliability of music playback.
Additionally, the overall usability and experience have been improved as well, though there are no further details as to what that might entail.
The update requires a 28MB download, and you can grab it through the Galaxy Wearable app on the phone that your watch is paired to.
Once you install the new release, your Galaxy Watch will be on software version R800XXU1BRJ4 (for the 42mm device), or R810XXU1BRJ4 (for the 46mm model).
At the moment, the update is rolling out in the US, and it should be making its way to other countries in the next few days and weeks.
Well a gadget for 700 which does some tricks phone can do its always a problem. I rather put phone from pockets than having both phone and watches. Its healthy for my wallet.
?
wich watchface is in the picture?