The original Samsung Galaxy Win is almost two years old at this point, so the Korean company thought it would be a great idea to unveil a successor for it. So it did just that.
The Galaxy Win 2 was officially announced in Brazil, where it was also the star of some hands-on pictures.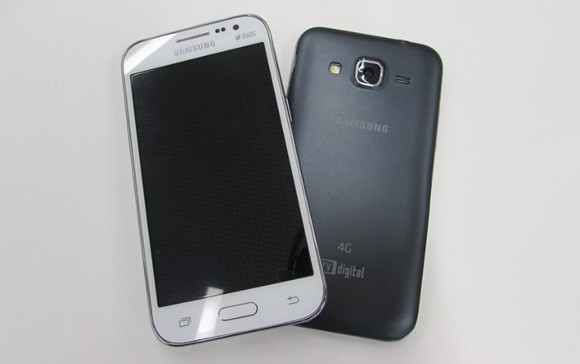 The new device updates the Android version on board to 4.4.4 KitKat, but it makes the screen size smaller - now just 4.5", compared to 4.7" in the original. The resolution has stayed the same 800x480 though.
The Samsung Galaxy Win 2 also boasts a 1.2 GHz quad-core processor, a 5 MP rear camera with LED flash, a 2 MP front snapper, 1GB of RAM, 8GB of built-in storage (expandable via microSD), and a 2,000 mAh battery. It comes with 4G LTE support, dual-SIM functionality, as well as the usual connectivity options. Its dimensions are 131 x 68.1 x 8.8 mm, and it weighs 130g.
So it looks like the main upgrades here (aside from the software) are the 4G capability and the front-facing camera, now featuring 2 MP resolution, up from VGA on the Galaxy Win from 2013. In fact, Samsung has actually emphasized this during the launch event, saying that selfies are becoming extremely popular in Brazil, and the new camera should allow people to shoot them better.
The Galaxy Win 2 is already up for grabs in Brazil in black and grey. Recommended prices are BRL 729 ($233) for the version without digital TV, and BRL 779 ($249) for the one that does have that feature.
Thanks for the tip, Matheus!
R
My bad. You're right. Wouldn'd be the 1st time. The Quattro is named Win here in Brazil. Other makers also change names here - Droids are usualy RAZR here, Droid Turbo is Moto Maxx, etc.
R
Gizmos are freakin' overpriced in Brazil. The 1st gen Zenfone 5 with 1.2GHz SoC, 1GB RAM, 8GB internal memory, 3G, costs about the same as Galaxy Win 2. The Zenfone 2 will surely cost north of $400 here.
u
Samsung overprices everything...
ADVERTISEMENTS