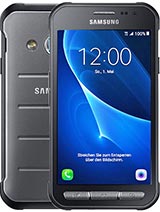 ?
On the whole a nice easy to use mobile that covers all the basics needed in a mobile...
That being said, for what i mainly bought it for its outstanding...

I have been a fan of the Xcover series for a while and love it as my main navigation tool when out on bushwalks/hikes as it uses GPS and GLONAS.. often my nav program shows 10-16+ satellites to track so navigation is more precise..

I carry spare batteries for it and simply swap them out when low and either charge later or plug into a small solar panel i carry on my pack and they charge while i walk (voltage fluctuations are not good for direct charging of the mobile)

Its general sturdiness and water resistance works well when in the outdoors and i don't have to be concerned about using it in the rain (except the touch screen fails when it and fingers are wet)
D
Nice and tough little phone. It's not an S5 or S6 but it's a far superior than most entry level android phones.Mine is the value edition with Marshmallow 6.0.1.

I work in construction and this has survived drops, mud and dust with no problems since I've owned it since Jan 2017.

Do NOT use a tempered glass screen guard on this phone. It slows down the touchscreen reaction time really badly. I think it's to do with the water/shockproof design of this phone.
I use an older universal plastic screenguard, cut the earpiece slot out with a scapel and set the length to about 2mm above the 3 fixed buttons.

I use a clear rubber gel case for the phone at work and a leather case for after work. The leather case had a plastic shaped holder for the phone with is brittle and breaks up, so I unbonded the glue holding it to the leather (with a hair drier) and glued a new clear rubber gel into the leather case.
(Bostick clear multipurpose glue, leave overnight with a decent weight inside the shape of the gel case)

No problems since I did this 3 months ago ;-)

Pros: Tough and compact phone. Very bright screen for outdoor use, way better than all cheap android phones and Vodafone entry level phones I've used previously. Looks good too.

Con's: 8gb internal is tiny, I have a 64gb memory card, but most apps have to stay on the phone memory and the apps that can be stored on the memory card, switch back to internal memory after app updates.

I have to manually move them back again to the memory card.

Also, there doesn't seem to be anyway to set the camera to save pictures directly to the memory card like my last Vodafone phone.

If i could sort those two memory issues, I would give this phone a 5 out of 5 instead on 4 out of 5.


D
Anonymous, 05 Feb 2017The phone already comes with a reinforced body that tolerates drops onto hard surfaces, dirt, ... moreLeather and gel cases are available for these phones. They're aren't in every shop, but they do exist 😊
m
hi,I forgot the latest account used to sync on the galaxy xcover3,,how to solve that issue..
D
hello! is this phone have gyro sensor? and will it run Skyview app??
C
Quad-core 1.3 GHz Cortex-A7

or

Quad-core 1.3 GHz Cortex-A53?

Samsung Galaxy On5 (November 2015)
Chipset Exynos 3475 Quad
CPU Quad-core 1.3 GHz Cortex-A7
GPU Mali-T720
r
After 3 days of use loudspeaker start to noise.Day by day noise grow up.Afterall,I snap device on day 8!
LED not work if battery is 15% or lower.
No front camera LED.
Only good thing of this product is case.By the way,back part not fit well after some removing times.
Don't by this Poland phone.
?
AnonD-639973, 30 Jan 2017Why is there a problem buying phone cases on the highstreet for these phones ??The phone already comes with a reinforced body that tolerates drops onto hard surfaces, dirt, mud, sand, and water without damage. There is no reason whatsoever for it to ever have a case. That's why there are no cases available on the high street -- they simply do not exist for this phone.
D
Why is there a problem buying phone cases on the highstreet for these phones ??
c
I've recently got it at work. I've had all the previous models. It's a little step forwards. Still no bragging rights. As a phone for very rough handling it's well priced. Specs are on the verge of being absolete. But it works and doesn't run out of power. You can feel it's ageing when surfing and mailing. It's not lagging but it not quick. I still would recommend it for work. It's always been a functional brick. The competition is getting closer. The next model has to get a major overhaul or it will loose in the competition. Better camera and some more muscle in the machine room please.
D
AnonD-614537, 17 Dec 2016Very nice phone! Working with no lags at all (6.0.1). Thanks GSMarena to add this Value Edi... morei want it now coz lg let me down getting this in few days and lets see is it worth it.. :)
Total of 13 user reviews and opinions for Samsung Galaxy Xcover 3 G389F.