Double smart
Samsung Galaxy Y Duos S6102 review : Double smart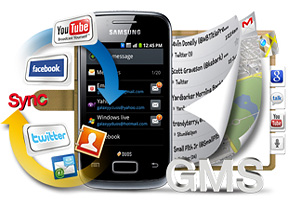 Phonebook with social networking integration
The phonebook of the Samsung Galaxy Y Duos has unlimited capacity and all the functionality you could want. The application displays contacts stored in both SIM cards (or you can hide contacts from one or both SIMs), your Google account and in the phone memory.
The phonebook uses a tabbed interface, which lets you browse all contacts (with a handy search field), organize contacts into groups, check the call log or view Activities. Activities is where you'll find all recent status updates from your contacts (Facebook and Twitter are supported).
The main contact list view hides some useful shortcuts too. Swiping your finger to the right on a name will dial the contact's default number, while a swipe to the left will start the message composer.
Each contact can have multiple email accounts and sync options include Exchange. There are many other details that you can assign to each entry, such as numbers, email addresses, IM, organization, etc. Clicking the plus sign on the right adds another field of that type, while the minus sign deletes it. Contacts can be joined too, so you can combine someone's Facebook (or Twitter) account with their main contact entry.
Similarly to the main screen of the phonebook, each contact has a tab for calls, activities and media (online albums go here).
You can set a default phone number for a contact, but there's no way to set which SIM card should be used to make the call to a given contact - you have to switch the active SIM manually. That's not too hard though with the SIM toggle integrated in the notification area.
Dual SIM telephony
The Galaxy Y Duos handled calls trouble-free. The reception was consistently good and sound in the earpiece crisp and loud. We didn't experience any dropped calls.
Smart Dialing is available and works beautifully. Tap a digit and it searches both contact numbers and names containing it. If more than one contact is found, a button with a number and an arrow will display the rest of the matches.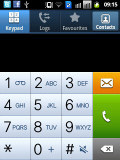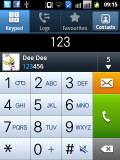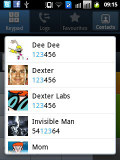 The dialer • Smart dial is enabled
Thanks to the proximity sensor, your screen will automatically turn off during a call. The available options during a call include taking a note, using the keypad, muting, holding the call or adding another call to this conversation.
This is probably a good time to talk about the dual-SIM, dual-standby functionality of the Galaxy Y Duos S6102. From the "SIM card manager" option in the Settings, you can switch each SIM card on and off individually (which can help save battery).
You can also pick which SIM is to be used for mobile data - only one can be used at a time. Another option is whether or not the phone should be able to receive calls on the other SIM while using mobile data on one SIM.
You can set "Use 2G networks only" for the SIM cards (but only one can be in 2G and one in 3G, you can't force both into 2G mode) along with options on access point names and data roaming.
The call log is integrated in the dialer. It shows all the dialed, received and missed calls in one list, but you can choose to view calls from only one of the two SIM cards. Each call entry has a small number icon indicating the SIM card used.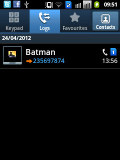 The call log remembers which SIM was used to make the call
We also ran our traditional loudspeaker test on the Galaxy Y Duos and it got a Below Average score. Keeping this one in a purse or some deep pocket can result in missed calls due to an overall quiet speaker. More info on the test itself as well as other results can be found here.
| | | | | |
| --- | --- | --- | --- | --- |
| Speakerphone test | Voice, dB | Pink noise/ Music, dB | Ringing phone, dB | Overal score |
| Samsung S5360 Galaxy Y | 65.8 | 62.0 | 67.1 | Below Average |
| HTC One V | 66.9 | 65.3 | 67.7 | Below Average |
| Samsung Galaxy Y Duos S6102 | 66.2 | 64.9 | 69.7 | Below Average |
| Apple iPhone 4S | 65.8 | 64.5 | 74.6 | Average |
| Sony Ericsson Xperia active | 70.5 | 66.5 | 68.2 | Average |
| HTC Explorer | 66.3 | 66.2 | 79.0 | Good |
| Motorola RAZR XT910 | 74.7 | 66.6 | 82.1 | Very Good |
| Nokia Asha 303 | 77.1 | 72.3 | 78.7 | Excellent |
Messaging and email
The messaging application is quite straightforward. It has a new message button and bellow it are all the received messages organized in threads. The same swiping functionality found in the phonebook has been integrated here as well (swipe left for message, right for call). Tap and hold on a message or thread to get options such as delete or forward.
There's application-specific search that lets you quickly find a given message among all your stored SMS and MMS.
Composing a message is pretty straightforward. You just start typing the name or number of the recipient and choose from the list of suggestions. If you add multimedia to the message it will automatically be turned into an MMS. You can just quickly add a photo or an audio file to go with the text or use a full-blown MMS editor.
A press-and-hold in the tap-to-compose area gives you access to functions such as cut, copy and paste. Once a text is copied you can paste it across applications like email, notes, chats, etc.
Each message in a thread has a numbered icon that indicates which SIM was used to send the message (just like the call log).
For email you can choose between the standard Gmail app or the generic email app. The Gmail one supports batch operations, which allows multiple emails to be archived, labeled or deleted. Multiple Gmail accounts are supported too.
The generic email application is used for all your other non-Gmail accounts and supports multiple POP or IMAP inboxes. You have access to the original folders that are created online, along with the standard local ones such as inbox, drafts and sent items.
The TouchWiz UI in the Galaxy Y Duos features a combined inbox, which brings together all your mail in a single folder so you don't need to check each one for new mail. This can be quite handy if you have lots of accounts and you just want to check if there is a new message needing your attention.
Google Talk handles Instant Messaging. The G-Talk network is compatible with a variety of popular clients like Pidgin, Kopete, iChat and Ovi Contacts.
The Samsung Galaxy Y Duos comes with the Samsung home-baked keyboard preinstalled. Despite the smaller screen resolution, this keyboard feels comfortable to type on, what really makes it hard is the small screen size.
When you rotate the phone sideways, the virtual keyboard automatically switches to the landscape mode, which is much bigger and more comfortable to use. It covers most of the screen however, leaving room for only two lines of text.
Voice input us also available and works quite good if you are in quieter environment.