Double smart
Samsung Galaxy Y Duos S6102 review : Double smart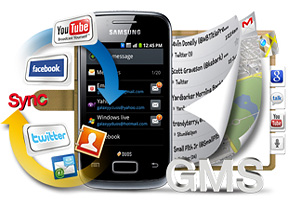 Dual-SIM connectivity
The Galaxy Y Duos is ready for worldwide roaming with quad-band GSM/GPRS/EDGE and dual-band 3G with HSDPA download rates of up to 7.2 Mbps for both its SIM cards.
You should keep in mind that not more than one card at a time can use a 3G connection, the other one uses 2G. You have to go into the settings and manually toggle which one uses 3G and which one 2G.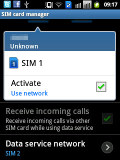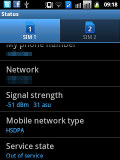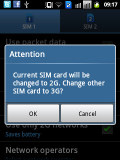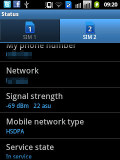 Each SIM card has its own tab with settings
The connectivity package also offers Wi-Fi (b/g/n), Bluetooth 3.0 with A2DP support and USB v2.0.
The Samsung Galaxy Y Duos doesn't pack much internal memory (180MB is downright low for app installation), but it comes with a 2GB microSD card and support for cards up to 32GB.
The 3.5 mm standard audio port completes the connectivity tally. You can keep your favorite headphones and use them with the Galaxy Y Duos hassle-free.
Low-end browsing
The Android Gingerbread browser usually offers a great mobile browsing experience. But on the 3.14" low-quality QVGA resolution you'll need a lot of patience to go through a page or read an article.
The user interface is pretty much nonexistent at first sight, which leaves what little screen real estate there is to the web page. Once the page finishes loading, all you see is the status bar on top of the screen as the address bar hides automatically.
The context menu is where a lot of the functionality is hidden. From here, you can open a new tab, switch tabs, refresh the page, go forward, and open bookmarks. The final button reveals even more options (text copying, find on page, etc.).
The Galaxy Y Duos browser supports three zoom methods - dedicated buttons, double tap and multi-touch pinch-zooming. The browser also supports text reflow, which is essential on such a low-res screen.
There's bookmark list that shows a thumbnail of the bookmarked page and you also get a "most visited" list in addition to the history.
The Samsung Galaxy Y Duos has the YouTube app to partially compensate for the lack of Flash support. Of course, there are plenty of other video sharing sites and sites that use Flash for completely different purposes, but you have to live without them.
Organizer and apps
The organizing capabilities of Android have reached extremely high levels the past couple of years. And as with most Galaxy smartphones, the Galaxy Y S6102 is equipped with all the necessary apps.
Let's start with the calendar app. It has four different types of view - agenda, daily, weekly and monthly. Adding a new event is quick and easy, and you can also set an alarm to act as a reminder.
The Galaxy Y Duos comes with Polaris View preinstalled. It's a viewer-only version of the Polaris Office app found in higher-end Samsung phones. The app can open Word, Excel and PowerPoint documents (both Office 2003 and 2007 versions) and view PDFs too. There's Box.net integration so you can store your docs in the cloud.
There are also a calculator, alarm clock and voice recorder among other apps preinstalled on the Galaxy Y Duos S6102.
There are also the Samsung-made Notes and My Files apps. The first one has not changed since Galaxy S times and is very comfortable to use - you can scribble notes easily, choose different colors for your notes and more. The My Files application is a file manager that can give you access to the entire file system of your phone.
The voice recorder is easy to operate and comes preinstalled on the Galaxy Y Duos. You can record as many sound clips as you like and the only limitation is the memory you have on your device. The list tab shows all of your recordings sorted by date.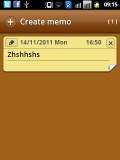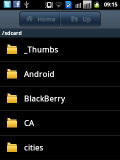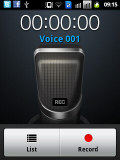 Notes • My files • Voice recorder
Google Maps and GPS navigation
The Samsung Galaxy Y Duos packs a GPS receiver, which got a satellite lock in about under a minute with A-GPS turned off. A-GPS can speed this up, but requires an Internet connection.
Google Maps is the app of choice and offers the latest touch optimizations like the two finger rotation and tilt, it also features navigation, search for POIs and much more. Street view is, of course, part of the package too.
Google Maps comes complete with Navigation, which can do voice-guidance for free. Availability is still limited though (not all countries have the option), and it relies on Internet connection for the initial route planning.
Still, even without Navigation, there is some kind of guidance: your route and current location appear on the screen so you'll reach your destination eventually, but you'll need a co-pilot to read you the instructions for that one.
The Galaxy Y Duos doesn't come with a third-party SatNav solution preinstalled but you can easily snatch one off the Android market. There are both paid and free options on offer.
Google Play market
The Samsung Galaxy Y Duos has the latest version of the Android Market - now called Google Play. The new name and icon aside there aren't major changes to the look of the app store. In select countries aside from apps you'll also find music, movies and books but this content remains limited so far.
Upon launch of the Market app you're greeted with the tiled interface of the Featured window. A swipe to the right takes you to the Categories view.
Swiping to the left takes you through Top Paid, Top Free, Top Grossing, Top New Paid, Top New Free and Trending (the ones with growing popularity). New sections are available such as Staff Picks, Editor's Choice and more.
Downloads are easy and won't take more than a couple of seconds. Before you agree to download an app, the Market will show you what features the app requires access to (e.g. Internet connectivity, access to the file system, etc.).
You should keep in mind that not all apps will be compatible with the low-res screen and the relatively old CPU. ICS-only apps are pretty rare for now, so the OS version shouldn't be an issue.