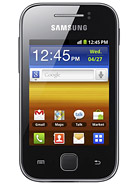 k
saptakniyogi, 27 Aug 2011you cannot compare this with xperia mini which has 16 million colours, 1 gz processor and 720 ... morethis handset is very beautiful
s12
GRV, 24 Aug 2011This phone sucks because it has almost same specifications like Xperia mini series even the po... moreyou cannot compare this with xperia mini which has 16 million colours, 1 gz processor and 720 p video recording which I think are better than this phone
?
Anonymous, 24 Aug 2011nice mid budget mobileNo Mid Budget Low Budget, Low Screen Resolution, Low Camera, 265 K Color, Nothing Special.
M
I prefer Samsung Galaxy Mini, I'm using it and loving it. Go for Galaxy Mini than Galaxy W

G
This phone sucks because it has almost same specifications like Xperia mini series even the poor battery 1200mah!!
h
no secondary camera & search button, must be budget andro cell from sam
Total of 17274 user reviews and opinions for Samsung Galaxy Y S5360.