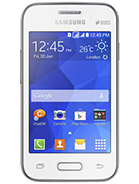 ?
not cool yr i think bttry 1500 mh n ram 700 this is battr now lav iris x1 coool phn...
?
It should have a 1.2GHz dual-core Qualcomm Snapdragon 200 processor like the LG L40
S77734
This phone Samsung Galaxy Young 2 is a low end phone but its OS is kitkat but my mid range phone Samsung Galaxy S Duos 2 has only OS jellybean v.4.2.2 but No! update from the latest version Kitkat v.4.4.2 even my one other high end Samsung phone that is the Samsung Galaxy S3 no update from kitkat... Shame on you Sammy
?
Nick, 03 Jul 2014Looks good. Good basic phone with kitkat. Screen res same as 3svery smart phone

?
what happen? the old young has 786ram and this only have 512ram? wtf. lol ,another garbage coming soon. .lg l40 is better than this crap. .1.2 dualcore faster and better. . .
j18
samsung i will never buy your phone. instead of forcing us to buy these crappy phones, you should have given our old phones KITKAT.
S77734
Garbage phone only 512Mb instead making duplicates of Samsung phones Sammy update your old phones from High end phone from low end phone to the latest Android Kitkat 4.4.2... Sammy if you keep doing this no one will buy a Samsung phones
Total of 214 user reviews and opinions for Samsung Galaxy Young 2.