The Samsung Galaxy Z Flip 5G is supposed to be officially unveiled on August 5 at the Samsung Unpacked event, but the Samsung Galaxy account on Weibo published a poster that says the pre-orders for the upgraded foldable will start on July 22.
That's this Wednesday, two weeks ahead of the Unpacked event. This may be just for China, with the global launch still set for next month. Or it could be a blind pre-order – the phone is an upgrade more than a sequel, so its specs are hardly a mystery.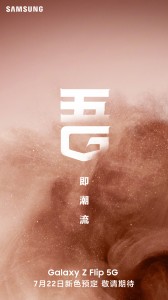 Samsung Galaxy Z Flip 5G pre-orders start on August 22
The chipset will be upgraded to a Snapdragon 865+ (the Flip will be one of the first phones to get it). This will increase performance and enable 5G connectivity. The rest appears unchanged to the naked eye – the display, the cameras, the battery are all the same as the 4G model.
You can have a look for yourself in this leaked video ad:
July 10, 2020
There will be a new color for the Galaxy Z Flip 5G, "Mystic Bronze", which appears to be the hero color for this batch of Samsung gadgets: the Z Flip, the new Galaxy Fold 2, the new Galaxy Note20 duo and even the latest smartwatch. Note that the poster says "new colors", plural, so there may be new hues that avoided leaks.
Speaking of the Fold 2, that may be lagging behind its foldable sibling and its launch may have to wait until September (alternative rumors claim that the device will launch in August but with limited availability).
f
that fold is the best phone on earth to date its durability is very much understated, the 4ķ resolution, the compactness when its folded its just a beautiful device
ADVERTISEMENTS