Design, materials, ingress protection
Let's start with the overall look of the Z Fold3. It is quite similar, yet also different enough from its Z Fold2 predecessor. If you didn't know what to look for in things like the re-designed camera island, you would probably have a hard time telling the two apart at first glance. In terms of dimensions, the Z Fold3 is ever-so-slightly smaller than its predecessor in total volume. It measures 158.2 x 67.1 x 14.4-16 mm folded and 158.2 x 128.1 x 6.4 mm unfolded, compared to the Z Fold2's 159.2 x 128.2 x 6.9 mm and 159.2 x 68 x 13.8-16.8 mm, respectively. It is also lighter at 271 g, compared to the Z Fold2's 282 grams. Granted, this difference is hard to notice in real life, but still a commendable and successful shrink on Samsung's part.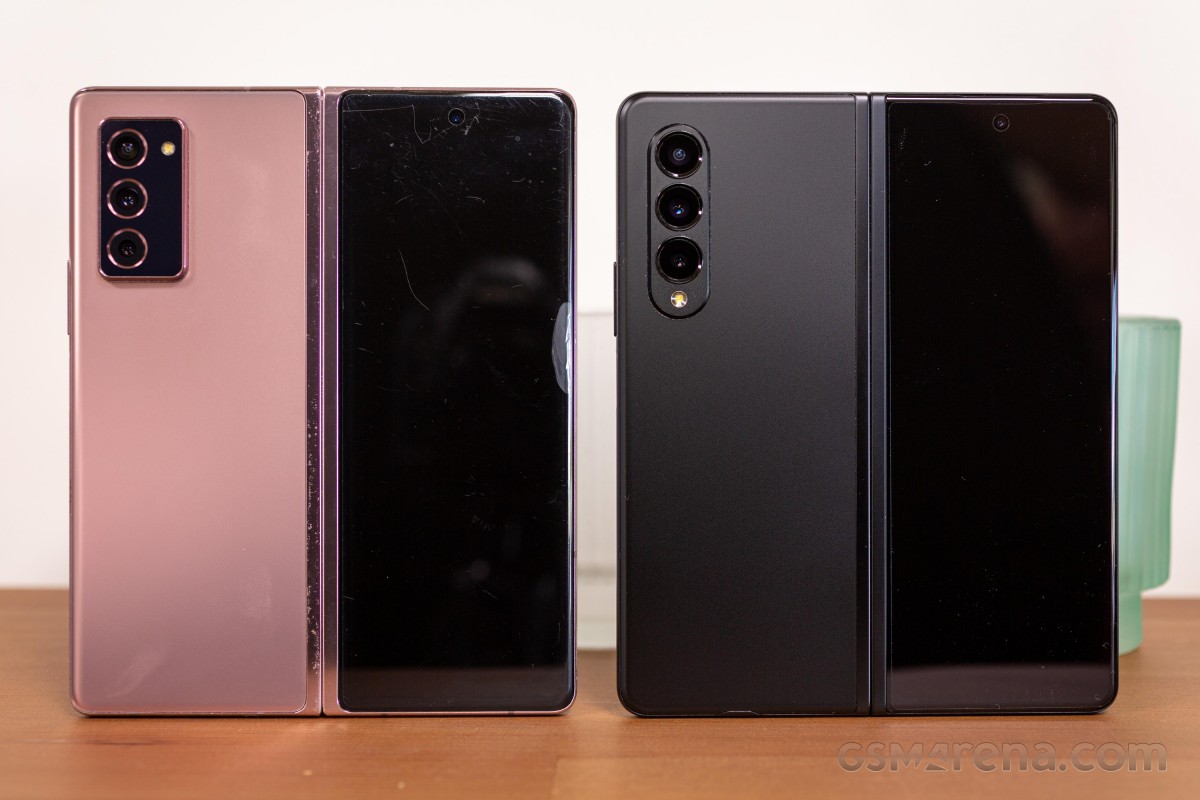 Left: Galaxy Z Fold2; Right: Galaxy Z Fold3
The commendable part is that the reduced size did not come at the expense of screen size. The main display is still a 7.6-inch, Foldable Dynamic AMOLED 2X panel, with 120Hz refresh rate and HDR10+ support - same as on the Z Fold2 and with the exact same 1768 x 2208-pixel resolution too. However, there is the small, yet intriguing detail that there are pixels, even if with noticeably lower density, on top of the selfie camera.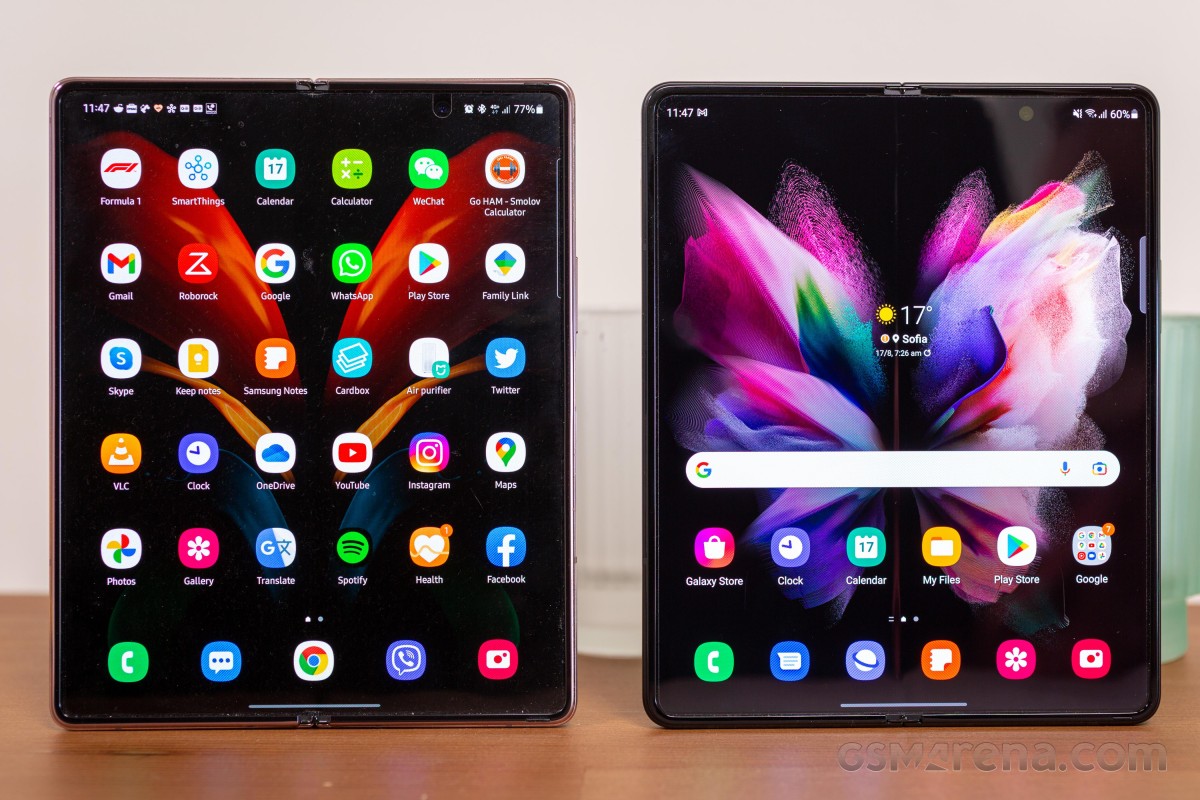 Left: Galaxy Z Fold2; Right: Galaxy Z Fold3
If you are the type of person that doesn't appreciate a punch hole cutting into their content, that is arguably no longer an issue on the Z Fold3 and you could find yourself in a situation where you utilize more of the actual display, skipping a black bar to hide the punch hole. Granted, these gains are far from universally applicable but still present. We'll dig a bit more into this in the display section.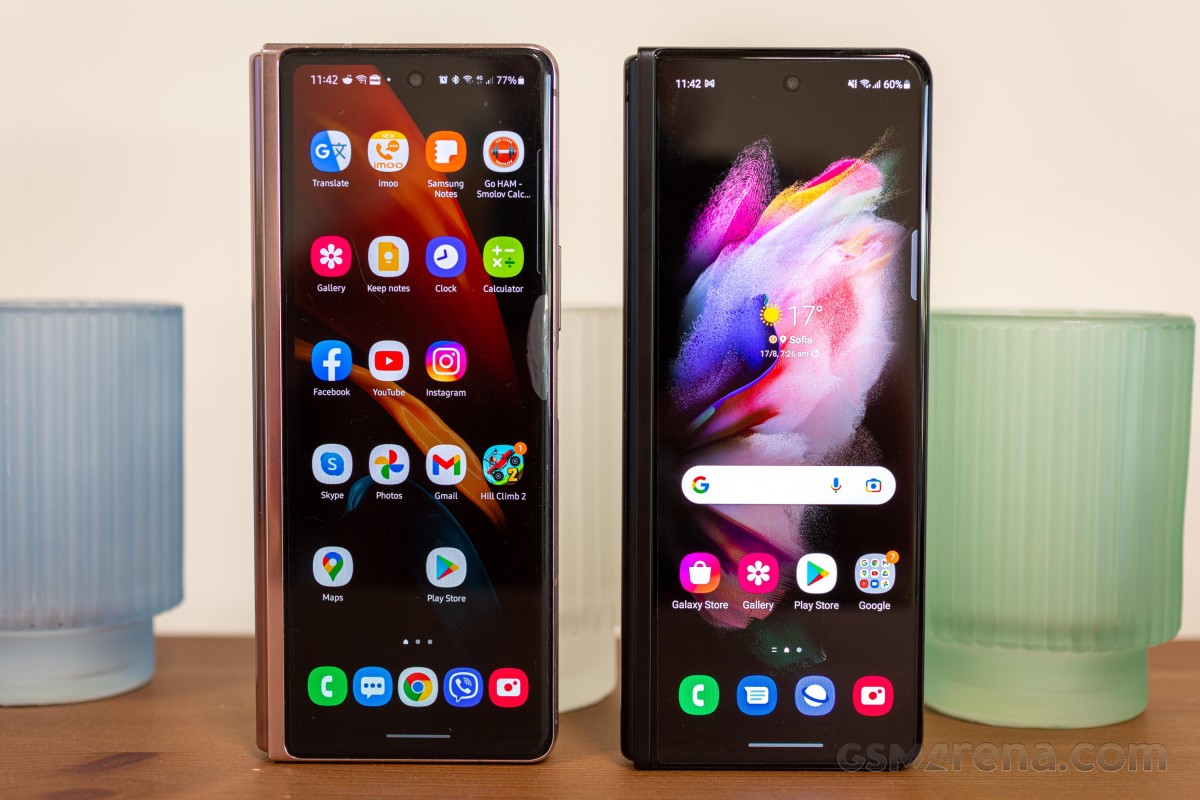 Left: Galaxy Z Fold2; Right: Galaxy Z Fold3
The outside "cover screen" display on the Z Fold3 is still being marketed as 6.2 inches but is actually slightly bigger than the one on the Z Fold2. It also has a different aspect ratio. Not by much, but the Z Fold3's panel is 24.5:9, compared to the Z Fold2's 25:9. That, essentially means that Samsung utilized the bezes a bit better on the front, shrinking them down. The actual difference in resolution really isn't all that much - 2268 x 832 pixels, compared to 816 x 2260 pixels on the Z Fold2.
The far more significant addition here is that the cover screen is now Dynamic AMOLED 2X like the main one on the inside. That means it can do a native 120Hz refresh rate, unifying the experience between the two displays.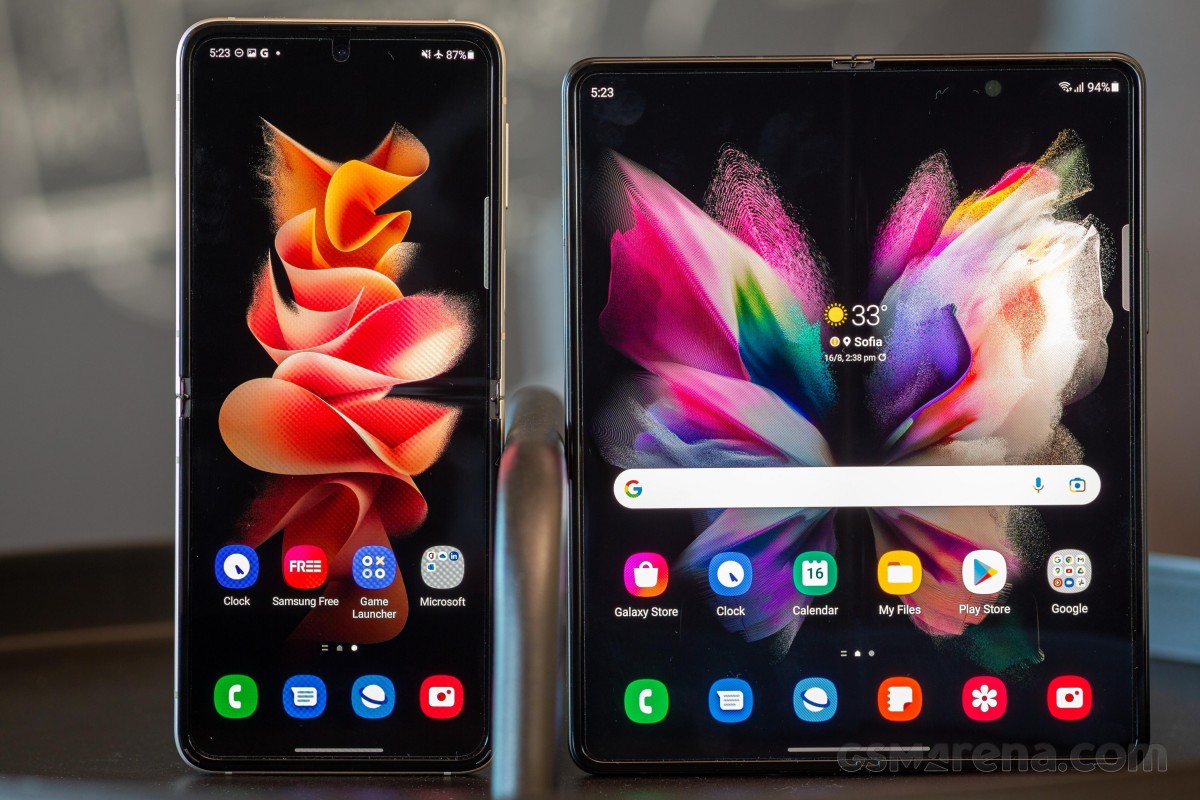 Speaking of unifying experiences, a major step forward for the Fold line and foldable phones, in general, is the IPX8 ingress protection rating, introduced with the Z Fold3. This is a first on a foldable display phone, and the way Samsung pulled it off is quite interesting. Waterproofing a hinge, with all of its moving parts was apparently nearly impossible. Cracks and seams are just to be expected. Instead, the two halves of the Z Fold3 are actually separately sealed with waterproof tape, which is the usual way to waterproof a traditional phone. The ribbon cables that run through the hinge area and connect the two parts are sealed-off with additional rubber rings, as well as CIPGs (Cured-In-Place Gasket) - a state-of-the-art gasket solution. As for the sophisticated cam-shaft hinge elements themselves - those are coated with a special anticorrosive and lubricating agent. That way, if water does get in, they should remain perfectly functional. High-tech stuff all around.
It is still worth noting, however, that IPX8 does not include dust protection and getting dust and especially other particles like sand or wood dust inside the hinge itself is a major concern.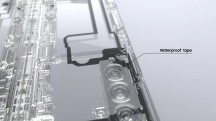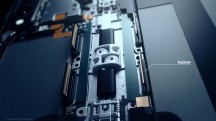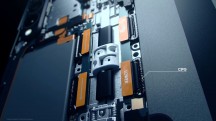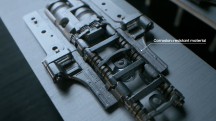 Waterproofing components in the Z Fold3
The Z Fold3 promises to be extra tough in general, as well. Samsung is particularly proud of the high grade of the aluminum alloy it is using for the body of the phone. It is called Armor Aluminum, and although Samsung doesn't share any particulars about the material, it did show-off an interesting demo, knocking a block of its stuff against a 7000 series aluminum black - the "aerospace-grade" grade material most manufacturers use on their phones.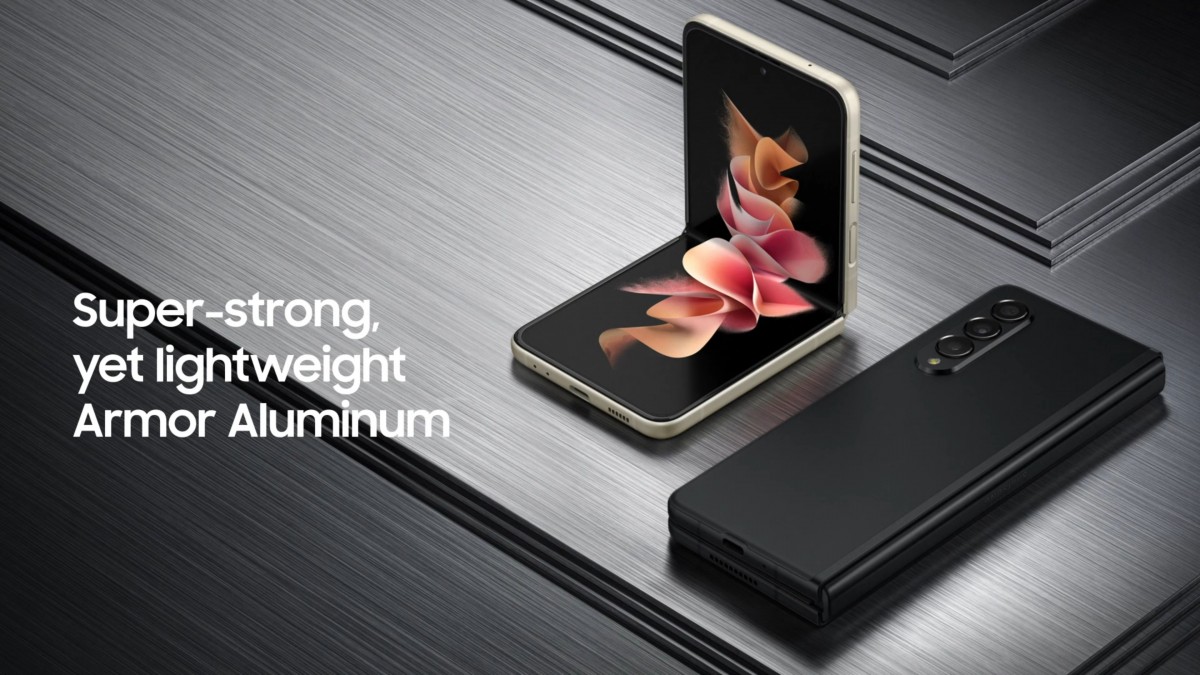 Armor Aluminum did not walk away from the encounter unscathed, but it was in much nicer conditions. Better still, apparently, Samsung intends to use Armor Aluminum in more of its devices going forward.
Speaking of finishes on the Z Fold3, there is a new selection of colors this year. Samsung has it in Phantom Black, Phantom Silver and Phantom Green. For better, or worse, the Korean giant has moved away from its signature mystic bronze this year. It is worth noting that regardless of the color you chose, the plastic, sort of bulky frame around the foldable display always stays black, and so does the entire front of the device. That includes the coved display and its surrounding bezels.
Many of you might also remember that despite its binary initial color selection, the Z Fold2 was eventually offered with a set of custom hinge colors to spice up the look. Unfortunately, there is still no word on similar customization for the Z Fold3, but it is perfectly possible for it to also come at a later date.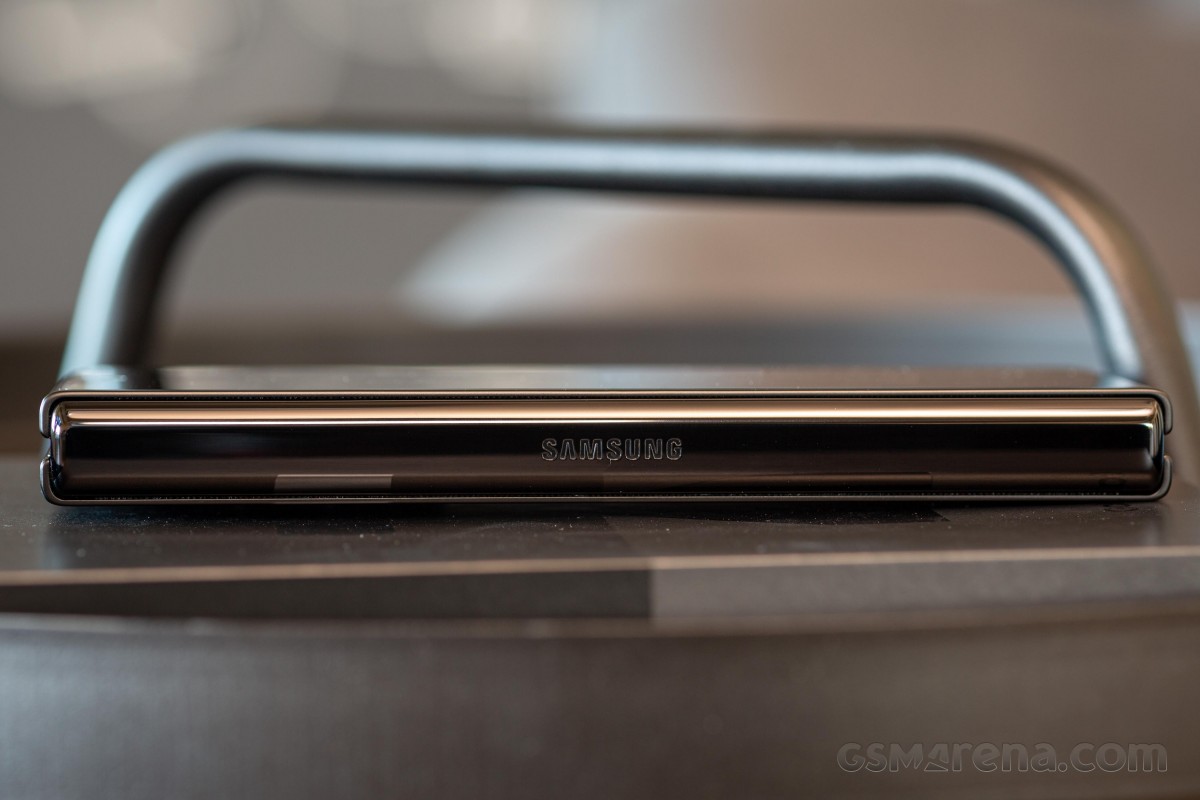 We need to talk about display protection, as well. The cover screen is the easier bit - it uses Gorilla Glass Victus and also has one of Samsung's impressively thin, factory pre-applied plastic screen protectors on top. It doesn't feel quite as good as glass to the touch, but it is among the best plastic films out there. If you particularly dislike it, though, you can always peel it off.
That is a much riskier operation on the main, foldable display. Samsung's official stand on the matter remains that you are not supposed to remove anything from the flexible display. Still, some Z Fold2 users have been living without this top layer, successfully, after pulling off the risky removal successfully. Apparently, that leaves you with a smoother and more pleasant surface to touch. Well, things are more nuanced and complicated on the Z Fold3.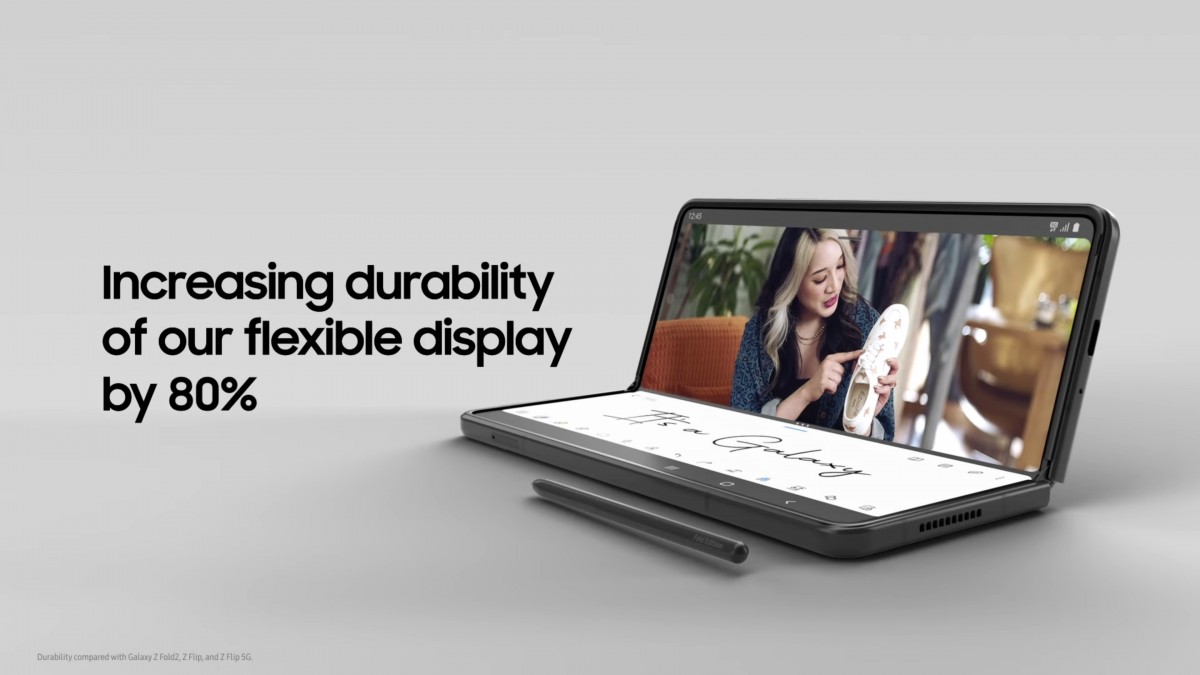 In order to accommodate S Pen functionality on the panel, Samsung had to tackle quite a few challenges, one of which was surface durability. By rearranging some of the internal layers on the main panel and using a PET top protective layer, the surface on the Z Fold3 display is now, apparently, 80% more durable than that on the Z Fold2. Of course, by its very nature, it is still soft and flexible, since it has to accommodate folding. But, through these structural changes, combined with a special S Pen with springs and dampers, Samsung has made it possible to use the signature stylus on the Z Fold3 without damaging the display.
So with the S Pen in mind, peeling off the top layer from the display this time around, while still technically possible, seems even less advisable. Particularly if you plan on using an S Pen with your unit.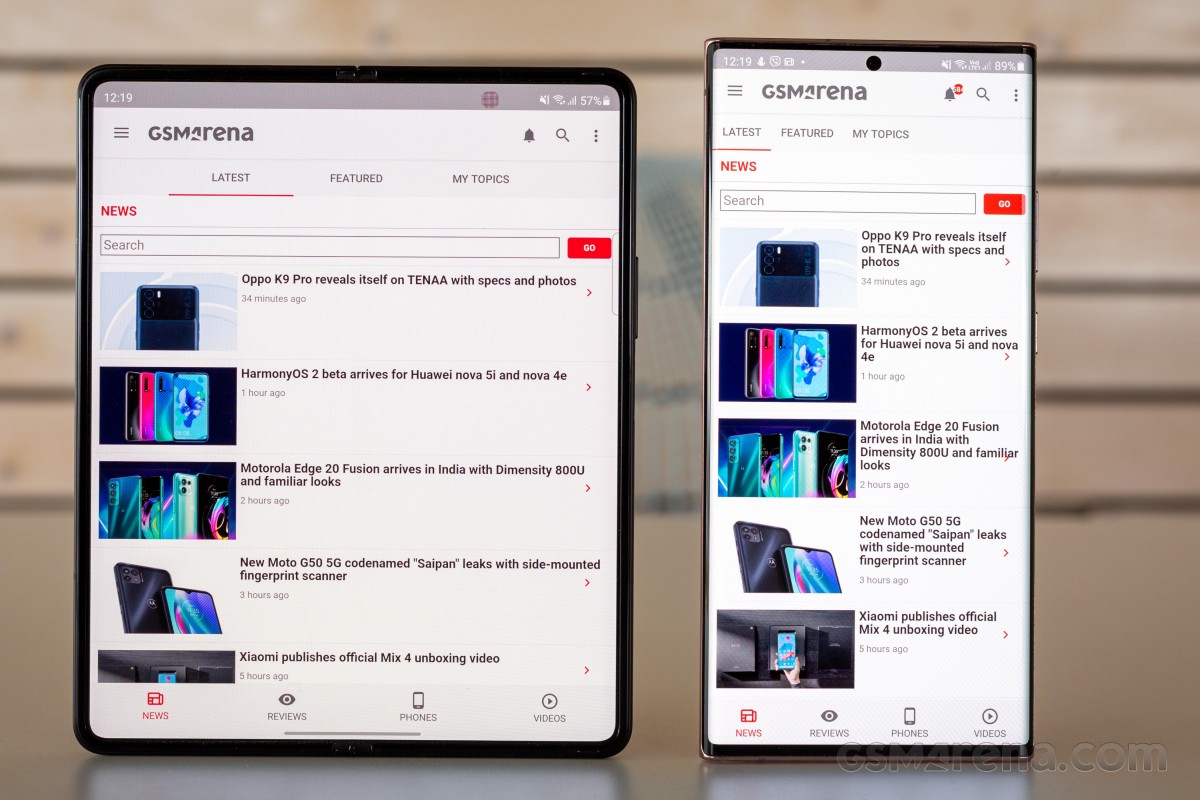 Left: Galaxy Z Fold3; Right: Galaxy Note20 Ultra
In terms of real-world feel, the surface on the main display of the Z Fold3 is very similar to that on the Z Fold2. That is to say, noticeably different and less "premium" than the feeling of glass you get from other smartphones. Yet, it is not comparable with traditional plastic, either, by managing to be smoother and with less drag overall. That being said, it is still not perfectly smooth. The crease is pretty much identical to that on the Z Fold2, is still both visible and easy to feel with a finger, yet equally easy to ignore while actually consuming media. The display still gets very dusty and greasy and you still need to wipe it down frequently and carefully. In this respect, the experience and considerations of using a foldable really haven't changed a lot.
The hinge and ergonomics
As usual, the hinge is a major highlight of the Z Fold3's design. In fact, it is arguably the most important part of any foldable's construction. Samsung made truly major improvements to its design moving from the first-generation Fold to last year's Z Fold2, allowing for both a tighter r-curve and more-crucially - smooth, linear motion and the ability to leave the device in any given angle. That was a massive upgrade.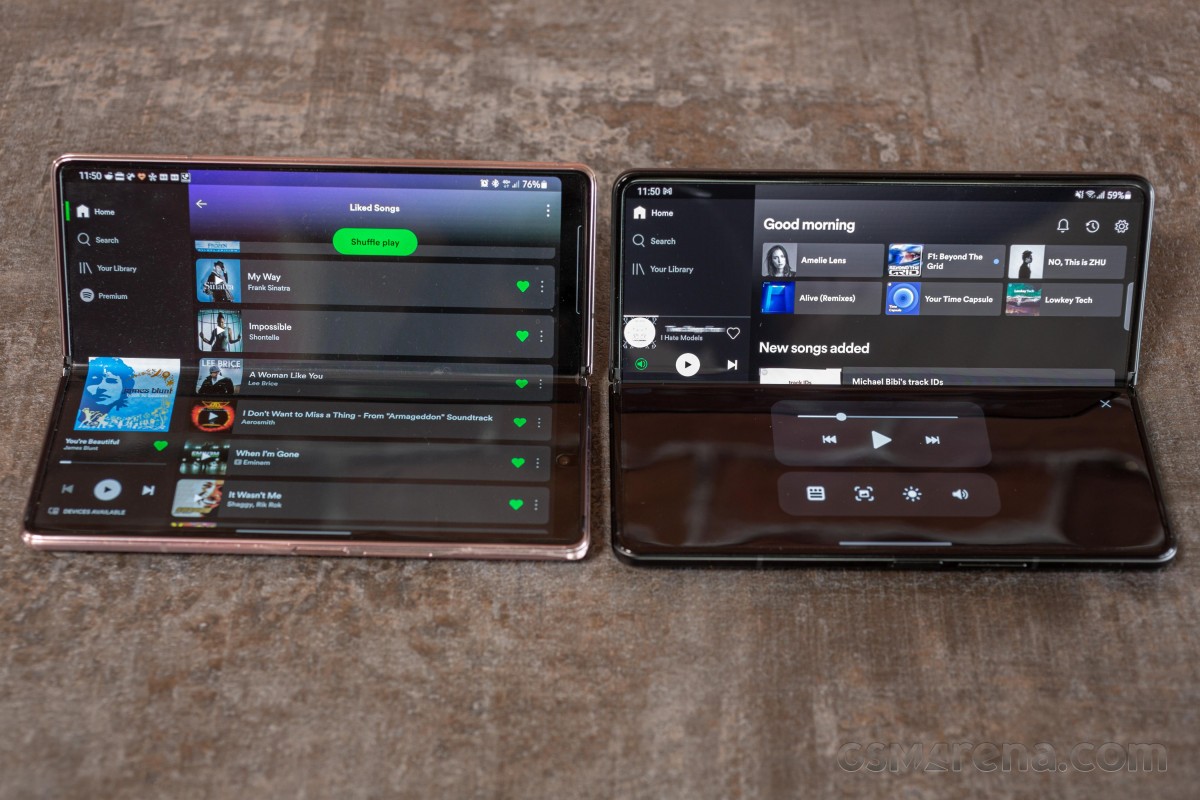 Left: Galaxy Z Fold2; Right: Galaxy Z Fold3
For this generation, Samsung continued improving its hinge design, but in arguably more subtle and invisible ways. We already went over the extra efforts put into protecting its internals in the case of exposure to water. Just to reiterate on that point - the Z Fold3's hinge is coated with anti-corrosive and lubricating agents to give it the best chance to maintain functionality after water exposure. While that approach apparently works well enough to earn the device a moderate IPX8 rating (up to 1.5m of water for 30 mins), it still sounds like intentionally submerging the phone is not really advisable. Just our take on things.
Enough beating about the bush, though. If you, like many others, were expecting a tightly closing device, with no air gap this time around, that is sadly not the case. There is very much a gap still present and it looks similar, or perhaps a bit smaller than the one on the Z Fold2. One of the biggest issues we had with actually using the original Galaxy Fold on a daily basis was pocket lint finding its way into the crack and onto the screen, consequently getting rubbed into it during use. This was still a problem on the Z Fold2, though notably less severe, and this is basically the case with the Z Fold3, as well.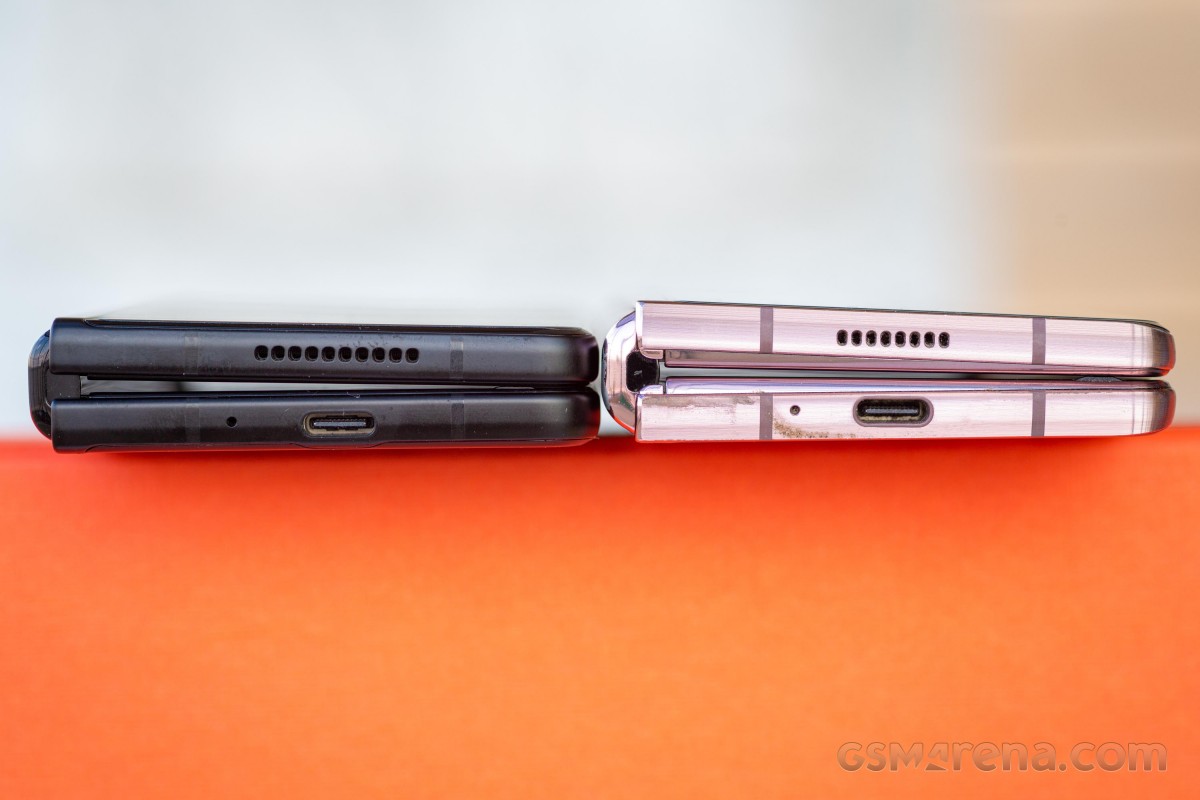 Left: Galaxy Z Fold3; Right: Galaxy Z Fold2
Looking at the older Z Fold2 next to the Z Fold3 closed, from the side, does reveal some outward differences in the design. For one, the older one seems to have an extra, angled "ridge", sitting almost on top of the rest of the two body halves, between the display and the phone's shell. This is not the case on the Z Fold3. Though to be fair, we can't say for sure whether this is somehow related to the actual size of the air gap and a tighter r-curve, or it is just a different overall design that moves away from a wedge and to more symmetrical halves.
The Z Fold2 also previously did a lot to reduce the gaps and exposed hinge mechanism bits around the top and bottom of the crease of the display. The Z Fold3 refines the design of this area a bit further, though, again, not in a really major way.
In fact, besides the particular improvements related to the new ingress protection rating on the Z Fold3, Samsung didn't really go into extra detail regarding any particular re-design or refinement to the actual hinge internals and design.
In real life, the hinge feels very similar to the one on the Z Fold2. It's impressively smooth in its motion end to end and snaps into place confidently at both its fully-closed and fully-opened states. We have a Z Fold2 unit at hand, in daily use for quite some time now, with a hinge that still works and feels great, with very little loosening, which gives us confidence that the same will be true for the Z Fold3, as well.
Our best guess is that the advanced elastics and cam design from the Z Fold2 are carried over. This perfectly linear motion, with consistent tension, the full range and the ability to leave the Z Fold3 in any state of "unfolded" are central to the extra amount of utility, Samsung refers to as "Flex mode".
Flex mode
Flex Mode and its accompanying Flex View set of UI and UX solutions are not new and also carried over from the Z Fold2. These all hinge (pun intended) on the Z Fold3's ability to have its two halves stable at an angle to one another so it can stand semi-open on a flat surface.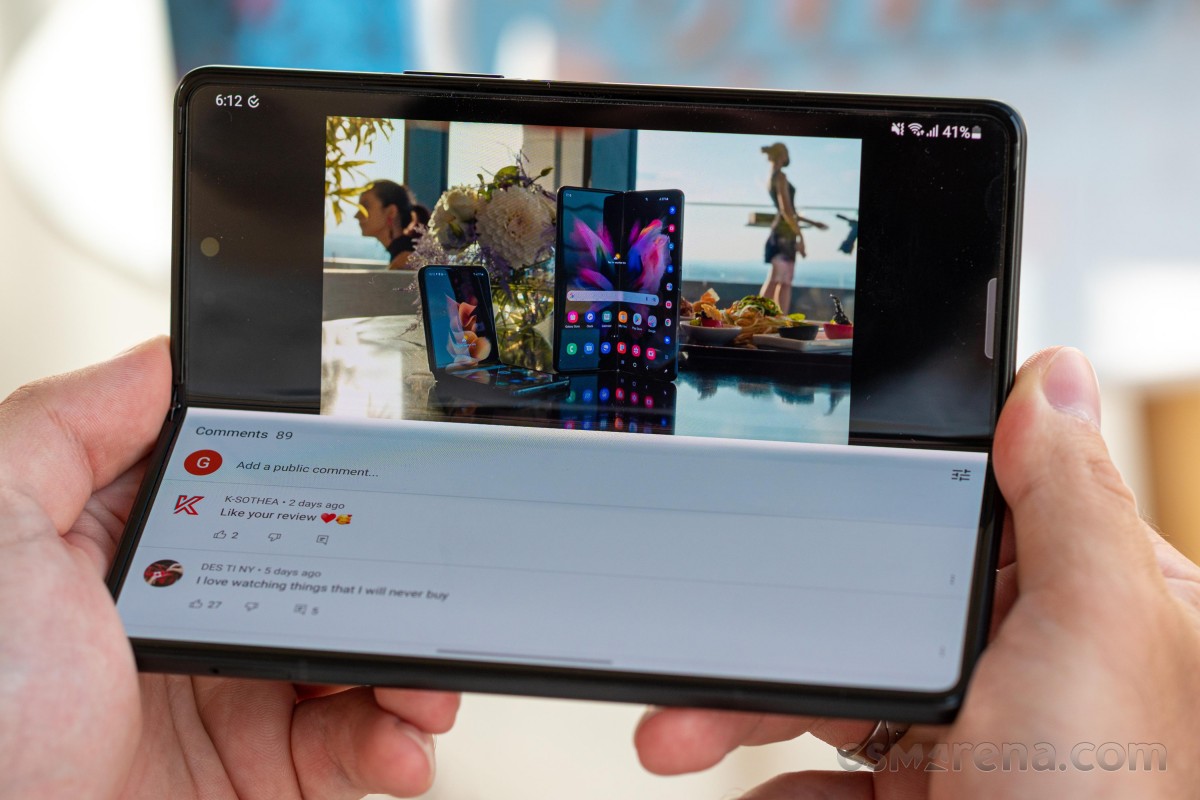 We will get more into the varying aspects of Flex View in the software section, but, basically, a growing number of supported apps, both from Samsung and third parties, like Google Duo and YouTube, have specific UI variants implemented for Flex View, that, typically separate the controls from the content on the two halves of the display, kind of making them semi-independent, like having two separate monitors.
Flex Mode also extends to other specific use cases, like the ability to use the external display on the Z Fold3, propped at an angle, for content consumption, with the rest of the phone acting as a stand.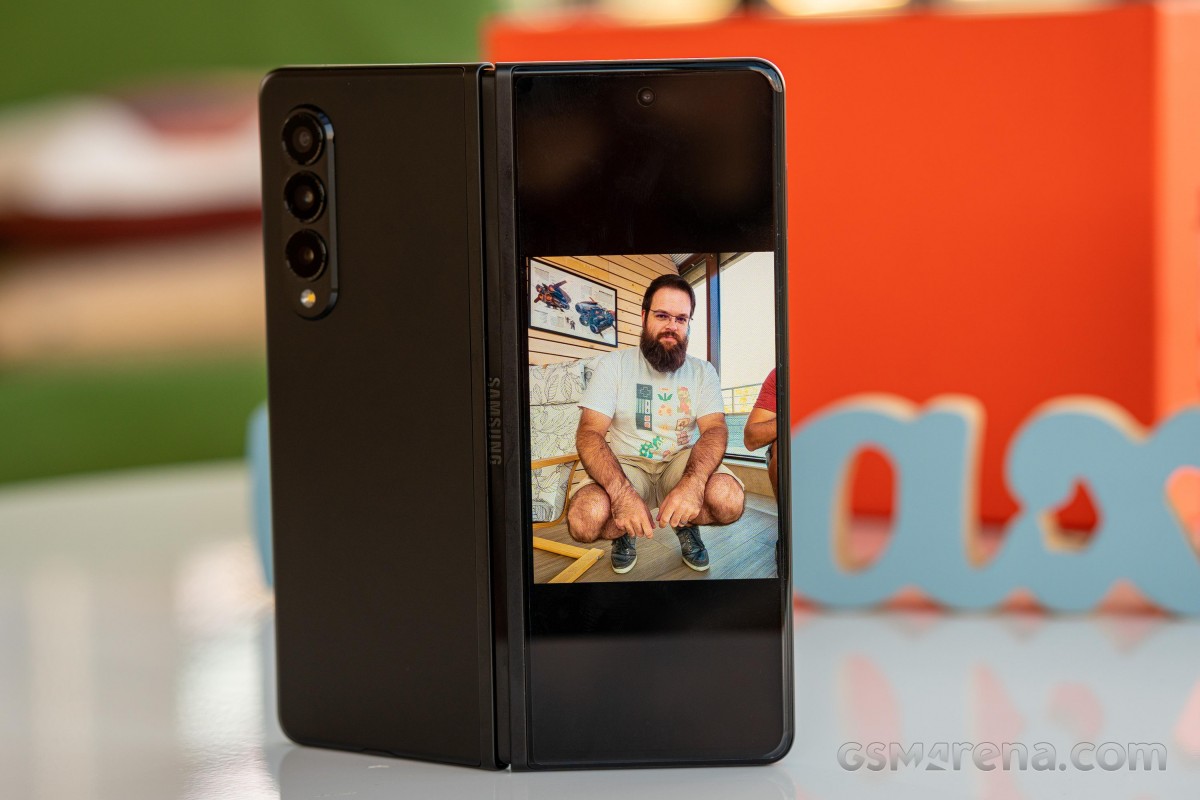 Also, using both the rear and the front cameras in Flex Mode has its place, including things like video calling and taking selfies. Though, it should be noted that this has certain intrinsic limitations. For instance, it is pretty hard to prop the Z Fold3 up confidently by itself on a surface in a way that exposes both the main cameras and the outside display for selfie purposes. This is best achieved by having the device fully open and somehow managing to find a selfie stick or gimbal to fit it inside. The bottom line is that it is a bit of a cumbersome state to hold and manipulate the Z Fold3 for photo and video purposes.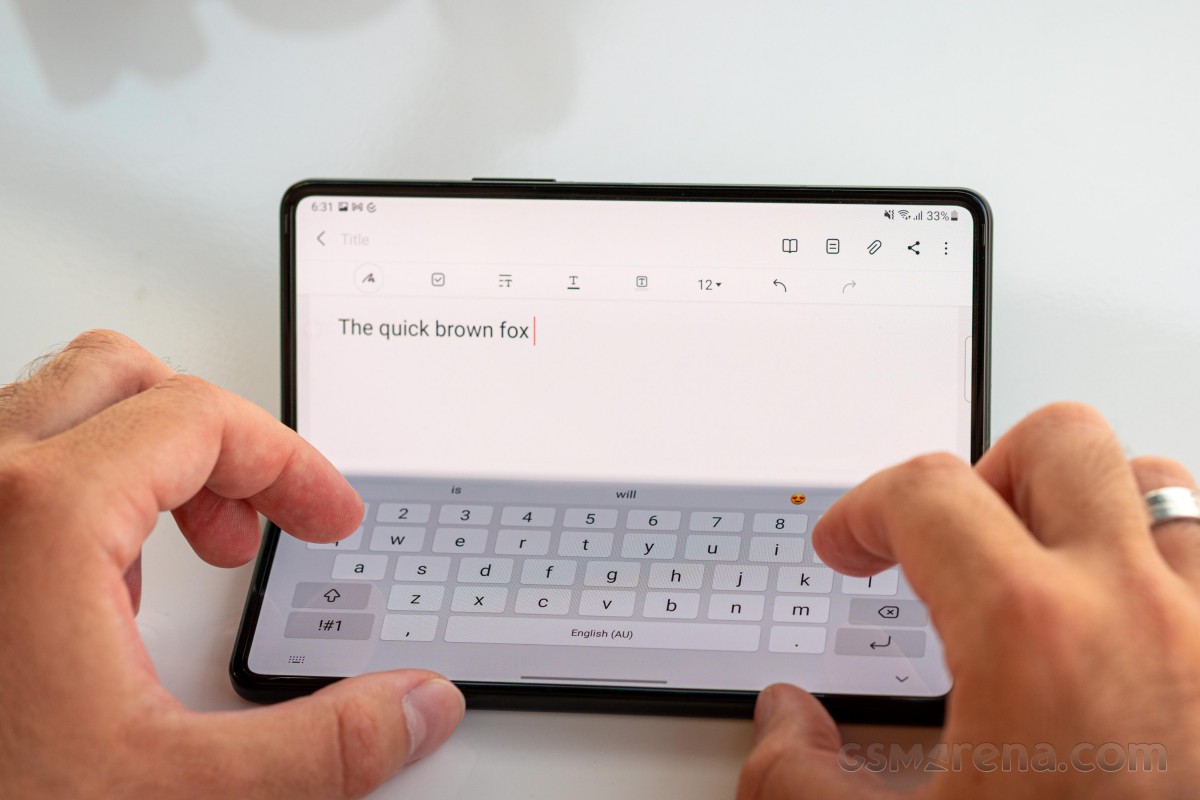 Also, while touch-typing on the bottom half of the device - like on a laptop - sounds like a no-brainer, it is not easy to pull off in practice. The surface is still not big enough to get two hands comfortably on there. And the lack of actual tactile buttons doesn't help the typing accuracy either.
Controls and connectivity
Just a few quick notes on the control layout and connectivity of the Z Fold3, before we move on to actual tests. The overall layout hasn't really changed in any major way coming from the Z Fold2. The power button/fingerprint reader and volume rockers are both conveniently placed and provide excellent tactile feedback.
The fingerprint reader itself is very accurate and extremely snappy. Both expected, since it is a traditional capacitive, dedicated module and frankly a nice change of pace from the still-troublesome Ultrasonic under-display modules Samsung continues to use on its other flagships.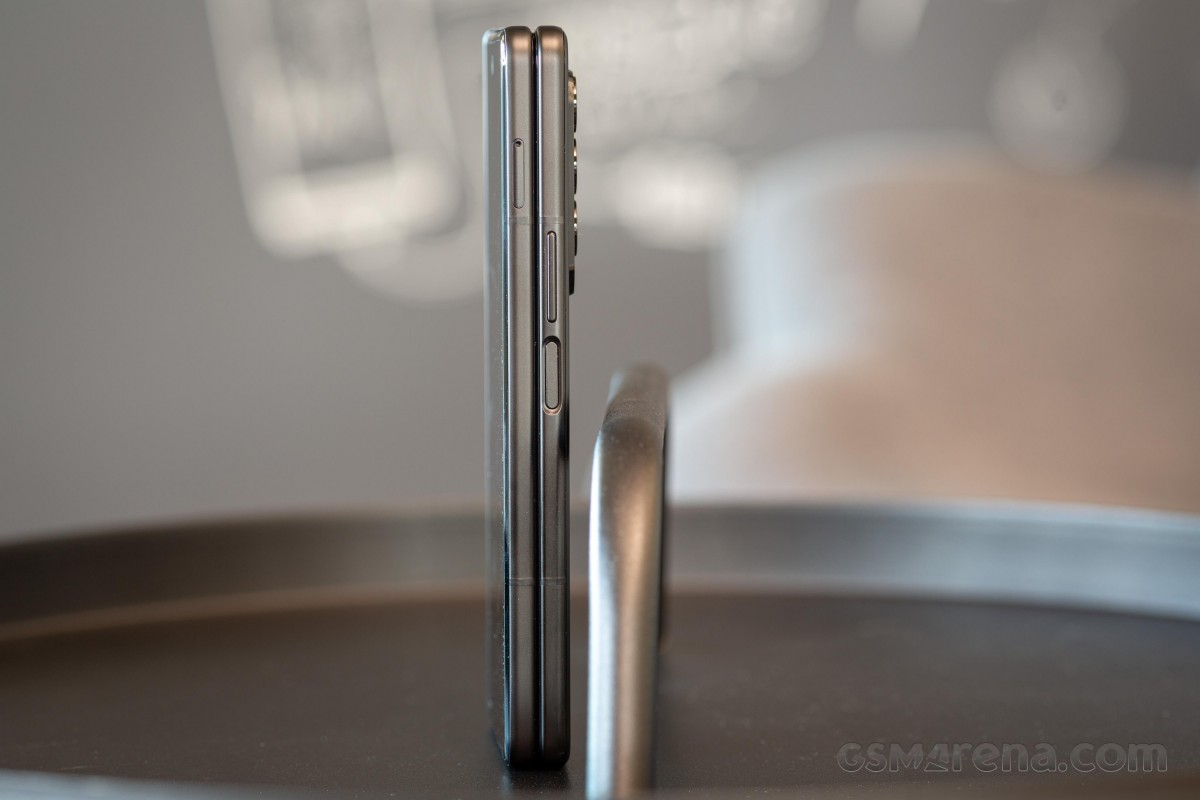 The stereo speaker setup on the Z Fold2 is quite versatile. Rather potent, in terms of quality, as well. But, we have a separate section for that. One complaint we do have is that it is easy to cover both units up when holding the phone in landscape. An issue carried over from last year's Fold and not really addressed by the wider speaker grills this time around. Not a major issue, though, since you can flip it upside down to eliminate this problem entirely.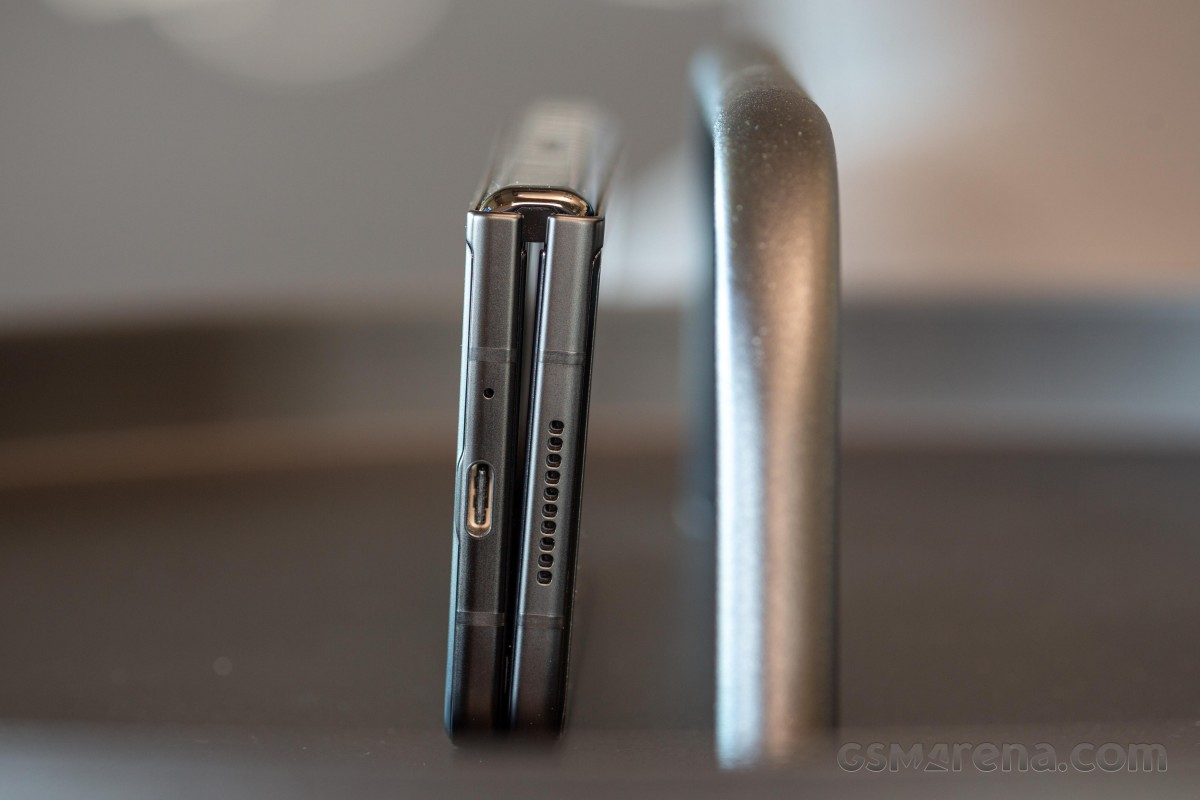 In a big surprise to nobody, the Z Fold3 comes pretty much fully stacked in terms of connectivity. Even more so than its Z Fold2 predecessor, mostly thanks to the newer Snapdragon 888 chipset. A fast USB 3.2 connection sits behind its Type-C port. Since DeX is a thing on the Z Fold3, you can be confident that video-out and USB host mode are both supported, as well. Wired charging is capped at 25W. Wireless charging at up to 11W is also supported and so is reverse wireless charging, at up to 4.5W. These rates are carried over from the Z Fold2.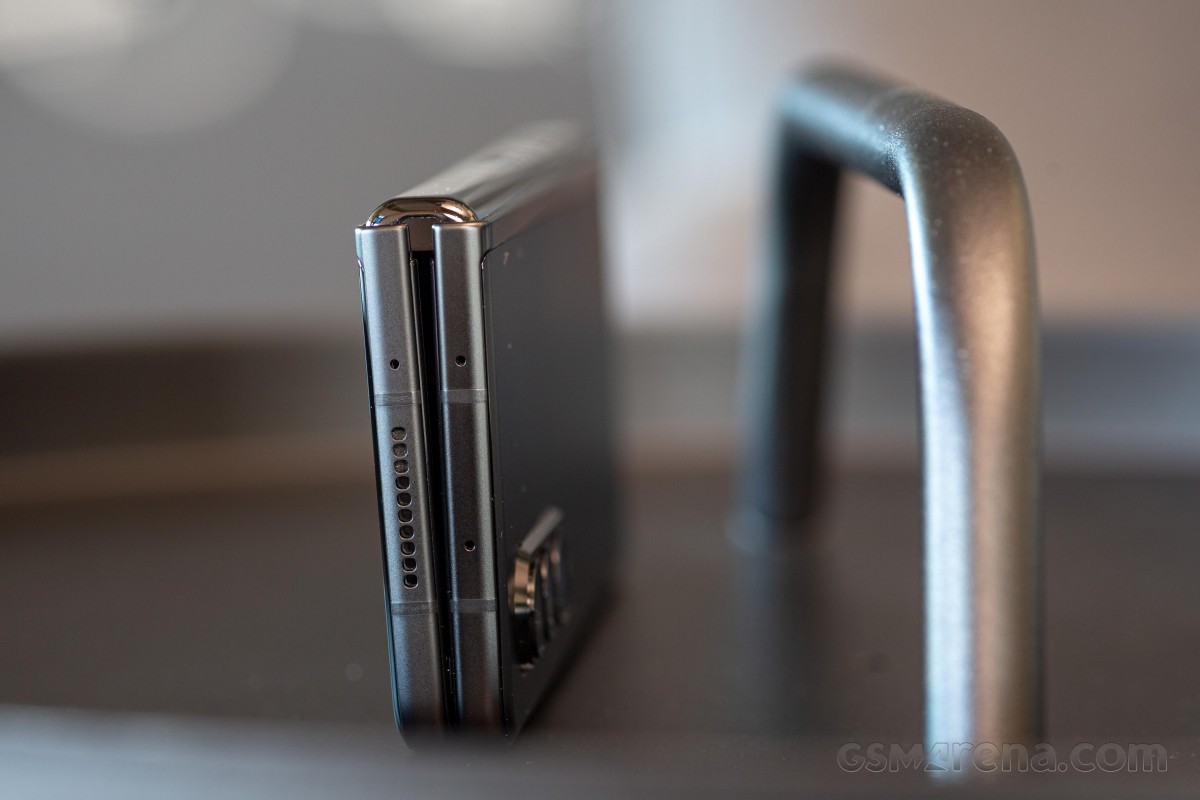 The Z Fold3 does, however, get support for newer wireless connectivity standards, including dual-band Wi-Fi a/b/g/n/ac/6e and Bluetooth 5.2. with Bluetooth LE and aptX HD. ANT+ is also on board, also UWB (Ultra Wideband) and so is NFC, with support for Samsung Pay. 5G connectivity is also a thing, with both mmWave and Sub-6. You get a full set of sensors too, accelerometer, gyro, proximity, compass and barometer.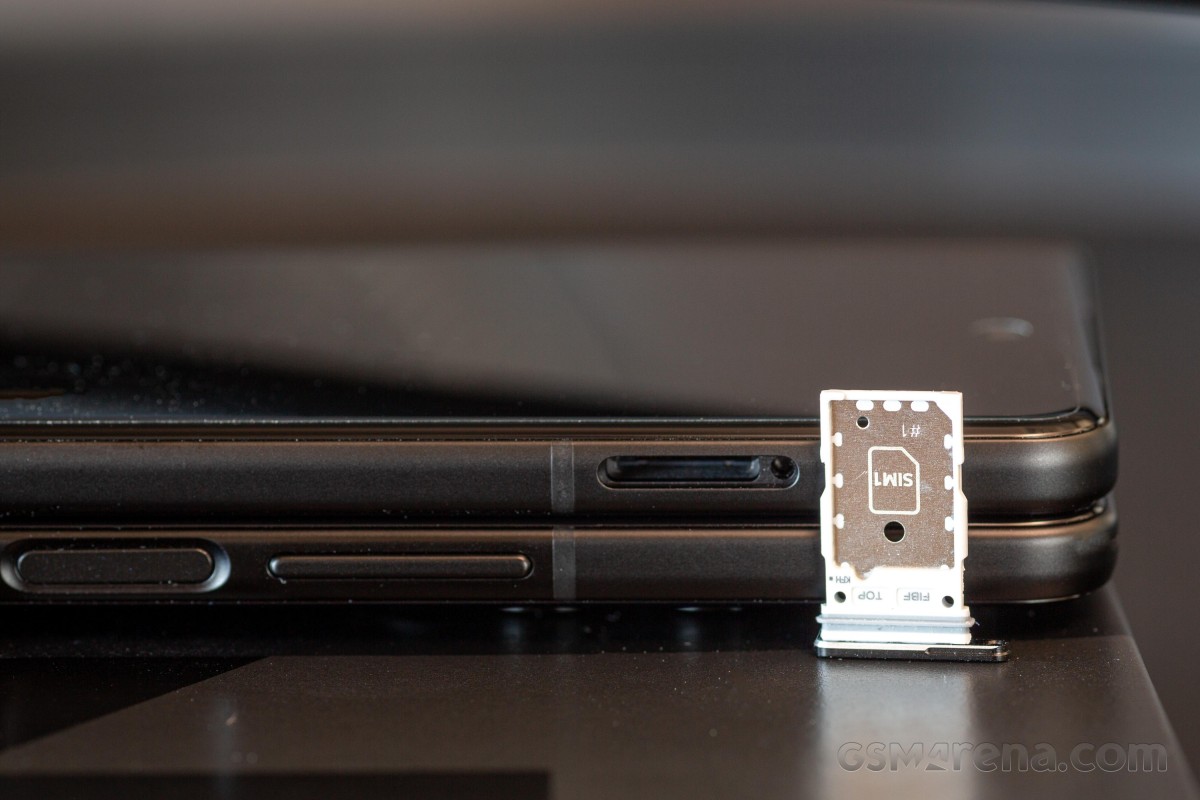 There is only one nano-SIM card slot on the Galaxy Z Fold3, though, there is a secondary eSIM on board as well. There could be some market and carrier differences on that front, though, so make sure to check that if it's important to you.
As far as things absent from the Z Fold3 go, there are no new and unexpected omissions. Still, in case you were wondering, there is no 3.5mm audio jack, no FM Radio receiver, no IR blaster, and no notification LED. Arguably Samsung could have found a place for that last one somewhere on the enormous body of the Z Fold3, but then again, AOD on the cover screen works nicely.