Foldable Dynamic AMOLED 2X display and a new 120Hz cover screen
Let's start with the main foldable display on the Z Fold3, since it remains the star attraction. On paper, the 7.6-inch, Foldable Dynamic AMOLED 2X panel looks almost identical to that on last year's Z Fold2. The similarities extend beyond that too, including 120Hz native refresh rate, as well as the panel resolution of 1768 x 2208 pixels. In reality, the two panels themselves, while definitely closely related, do differ quite a bit, with the Z Fold3 one further up in the evolution chain in at least a couple of ways, some of which, like durability, we already discussed.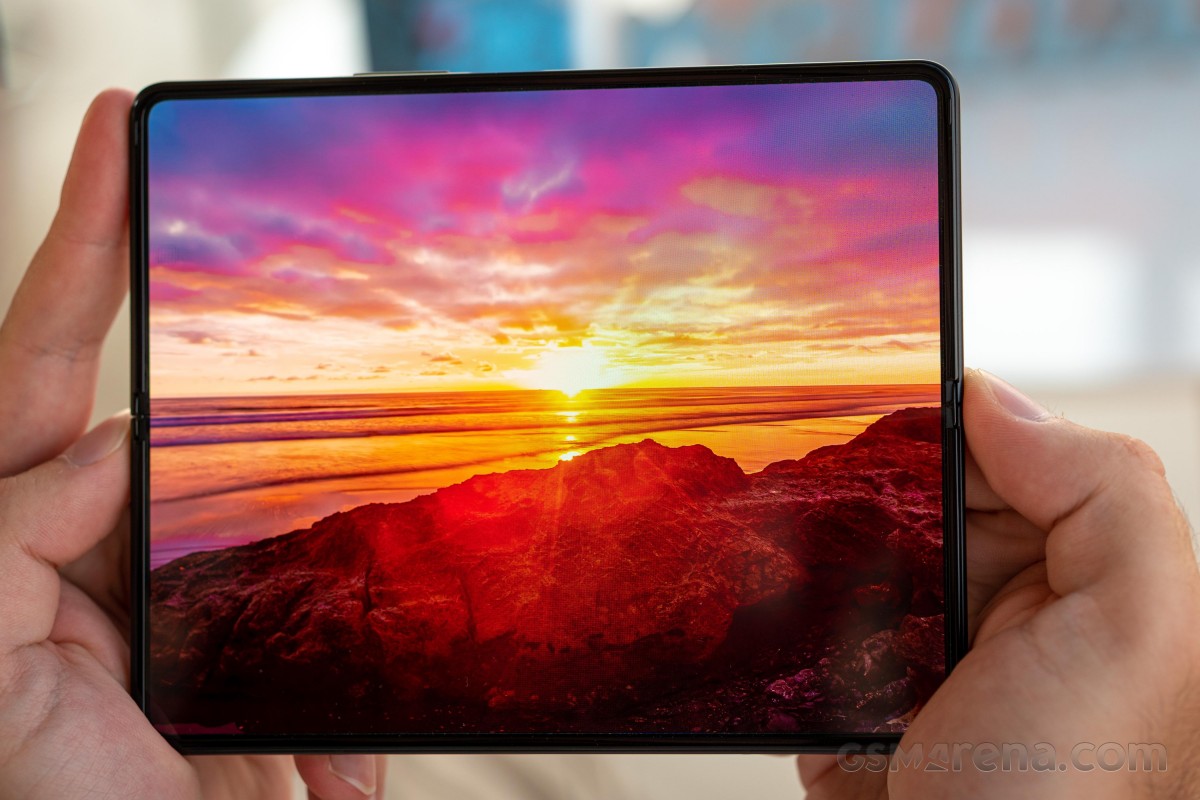 Let's tackle things one at a time, starting with size. Looking at the raw numbers, as well as the Z Fold2 and Z Fold3 side by side, the two panels are pretty much identically sized. The new design does get the benefit of smaller bezels, which makes the panel feel slightly bigger, though.
Another major contributor to the improved immersion this year is the under display camera - a first for Samsung and a first on a foldable display, in general. Pulling off this sort of camera placement is a big engineering challenge that basically requires constructing a part of your display in such a way so it lets through enough light for the camera to work, while still maintaining some pixels to be functional as a display.
Going by the few existing under-display camera implementations out there, the pixel density in the area seems to differ, depending on your tech and how you want to balance the quality of the display area image and the photo quality of the camera underneath. Samsung has seemingly opted for fewer pixels and a lower pixel density than most other competing solutions, which should help the camera quality, but also means that the particular display area on top of the selfie is easily distinguishable from its surroundings and with much lower resolution.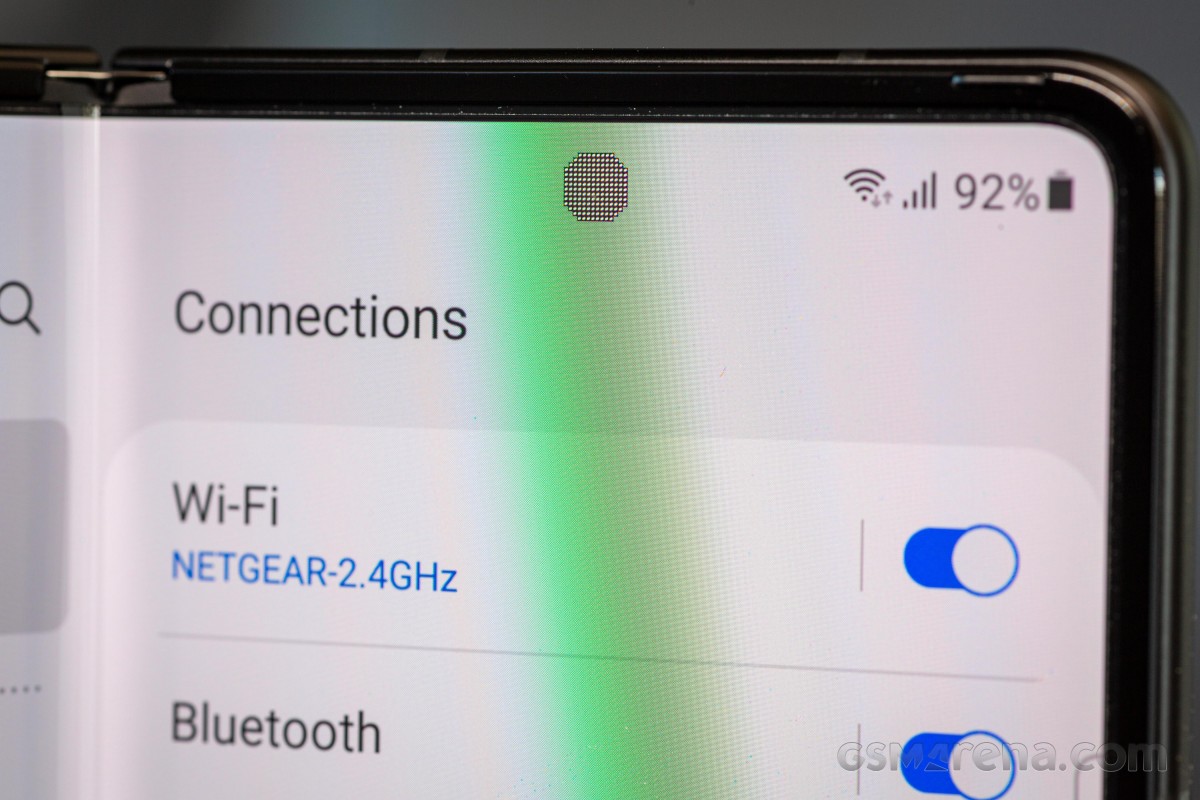 Honestly, however, while immersed in actual content, just like the display crease, this area is not really that noticeable and is easy to ignore. Particularly with fast-moving things like games, or a particular style of graphics, like animation. As for the benefits of this approach to the user, an argument can be made that content can now more freely expand to the entire surface of the screen. A logic that Samsung shares, since the software on the Z Fold3 is tuned in a way that employs the typical "black bar" selfie masking technique very rarely. Definitely less so than the Z Fold2.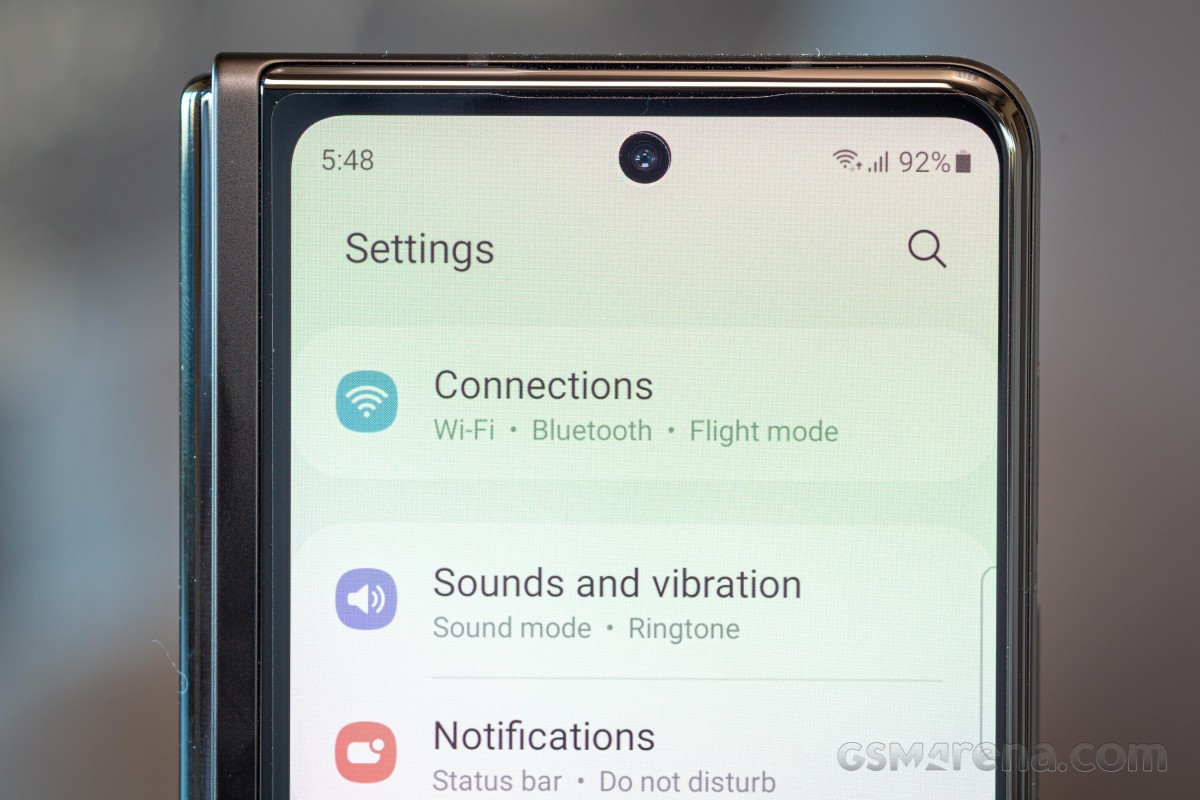 If the punch hole bothered you previously, you can skip the black bar to hide it and stretch the image more on the Z Fold3. It makes a big difference for 4:3 content in particular since that is probably the best way to utilize the most real estate on the display. There is an argument to be made that other, more-common aspect media, like 16:9 and 21:9 can also benefit on the Z Fold3, compared to the Z Fold2, if we assume that you would be hiding the selfie punch hole on the older model and are fine with the noticeably lower pixel density and resolution of the area on top of the under-display selfie camera. There is a bit of a theoretical discussion to be had here, for sure, but in practice, we have to praise Samsung for making the experience seamless and conveying the sense that the Z Fold3 has "more" display to work with than its predecessor.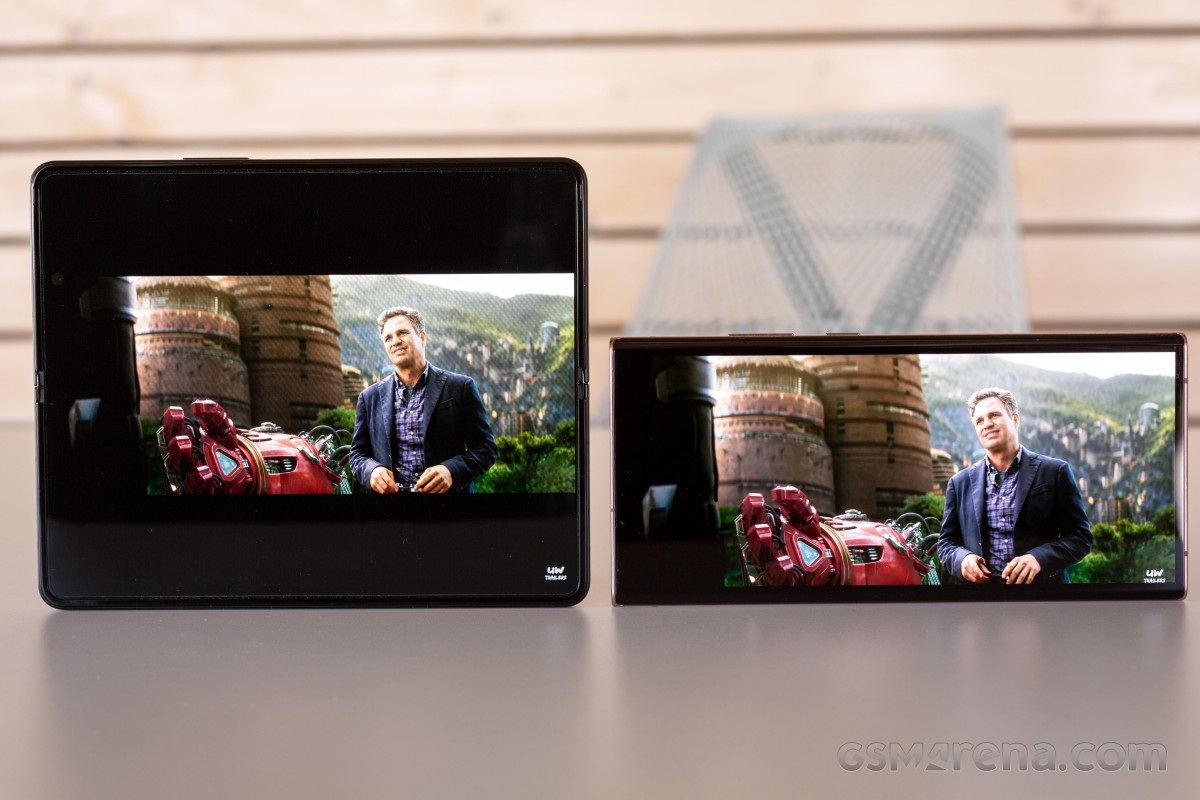 Left: Galaxy Z Fold3; Right: Galaxy Note20 Ultra
We already mentioned the surface of the large screen is not ideal in terms of traction and finger-gliding. There is also a visible crease in the middle and there is probably no going around that with any sort of foldable panel tech. At least not any time soon. The crease is, of course, noticeable to the touch, especially while swiping. That unfortunate drawback remains. However, again to Samsung's credit, once you are actually engaged with content on the display, the image itself looks very crisp and uniform. There are no uniformity issues, no weird discolorations. Even reflections are very well-controlled. You rarely get that "oil slick" effect, common on early foldable display tech.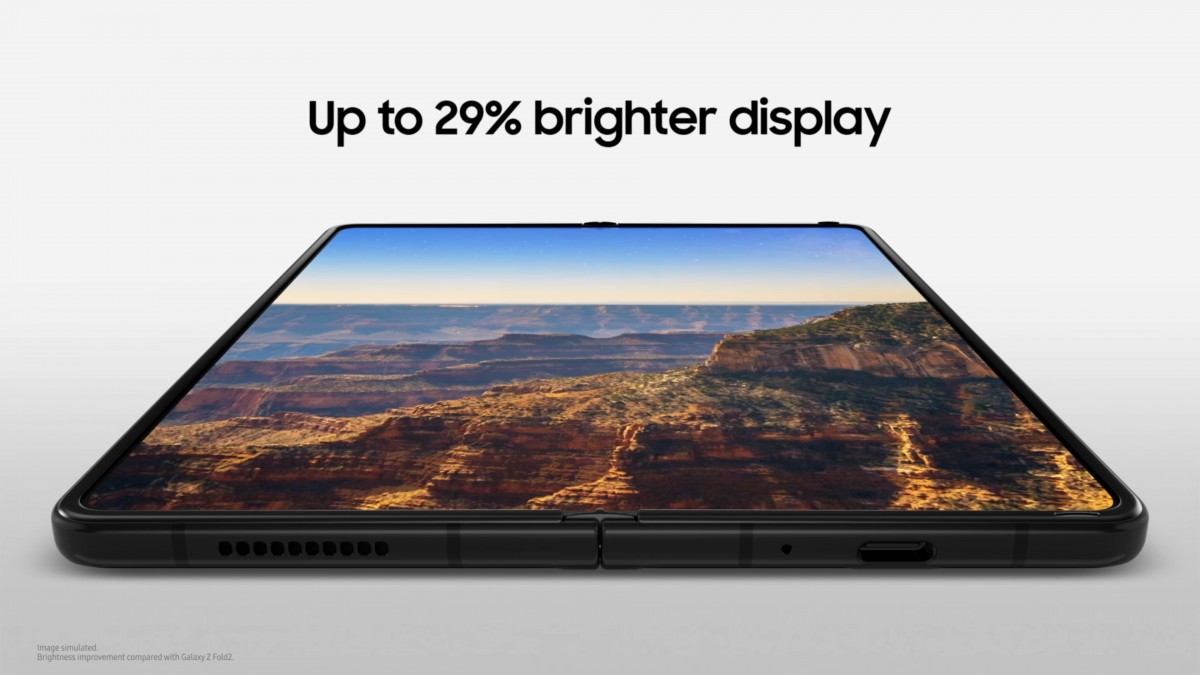 There are all signs of the panel tech itself maturing nicely and so are some of the other performance improvements debuting on the Z Fold3. Brightness, for once, has been noticeably improved in this generation. In our tests, the foldable display on the Z Fold3 managed a maximum brightness of 489 nits on the slider and a massive 922 nits in max auto mode, outpacing its predecessor. Apparently, that can mostly be attributed to a new OLED design and manufacturing process, also debuting on the Z Fold3.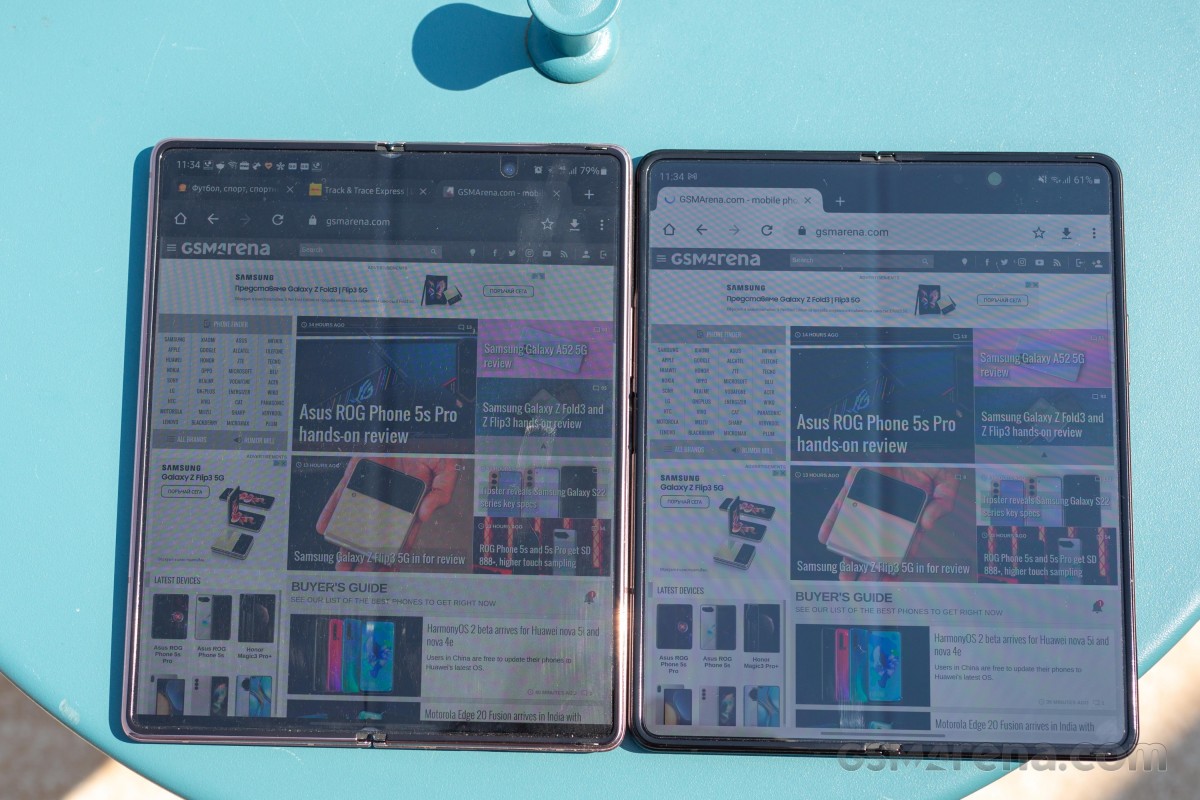 Left: Galaxy Z Fold2; Right: Galaxy Z Fold3
Samsung calls it Eco2OLED, where the "eco squared" stands for both "economical" and "ecological". You can read more about it here, but simply put, the Korean giant found a clever way to reengineer its OLED panel without a traditional polarizing layer. That allows for easier light penetration (33% higher light transmittance) and a theoretical, up to 25% reduction in power consumption at the same brightness levels and higher maximum brightness.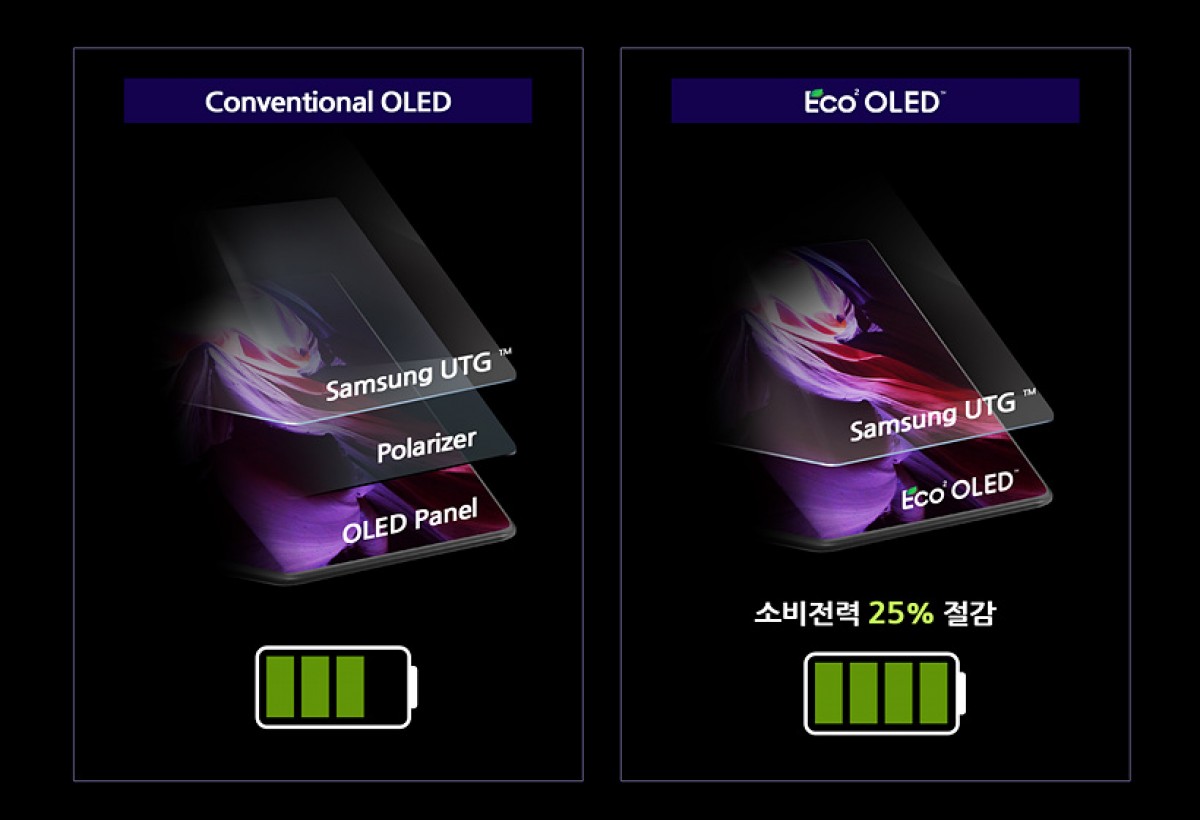 As for the eco part, the whole design simply uses less plastic overall. It is a great advancement that clearly has practical implications, observable in our tests.
Display test
100% brightness
Black,cd/m2
White,cd/m2
Contrast ratio
Samsung Galaxy Note20 Ultra 5G (Max Auto)
0
1024
∞
Samsung Galaxy S21 Ultra 5G (Max Auto)
0
1023
∞
Samsung Galaxy Z Fold3 5G (cover display, Max Auto)
0
1001
∞
Samsung Galaxy Z Flip3 5G (Max Auto)
0
935
∞
Samsung Galaxy Z Fold3 5G (Max Auto)
0
922
∞
Samsung Galaxy A72 (Max Auto)
0
825
∞
Samsung Galaxy A52 5G (Max Auto)
0
787
∞
Samsung Galaxy Z Fold2 (cover display, Max Auto)
0
741
∞
Samsung Galaxy Z Fold2 (Max auto)
0
714
∞
Realme GT 5G (Max Auto)
0
650
∞
Sony Xperia 1 III (Max Auto, Creator mode)
0
620
∞
OnePlus Nord CE 5G (Max Auto)
0
607
∞
Huawei Mate X2 (cover display, Max Auto)
0
601
∞
Samsung Galaxy Z Flip (Max Auto)
0
596
∞
Huawei Mate X2 (Max Auto)
0
542
∞
Samsung Galaxy Note20 Ultra 5G
0
504
∞
Samsung Galaxy Z Flip3 5G
0
503
∞
Xiaomi Redmi Note 10 5G (Max Auto)
0.275
492
1789:1
Samsung Galaxy Z Fold3 5G
0
489
∞
Samsung Galaxy Z Fold3 5G (cover display)
0
479
∞
Huawei Mate X2 (cover display)
0
472
∞
Huawei Mate X2
0
469
∞
Samsung Galaxy Z Fold2
0
461
∞
Samsung Galaxy S21 Ultra 5G
0
458
∞
Realme GT 5G
0
443
∞
OnePlus Nord CE 5G
0
429
∞
Samsung Galaxy Z Fold2 (cover display)
0
425
∞
Samsung Galaxy A72
0
396
∞
Samsung Galaxy A52 5G
0
378
∞
Samsung Galaxy Z Flip
0
377
∞
Xiaomi Redmi Note 10 5G
0.21
377
1795:1
Sony Xperia 1 III
0
354
∞
Of course, we made sure to test the all-new cover screen on the Z Fold3, as well. While it is incredibly similar to the one on its predecessor, it is unquestionably a different panel altogether. It has a slightly higher resolution of 832 x 2268 and slightly different proportions, though it still, technically has a 6.2-inch diagonal. Just like on the Z Fold2, despite being tall and skinny, we found the cover display to be perfectly functional for all sorts of quick daily tasks.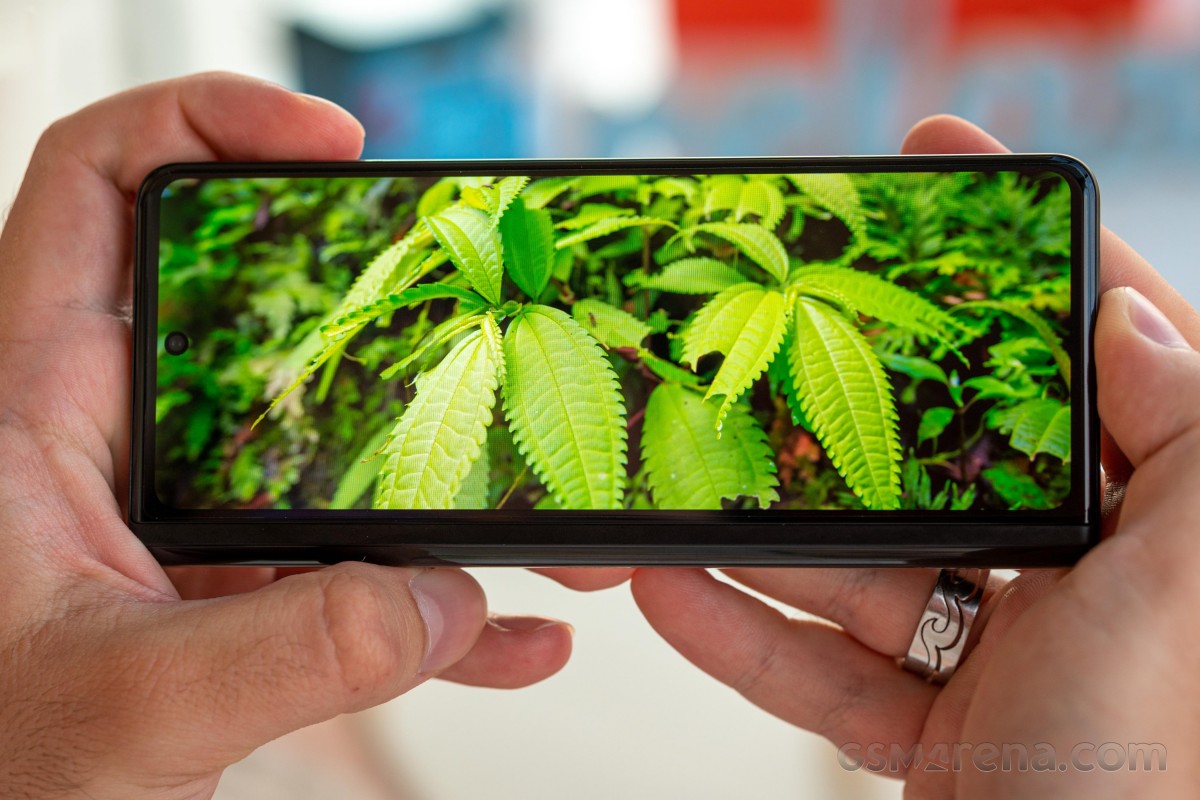 Most crucial of all, however, is its upgrade to 120Hz refresh rate on the cover display. This way, you can have the same kind of fluidity regardless of which panel on the Z Fold3 you are using.
Back to the topic of brightness. Just like its predecessor, the Z Fold3 manages an impressively similar output on its displays and both get a nice little boost in max brightness over the Z Fold2. We measured the cover display on our unit at 479 nits with the regular slider and 1001 nits in max auto mode. In practice, both displays get bright enough to be perfectly usable, even outdoors.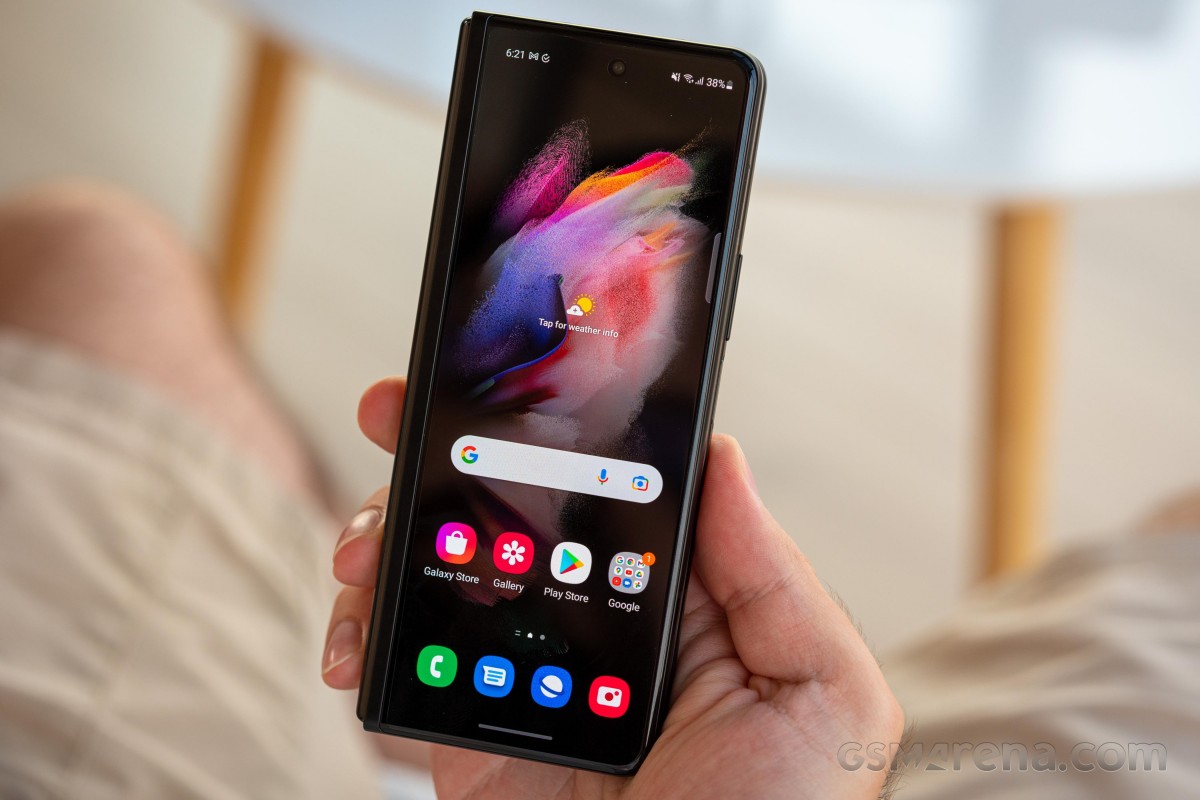 Having similar characteristics between the two panels also allows for some other, pretty-nifty quality of life improvements, namely the fact that Samsung effectively has one set of display settings that apply to both panels. Even the brightness sliders and their respective scales have been tuned so closely that you can expect to get pretty comparable actual brightness outputs at the same percentage. For instance, we measured 200nits on the cover screen at 50% brightness and 47% on the main display.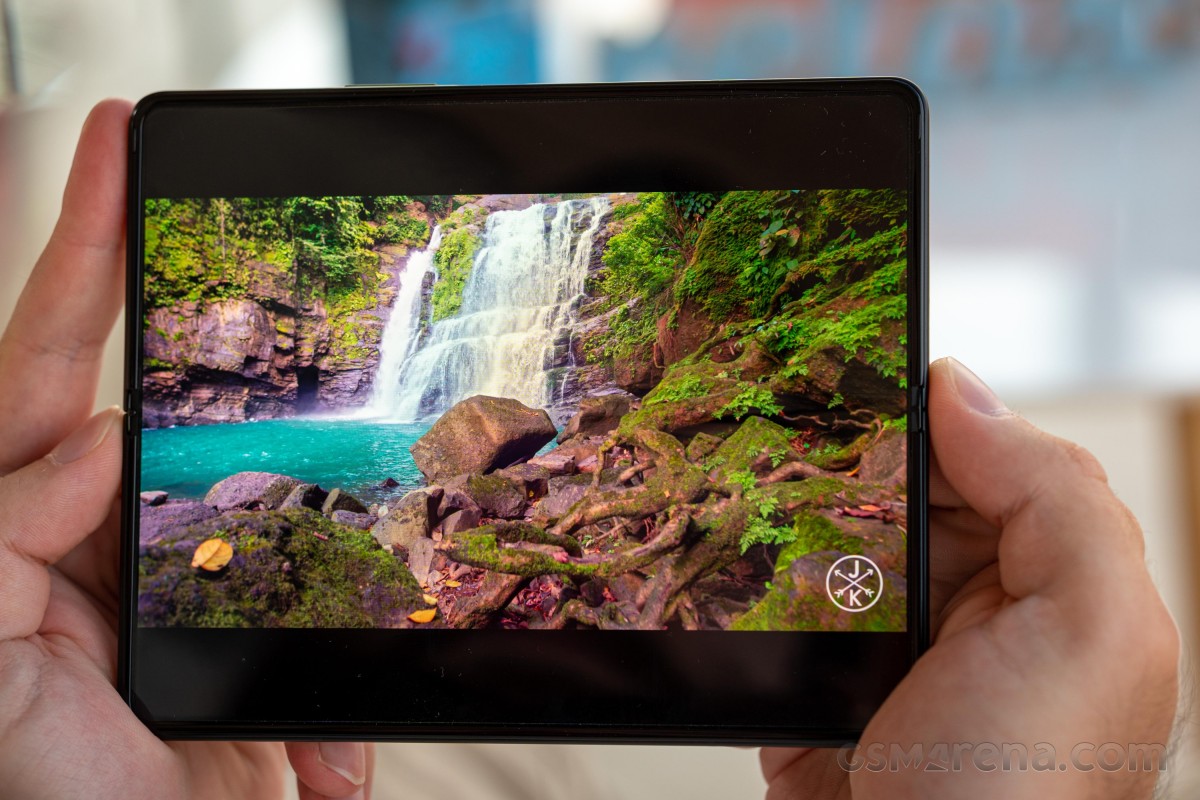 Speaking of impressively similar tuning, there is color reproduction, which is yet another aspect the two panels manage to perform similarly. Although, not nearly the best we've seen from Samsung panels in the past, both the main and cover displays on the Z Fold3 manage to just meet the deltaE requirements to be considered color-accurate. Both have two color modes to choose from - Vivid, which targets the DCI-P3 color space, is the default and, like we said, is just accurate enough to be considered good for color-sensitive work. Then there is Natural, which aims for sRGB and hits that mark with nearly perfect color accuracy. Impressive stuff all around, especially since it is being pulled off in tandem on two very different and very untraditional panels! The default vivid mode also has manual color sliders and color temperature adjustment.
Quite expectedly, the Z Fold3 has support for HDR10+ on its main display. Software reports regular HDR and HLG compatibility, as well. There is also Widevine L1, which means that streaming services like Netflix are more than happy to serve up the highest quality suitable for the Z Fold3's display, which is FullHD, with HDR, since there are not enough pixels to do native 4K.
That's all fine and dandy, but what about the cover screen? The official specs sheet is a bit limited in this regard and granted, we don't really think too many Z Fold3 users are going to be quite as excited as us to see The Hateful Eight in its Ultra Panavision 70mm 2.76:1 aspect fill up the cover screen almost perfectly. Well, best we managed to work out, HDR support is present on the cover screen, as well. For what its' worth.
High refresh rate and adaptive refresh rate behavior
The Galaxy Z Fold3 has support for up to 120Hz refresh rate on both its main and cover screens. There is an adaptive refresh rate on both panels, as well and it all works at the native resolution of both panels - pretty much a zero-compromise setup.
To turn on the high refresh rate, there is an option for Motion Smoothness, with two states - Adaptive and Standard.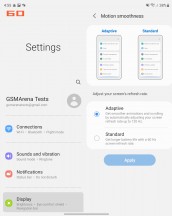 Display Motion smoothness settings
Standard is the straightforward 60Hz option with all of the battery savings that can net you. The adaptive option is way more interesting since it employs an automatic switching behavior so that the effects of the high refresh rate on battery endurance can be mitigated.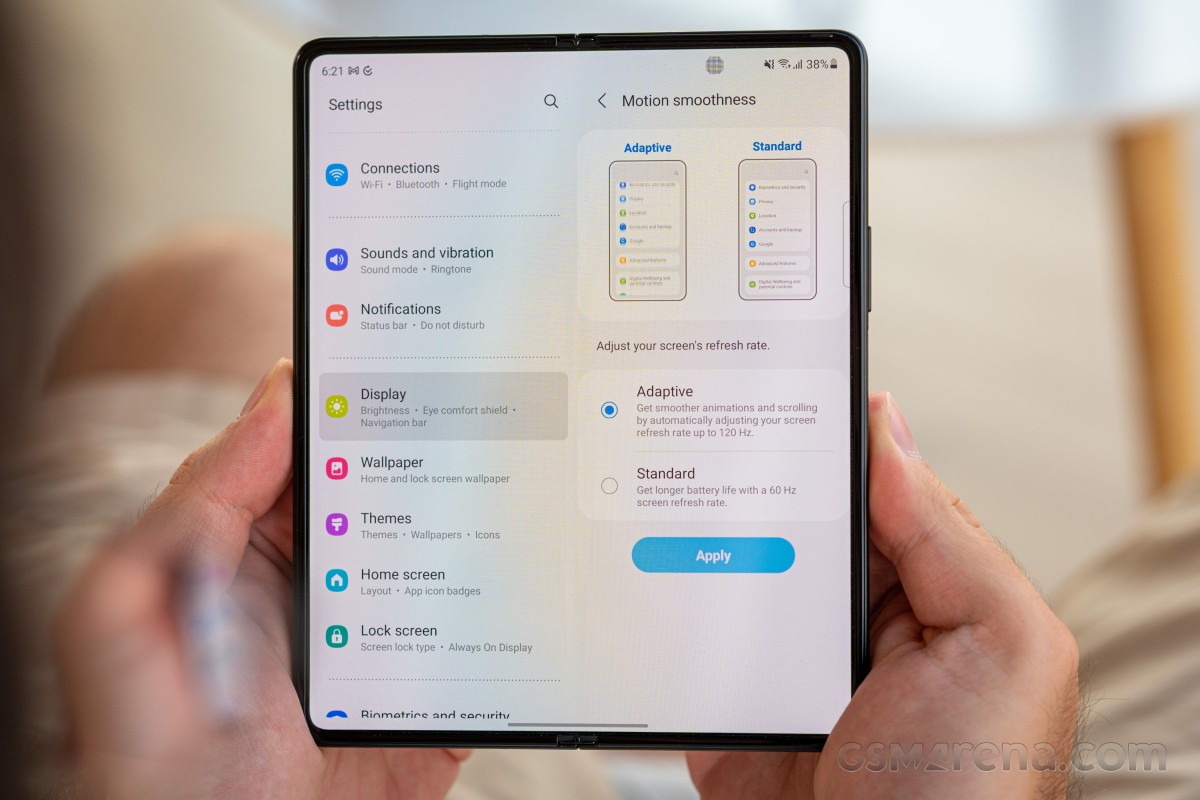 Generally speaking, the Z Fold3 will stay at 120Hz for as long as you actively interact with it and there is enough ambient light available. That means touching the screen, as well as triggering some behavior that wakes the device up.
A few seconds of inactivity later - whether it be leaving it on a table or even just staring blankly at it while holding it and it'll go down to 60Hz, only to crank the refresh rate back up once you touch the screen.
Funny thing, if the ambient light is too low, you will basically be locked at 120Hz.
The entire UI and pretty much every app (except for some games and other rare exceptions) behave in this way.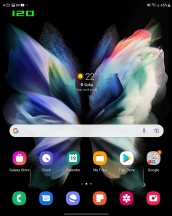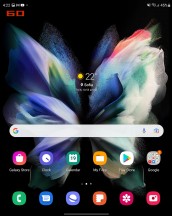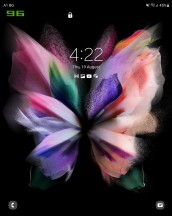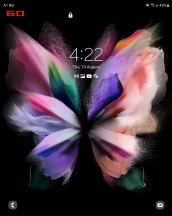 Adaptive refresh rate: UI and lock screen
The lock screen is somewhat of a weird edge case, where the phone will switch to an odd 96Hz refresh rate mode, seemingly for the duration of the animation of the screen and then go back down to 60Hz. We didn't really observe this anomaly anywhere else.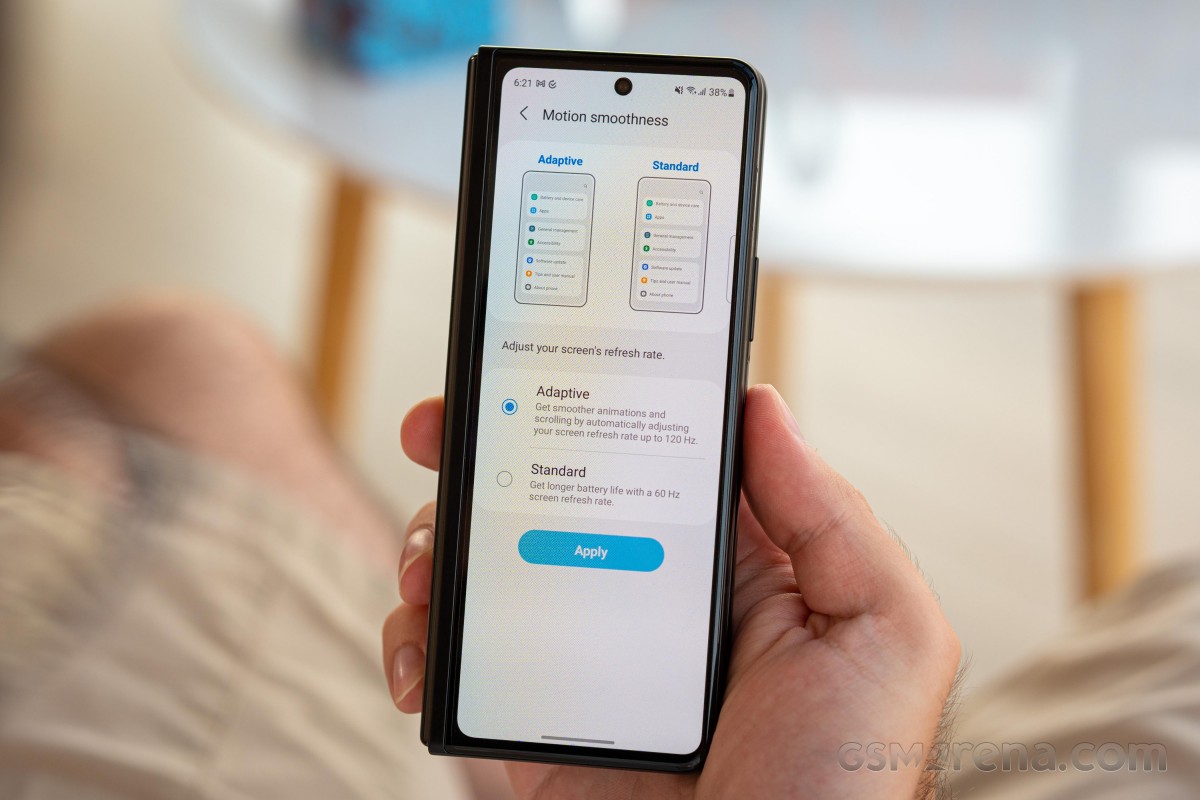 This automatic switch from 120Hz to 60Hz and back to 120Hz does combine the benefits of lower strain on the battery and higher responsiveness and snappy operation when interactions do occur. However, it does have certain consequences. For instance, both the Samsung Internet browser and Chrome, which we tested, were more than happy to operate at 120fps and sync with the blurbuster's UFO test. However, a few seconds later, both just drop down to 60Hz and 60fps when left alone. We wish there was an exclusion or whitelist of some sorts, so we could accommodate such scenarios on a per-app basis.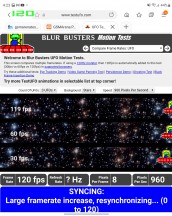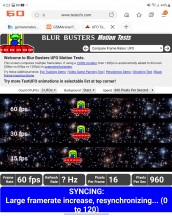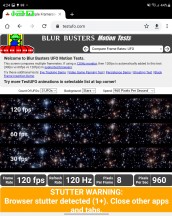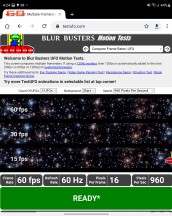 Adaptive refresh rate in browsers
On a way more positive note, Samsung's adaptive refresh rate switching is actually among the smartest we've seen, particularly in the way it handles video playback. The logic seems to be somehow hooked into the internal video decoder since it reacts to the frame rate of the video that is playing. That is to say when you play a 30fps video, the refresh rate is set at 60Hz and for a 60fps video, it also stays at 60Hz. We can't say for sure why Samsung went for a factor of two, but it is definitely the case. More impressive still, when you play a 24-25fps video, the Z Fold3 starts refreshing at 48Hz. Very neat!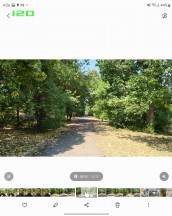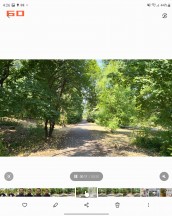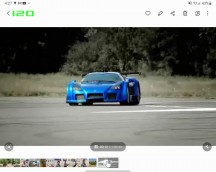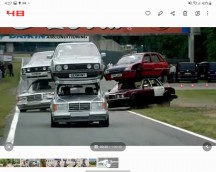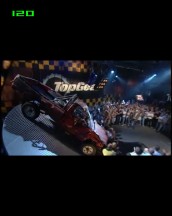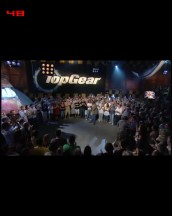 Automatic video refresh rate switching
And when we say it hooks into the video decoder in some way, we mean it, since this behavior carries over to other video players as well, not just the default gallery. YouTube behaves in the same way, though, the mobile app itself is not particularly transparent about video fps other than the standard 30 and 60fps options. Some channels, however, do upload at 24fps and for those, the Z Fold3 triggers its 48Hz mode. All of this, of course, only occurs after you leave the phone alone for a few seconds, without interacting with it so it disables its 120Hz mode.
It is also interesting to note that this behavior is not dependent in any way on whether you are viewing the video in full-screen or not or the orientation of the device.
HDR content doesn't alter the behavior either, which is interesting to note, since it does seem to do that on the new Z Flip3. That device is always locked to 120Hz when HDR content starts playing. Perhaps it is due to some limitation of that particular panel. We can't say for sure.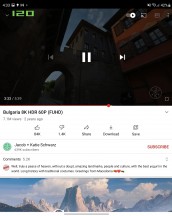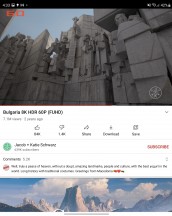 Adaptive refresh rate in HDR YouTube content
Netflix behaves in exactly the same way as other video players. Since most of the content available on there is 24fps, you end up with 48Hz while watching and 120Hz while interacting with the UI. Again, HDR makes no difference.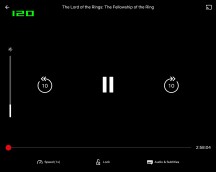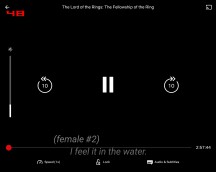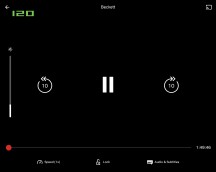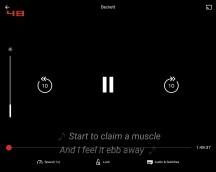 Adaptive refresh rate in Netflix
What about gaming? Well, unfortunately, the behavior is a bit less consistent there than with video playback. We tried a few games that we know can go over 60fps and most of them basically locked the display at 120Hz, regardless of whether we interacted with them or not. Some dropped down to 60Hz in menus and during fmv sequences, which was neat, but some, like Dead Trigger 2 locked at 60Hz, despite the fact that they can go above 60fps.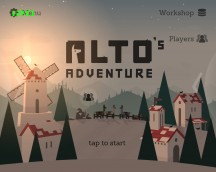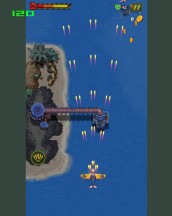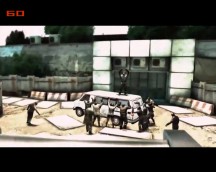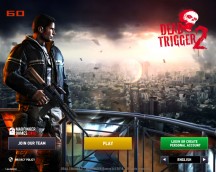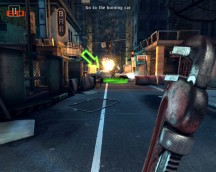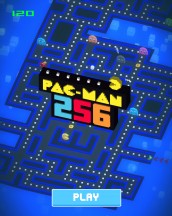 Adaptive refresh rate in games
Once again, we find ourselves wishing for a whitelist or some other way to adjust the refresh rate on a per-app basis, like, for instance, what Asus has on the ROG Phone line. Samsung's built-in Game Launcher does include an option to lock refresh rate to 48Hz, which is something. Though, it is clearly mostly meant to save battery life.
Since we already mentioned the Z Flip3, this is another interesting difference in refresh rate behavior between the two, since the Z Flip3 does actually have a three-stage selector in the Game Launcher instead of the simple 48Hz switch. You can choose between 48Hz, 60Hz and 120Hz on that phone, which is a lot better.
Samsung Galaxy Z Fold3 battery life
The Samsung Galaxy Z Fold3 has an advertised battery capacity of 4,400 mAh, which is a bit lower than the Z Fold2 and its 4,500 mAh capacity. In a typical foldable fashion, this is a total capacity. On the inside, the Z Fold3 actually has two separate battery packs - one 2280 mAh and another 2120 mAh one. Clearly, the decrease in overall size and volume of the Z Fold3 over its predecessor necessitated a slight decrease in battery capacity as well. 100 mAh is hardly massive, though, so not really worth criticizing.
In any case, on a device like the Z Fold3, battery capacity is just one and arguably the smallest part in the battery endurance formula. Between the big foldable display, powerful and power-hungry chipset and relatively limited battery capacity it is no surprise that the Z Fold3 does pretty poorly in terms of battery endurance.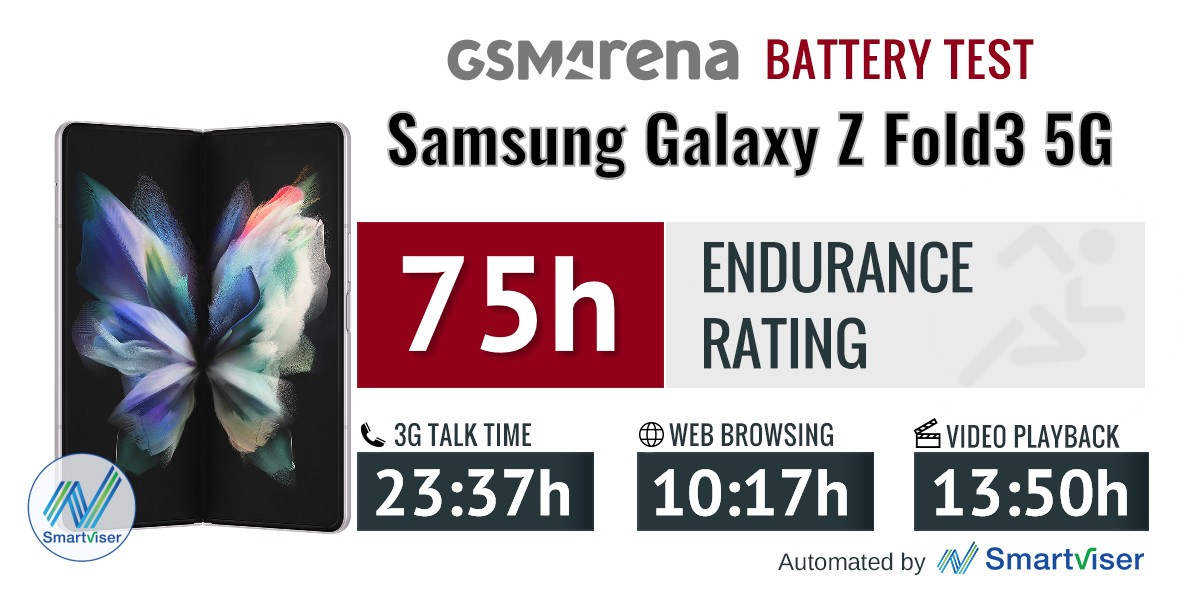 Comparing to the Z Fold2 as the closest point of reference, we can see the Z Fold3 mostly manages the exact same endurance numbers in both on-screen tests and with 3G calling. The Snapdragon 888, inside the Z Fold3, however, seems to be doing notably worse in standby than the Snapdragon 865 inside the Z Fold 2.
We carried out the web browsing test in the Adaptive refresh rate mode, while constantly monitoring the current refresh rate thanks to Android 11's built-in tool. Our web browsing script refreshes pages every 10s, and every refresh triggered a spike in the refresh rate to 120Hz, which then dropped back down to 60Hz 1-2s later. We reckon that's a behavior fairly representative of real-world use - you swipe on the screen, refresh rate shoots to 120Hz, you then read for a bit, it goes down. As for video playback, we switched the phone to the Adaptive Mode. We already described its behavior in-depth and for our particular test video, the Z Fold3 kept its display at 48Hz. If you were playing a 30fps video instead, which is most content out there, you would get slightly worse numbers in the video playback test, but not by much.
For what it's worth, at least the Z Fold3 managed to do a bit better in terms of battery endurance than its Z Flip3 sibling. Pretty much expected, given that phone's smaller battery pack. It is worth noting, however, that both phones consistently fell a bit behind in standby battery performance than what we have come to expect from the Snapdragon 888 chipset. Perhaps there is some room for tweaking and improvement there.
For the sake of thoroughness, we ran our on-screen tests on the cover screen on the Z Fold3, as well, using the same logic - Adaptive refresh rate mode, which meant 48Hz while playing the test video and a mix between 60Hz and 120Hz while refreshing in the browser test. We got notable better on-screen numbers, as expected, though, the outside display on the Z Fold3 is still plenty big and can now also go up to 120Hz, making it a bit less viable than before to stick to for the sake of better battery endurance.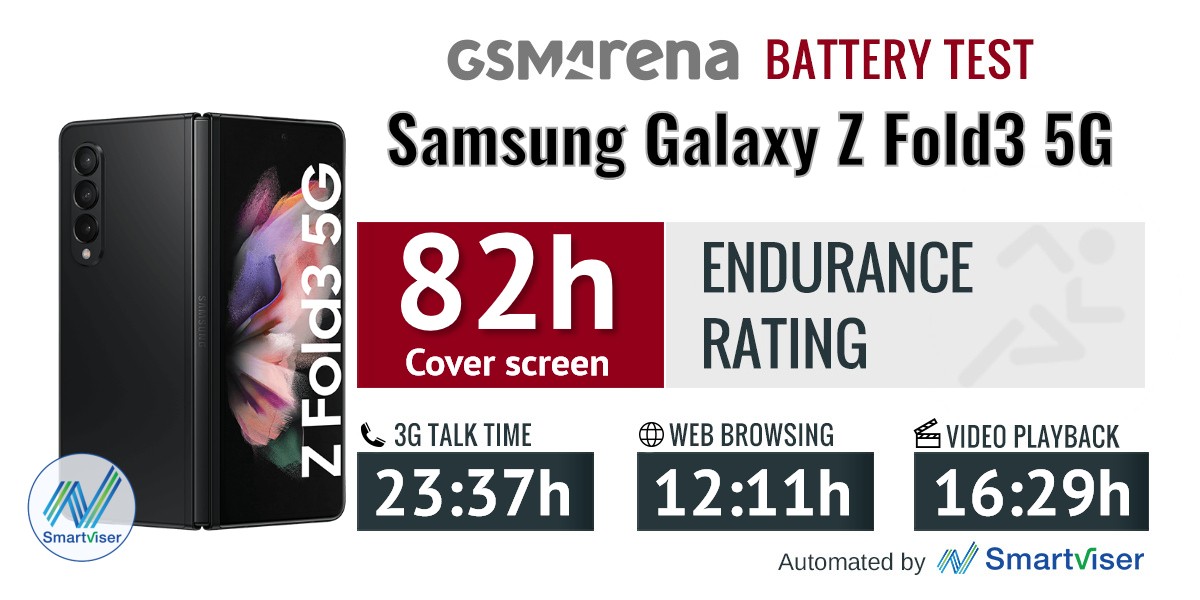 That being said, the most realistic battery endurance number for the Z Fold3 would probably be somewhere between the two ones we got, depending on your personal mix of main and cover screen usage. Samsung's Adaptive refresh rate logic and its insistence to stick to 120Hz constantly when ambient light is low is also worth bringing up once again, since it can make a difference.
In any case, the Z Fold3 has a one-day battery live, at best, less in practice with a power user or otherwise heavy use during the day.
Our battery tests were automated thanks to SmartViser, using its viSerDevice app. The endurance rating denotes how long the battery charge will last you if you use the device for an hour of telephony, web browsing, and video playback daily. More details can be found here.
Video test carried out in Adaptive refresh rate mode and 48Hz. Web browsing test done at the display's highest refresh rate whenever possible. Refer to the respective reviews for specifics. To adjust the endurance rating formula to match your own usage patterns check out our all-time battery test results chart where you can also find all phones we've tested.
Charging speed
The Samsung Galaxy Z Fold3 has an advertised battery capacity of 4,400 mAh - just around 100 mAh less than its Z Fold2 predecessor. There are actually two separate battery packs inside the device - one 2280 mAh and another 2120 mAh one. This kind of split is typical for the foldable form factor. Even the Z Flip3 has two separate packs.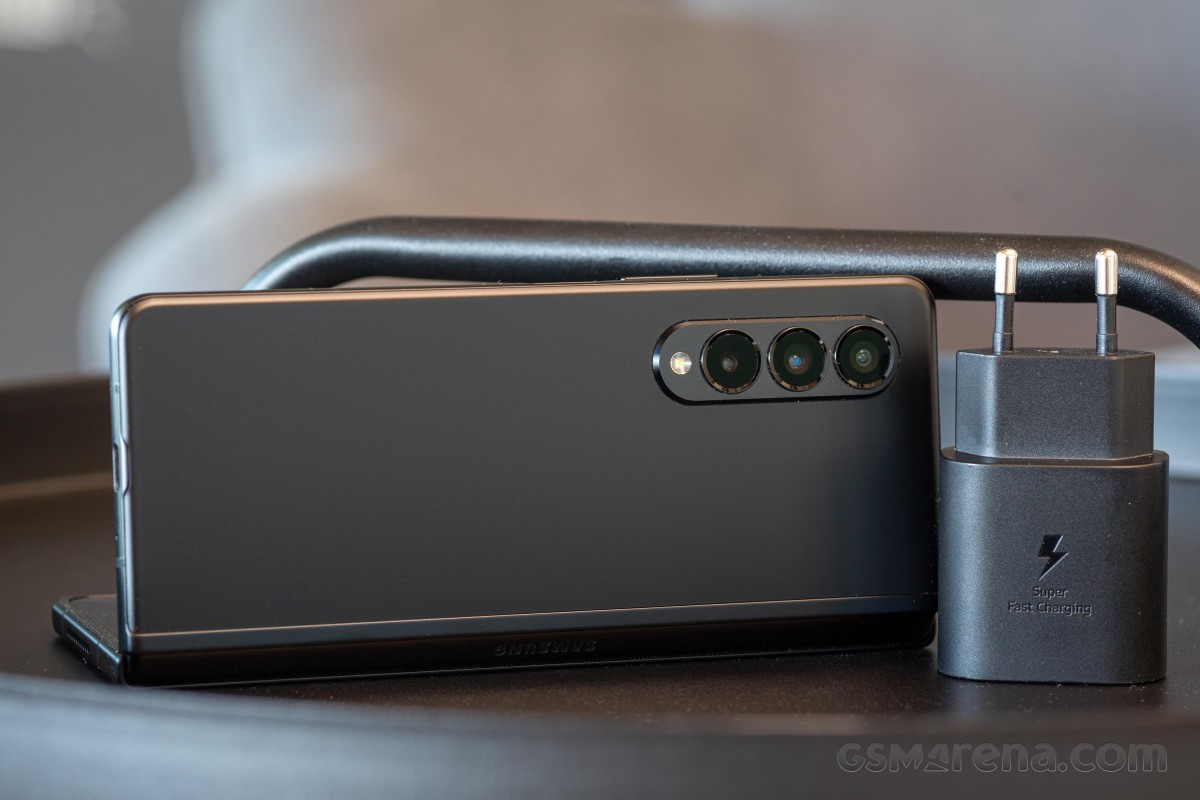 The Z Fold2 can charge at a maximum advertised rate of 25W. Unfortunately, Samsung does not provide a charger in the box. We do, however, know that Samsung has been using DP, PPS-enabled chargers as of late, making it fairly-easy to find a charger that support the maximum charging rate of the Z Fold3. To keep things as consistent as possible, we just tested with an official Samsung 25W charger.
30min charging test (from 0%)
Higher is better
OnePlus 9
100%
OnePlus Nord 2
98%
Xiaomi Mi 11 Ultra
89%
Realme GT 5G (65W)
87%
Huawei Mate X2
80%
Realme X7 Max 5G
60%
Samsung Galaxy A72
54%
Samsung Galaxy A52 (25W)
52%
Sony Xperia 5 III
49%
Samsung Galaxy Note20 Ultra 5G
43%
Samsung Galaxy Z Flip3 5G
40%
Xiaomi Redmi Note 10 5G
33%
Samsung Galaxy Z Fold3 5G
33%
Samsung Galaxy Z Fold2 5G
30%
Samsung Galaxy Tab S7+
18%
Time to full charge (from 0%)
Lower is better
OnePlus 9
0:29h
OnePlus Nord 2
0:31h
Xiaomi Mi 11 Ultra
0:37h
Realme GT 5G (65W)
0:39h
Huawei Mate X2
0:58h
Realme X7 Max 5G
1:00h
Samsung Galaxy A72
1:15h
Samsung Galaxy Note20 Ultra 5G
1:23h
Samsung Galaxy A52 (25W)
1:30h
Samsung Galaxy Z Flip3 5G
1:30h
Samsung Galaxy Z Fold3 5G
1:46h
Sony Xperia 5 III
1:50h
Samsung Galaxy Z Fold2 5G
1:55h
Xiaomi Redmi Note 10 5G
2:00h
Samsung Galaxy Tab S7+
3:35h
The charging speeds we achieved fall in line nicely with what we managed to achieve on the older Z Fold2. That is to say, a consistently slower rate than what we would have expected from a traditional Samsung phone, with a single battery of a similar capacity and the same charger, say the Galaxy Note20 Ultra. With no official info on a special concurrent charging standard, we can only assume that the slower overall charging is down to having to charge two smaller batteries, each with its own charging curve and trickle cycle.
You can also charge the Z Fold3 wirelessly. Samsung says it supports around 11W this way, which is also a bit lower than, say the Note20 Ultra and its advertised 15W. This also falls in line nicely with the two-battery-pack-setup explanation.
Reverse wireless charging is about the same, though, rated at 4.5W and only available if you have at least 30% charge in the phone.
Speaker test
The Galaxy Z Fold3 has a pair of amplified speakers at its disposal. These provide an amazing multimedia consumption experience, with great clarity and impressive frequency response. These speakers are impressive loud, as well, earning a "very good" rating in our tests.
The Z Fold3 also has Dolby Atmos at its disposal, with a few different modes, as well as manual equalizers. In its default auto mode, Dolby Atmos actually managed to boost loudness a bit further, not by much, but just enough to put it even closer to the output of the Galaxy Z Fold2. Dolby Atmos did, however, also slightly hurt the phone's frequency response. Again, not by much.
If we have to be picky, we'd say that the speakers are quite easy to cover up in landscape use due to their lower position. This is not a new problem and Samsung even seemingly tried to address it, making the speaker grills a bit wider than on the Z Fold2. Of course, you can just flip the unfolded Z Fold3 around and the problem is gone.
Use the Playback controls to listen to the phone sample recordings (best use headphones). We measure the average loudness of the speakers in LUFS. A lower absolute value means a louder sound. A look at the frequency response chart will tell you how far off the ideal "0db" flat line is the reproduction of the bass, treble, and mid frequencies. You can add more phones to compare how they differ. The scores and ratings are not comparable with our older loudspeaker test. Learn more about how we test here.