Samsung Galaxy Z Fold3 and Z Flip3 handled on camera ahead of announcement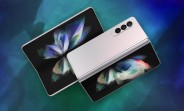 Ahead of tomorrow's Samsung Galaxy Unpacked event, Twitter user @Ricciolo1 has posted a short (and blurry) video of both the Galaxy Z Flip3 5G and Galaxy Z Fold3 5G being handled on video.
samsung Galaxy Flip 3 & Galaxy Z Fold 3 Hands on#alwaysthesame #lol 😐 pic.twitter.com/NVZ5hF19h0

— Ricciolo (@Ricciolo1) August 10, 2021
There's a moment in the video around the 21-second mark that shows the internal display equipped with the under-display camera. Otherwise, the video doesn't really show us what we have not already seen. Both devices have already leaked almost in full, complete with renders and nearly complete spec sheets.
In anticipation for tomorrow's event, you can find out what to expect on our recap post.
Via Twitter
c
You who is biased 😒👎. Gms don't matter anymore unless you want to use e-banking.
Go, say that to all those who jump on me for defending basically every different techs...
H
You are that kind of people , which try to always suppress someone or something who or which tends stand out or do something different..no we don't need another run of the mill design. Samsung has always been bold.l let them be
ADVERTISEMENTS