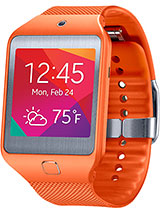 F
ShoresDaddyO, 13 Jul 2017Can a Neo 2 watch be used with a Nokia 7 phone with Samsung gear? no just with samsung
S1
Can a Neo 2 watch be used with a Nokia 7 phone with Samsung gear?

s
Is this isn't an android wear watch I've gone through some articles which stated that it's not an android wear, What's the significant diff with it. Can you share about it more info.
Total of 5 user reviews and opinions for Samsung Gear 2 Neo.