Introduction
Samsung is knees deep in the latest trend of gearing up your wrist with an extension of your smartphone. The Gear S however walks the extra mile of offering independent 3G and Wi-Fi connectivity along with full telephony support.
A culmination of several smartwatch iterations, the Gear S packs better hardware and a lot more of it. Samsung is breaking new ground here as the Gear S is actually more of an independent smartphone for your wrist, than an accessory for your smartphone.
The device is equipped with its own SIM card and has all the needed hardware and software to function as an independent phone that just happens to be attached to a strap and be able to sync with your Samsung smartphone.
The ambiguity in nature is a very bold move by the Korean giant, but has a multitude of drawbacks, most prominently - the need to buy a separate monthly data plan just to use the rudimentary smart features of your watch without it being paired to a handset. But more on that later.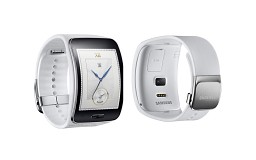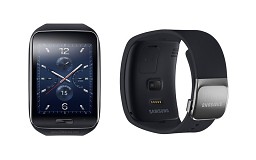 Samsung Gear S official photos
Unlike it's cousins - the Moto 360 and the LG G Watch R - who would try anything to pass as regular wrist watches on quick glance, the Gear S is definitely not subtle in its appearance and seems utterly uninterested in pretending to be a watch. The device is futuristic, with a wide wrist band and curved glass finish, but most importantly, it's huge compared to the competition.
A 2-inch Super AMOLED screen and the rectangular shape instantly paint the picture of a high-tech gadget that can coincidentally tell time, rather than a watch in the traditional since. The bold choice of colors and materials only underline this general feeling.
The lack of a watch crown and the rectangular physical "home button" below the screen represent a decisive step away from the wrist watches of old.
The Gear S definitely deserves credit in the hardware and features department, as Samsung has jammed it with pretty much everything they could fit.
Key features
2-inch curved Super AMOLED multi-touch screen with a resolution of 360 x 480 pixels (300 ppi pixel density)
Plastic 67 g body, permanently mounted on a proprietary wrist band, available in black or white
Dual-core 1GHz Qualcomm Snapdragon 400 chipset with 512MB RAM and 4GB ROM
300mAh battery (24h battery life) plus a 350mAh battery pack in the charging dock
IP67 certified - it's dust and water resistant up to 1 meter of depth for up to 30 minutes
Accelerometer, gyro, proximity, compass, heart rate, barometer, UV light sensors
Bluetooth v4.1, Wi-Fi 802.11 b/g/n, 3G, A-GPS with GLONASS
Main disadvantages
Way to big and clunky for most wrists
No standard band-replacement options available, and you can only get a black or white one from Samsung
After taking a quick tour around Samsung's interesting new take on redefining the wearable scene lets dive deeper into what the Gear S has to offer in terms of hardware.
B
Who else is reading this in 2020?? I've used it for four years straight.. still looks great and works like a charm.
?
got on back in Nov 2015.. I am loving it and for sure amazed by the screen resolution and the build quality.. kudos to Samsung.. A request though, need to add more 3rd party APPs to the Tizen OS ...
D
I am planning to buy Samsung Gear S soon. Thanks a ton for your reviews. As we are in Sep 2015 and the new S2 smartwatch by Samsung is out, Would you still recommend buying this ?? I am looking at the look and feel only Looking forward for you...