Unboxing
The Samsung Gear S comes in a neat little stylish package with not much room to spare. Nothing too fancy or excessive on the cardboard box itself, but you should remember to hold on to it just like you would for any new phone or at least the IMEI information printed on it, just in case the smartwatch gets misplaced.
Inside the rather minimalistic packaging we find the watch itself covered by a quick-start guide leaflet and underneath it - two compartments - one for the charging dock and another one for the wall adaptor.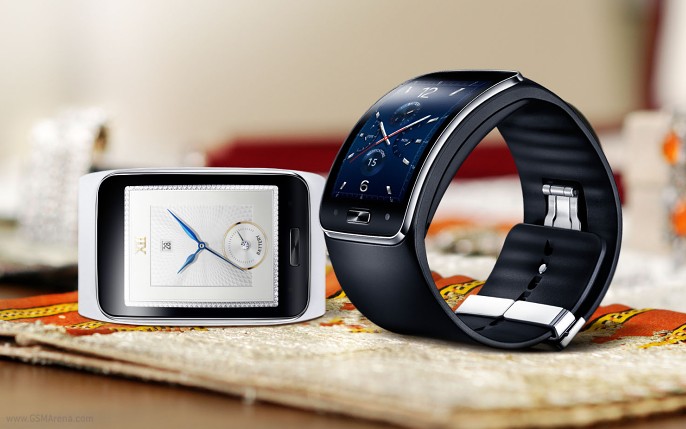 The dock doubles as a back-up 350mAh battery, which is definitely a nice little touch. This allows you to charge it separately and carry a handy extra power source with you on the go.
The charging dock is however flimsy at best. Its shape is very oddly curved around all edges, which makes it almost impossible to balance flat on a surface, unlike the one found on the LG G Watch R, for example, which feels right at home of top of your desk.
The way the dock attaches lacks much proper feedback. We often found ourselves having to double check if the pins were aligned and the thing is charging.
Looking at the shape one would assume that it is meant to be carried around while on the watch, but that is totally unfeasible.
Hardware
In terms of hardware the Samsung Gear S packs the guts of a mid-range smartphone, which is an admirable achievement on its own.
The Snapdragon 400 SoC is more than enough to power the Tizen OS, which runs absolutely fluidly with no lag or excessive loading times. That's is to be expected, of course, from a CPU that is still found in some entry-level handsets. 512MB of RAM definitely don't sound much, but seem to be plenty as even after prolonged periods of use of different apps, we didn't spot any performance drops.
The 2-inch curved Super AMOLED touchscreen is nothing short of spectacular and really sets the device apart from the competition. Everything looks amazingly sharp with vivid colors and ample space to go around, which Tizen really seems to take full advantage of.
The GUI is specifically optimized to ease the user experience with additional features and the menus are conveniently placed at the top and bottom ends of the display.
The curve does initially strike as somewhat weird, but it grows on you pretty quickly and is in fact a pretty natural way to accommodate more usable space.



The gear S boasts a nicely curved body and a physical home button below the excellent display
Viewing angles are not ideal, but perfectly adequate to accommodate pretty much every possible hand position. There is quite a bit of reflection on the device in bright light, but it's still viewable. OLED technology is pretty power efficient and with the proper choice of a minimalistic watch-face, the battery can easily handle the always-on feature.
The device is also equipped with a laser heart rate sensor on the back, which has become more or less a standard feature for smartwatches, but its accuracy is doubtful and so is its consistency. Measuring is a very random shoot and miss process and I am yet to find a "sweet-spot" that raises my chances for success.
Samsung seems to be putting an emphasis once again on sport and health uses for the wearable. A pedometer is also present as one would expect, but again the validity of the tracked data is also very questionable. Either the sensor is not exactly accurate or we should definitely address our oddly consistent midnight sleepwalking (ranging from 50 to 120 steps depending on the person).
The sleep-tracking feature is straight-forward enough though it doesn't help with the bed-time step counting. It shows the percentage of motionless sleep you get each night. That is if you manage to time you battery right to be able to wear it to bed.
The built-in speaker is also a nice addition. It is kind of essential for the watch to behave independently as a phone, like the manufacturer seems to mean it to work, but coincidentally, it turns the Gear S into a convenient Bluetooth hands-free for your smartphone while driving.
At this point, the list of additional hardware found in the little device becomes kind of excessive and arguably does not necessarily act in favor of Samsung's wearable. The Korean manufacturer has also thrown in a UV sensor, intended to warn you against exposure to unhealthy amounts of sun rays.



The UV sensor is right next to the button
Granted, the option does sound cool and looks to work just fine, but it seems to me that you'd rarely need a gadget to tell you whether you need sunscreen. Most users will not benefit at all from this added feature and yet all of them are paying for having it on-board.
But the list of tech, that ramps up the price of the Gear S does not end there. Besides the obvious Bluetooth connection, Samsung has also opted to throw in a W-iFi module. It does fit into the whole new concept of a more independent wearable, but it also seems kind of redundant. The reason is that most of the time the watch is going to be connected to your Samsung smartphone and draw all its data from there. There is also the separate 3G data connection that is present on the wearable.
The device does include a pretty handy version of HERE navigation, specifically tailored for its controls and screen size. Once paired to a smartphone, however it pretty much functions as a second screen and insists on installing HERE on the phone. It also makes the buit-in GPS redundant as in this case it relies solely on the phone's positioning methods.
The only other interesting use of the location chip inside the Gear S is for the two-way device finding feature. If both devices are out of Bluetooth range, they can still reach each other through their respective internet connections.
It seems that Samsung has gone with its traditional "more is better" approach with the Gear S and has made it a point to fit as much hardware as possible in the wearable. While this does definitely have its appeal, I can't help but feel that the smartwatch is too feature-rich for its own good.
With a price tag a good 50 percent above its direct rivals - the Moto 360 and LG G Watch R and tied down to a significantly smaller proprietary market - it seems the Gear S offers much to impress, but sadly not nearly enough to compete outside the Samsung universe.
It seems the Korean giant has endeavored to conquer all peaks with one all-encompassing device and has ended up with a premium smart watch-phone hybrid that can't decide on its nature, which is my main grudge against the otherwise quality Gear S.
Build quality
The Samsung Gear S feels solid, yet amazingly light. The curved body does help in distributing the weight evenly, but it still takes some getting used to wearing it, especially while you sleep.
The device itself is pretty much wrapped by its watch band on all sides and there are no apparent ways of disassembling it. The wrist band is made out of some sort of rubberized plastic. It looks to be rather durable and stain proof, but more than anything it comes off as cheap and tacky, much like something you would put on a toy watch. The fact that it is available in only a few colors and cannot be replaced by an aftermarket solution is also kind of a letdown.




The strap and plastic finish look less than premium
The rest of the materials implemented in the smartwatch are not that premium either, or at least don't look like it. The plastics all feel sturdy enough, but are not nearly as nice as the finish on the Moto 360 and LG G Watch R.
The Samsung Gear S does boast an IP67 certification for dust and water resistance and is rated for a meter deep dive for up to 30 minutes. The back of the device seems rather unprepared for a bath, especially around the SIM slot. We could, of course, be wrong, but we found it uncanny to let it near water.
The watch clasp feels heavy-duty and tight enough to prevent accidental unhooking. The way it is attached to the strap is however kind of flimsy and could potentially cause wear and tear problems down the road but we have to see about that.
Battery life
Battery life on the Gear S is far from ideal, clocking in at a little over 24 hours on the review unit. This held true regardless whether we had a SIM inside or not. That's understandable given the small battery, but still looks impractical for day to day use.
Charging is fairly quick at about an hour on a decent wall adaptor, but the battery life leaves you wondering as to when exactly you are supposed to charge the thing.



The Gear S looks very high-tech
Arguably, most smartphones nowadays leave you with the same conundrum, but the easy solution is to just let them charge overnight. This is all fine and dandy but if you wish to utilize the built-in sleep tracking function that option is pretty much off the table and if you are constantly on-the-go, finding a slot for charging the Gear S quickly becomes a concern. The 350mAh dock backup battery addresses this issue to a certain extent and is definitely handy, but it still seems that Samsung might have missed a few use-cases during design.
Follow us to the next section to see is the Gear S really does put the S in "smart".