Shifting gears around
Samsung Gear S2 review: Shifting gears around
Unboxing
The Samsung Gear S2 comes in a catchy and unorthodox box. It is a two piece cylinder that you could easily mistake for a perfume box or something of the sort. Actually, circular design seems to be a major leitmotif of the Gear S2 and it is only natural that it extends from software, through hardware all the way to the packaging itself.
The contents of the package are quite rich. Inside we find yet another two-piece circular assembly, but this time made of plastic and meant to organize and protect the internals. Inside the top part is the watch itself, assembled and ready to go.
The non-Classic models actually come with second band enclosed. It merely a different size so that you pick the one that matches your wrist size best. Also, it is worth noting that the bands are not only different in length, but the angle at which they slope is slightly different too. This might sound like a small detail, but it is immensely important for providing a snug fit - something watches such as the LG G Watch R and the LG Watch Urbane struggle with.
Inside the box, you also get a 5.0 volt 0.7 Ah wall charger with a standard microUSB connector, as well as the charging station. The Gear S2 doesn't have any exposed pins or a port, but draws its power wirelessly when attached to the base.
Samsung has actually designed the charger in a clever way. Unlike competitors like LG or Apple, whose devices simply lie on a flat bed to juice-up, the Gear S2 is actually held on by a magnet to an elevated surface a few inches above ground. That allows you to actually see its display when on a nightstand and the software also facilitates such use cases, but more on that later.
Design and build quality
There definitely seem to be two schools of design thought in today's smart wearable industry. On the one hand we have the more techy approach, usually associated with fitness trackers, but also some watches, where it is plainly obvious that the gadget you are wearing is indeed a futuristic piece of tech. A good example would be the Gear S or even the Apple Watch.
On the polar opposite, there is the push to seamlessly mold technology into the existing watch design. Make a product that simply upgrades the watch experience, rather than reinventing it completely, like the LG Watch Urbane or say, the Huawei watch.
Of course, there is also everything in between and that is precisely where the Gear S2 seems to fall. This ambiguity might not sound like much of a decisive evolution over its predecessors, but in reality, the new design style constitutes a huge conceptual shift for Samsung. The Gear S2 is the first that aims for a more traditional look and consequently for a potentially different crowd of users.
Now, we definitely have to take into account that the Gear S2 comes in two quite distinct styles. As far as the S2 in concerned, the round design is very much present, but with a standard strap (leather by default) and rougher edges, it is quite definitely going for a full-on watch appearance. However, seeing how it is a bit pricier and also a little overshadowed by its non-classic sibling, it probably won't be as popular.
Also, there is a lot less going on with the Classic design-wise for us to comment on. It is simply looks like a watch and can easily be mistaken for one, which is definitely a strong selling point for some. The rotating ring control is still present, now with a bagged design along the edge. If you are into a stylish, more grown-up look, definitely go for this one.
If, however you would rather wear something sportier and won't mind curious questions as to what you have around your wrist, then the basic Gear S2 design might be more up your valley, plus it does cost about $50 less.
As already mentioned, it has a slick and smooth metal finish on the front and sides, either in silver or black. The straps are made of silicon in a respectively matching white or black color. They attach neatly to the base of the Gear S2 leaving no air gap, unlike the Classic. They do have a custom attaching mechanism, making them quite a proprietary accessory. Thankfully, however, as already mentioned, Samsung was nice enough to supply two sizes in the box. The bottom half of the watch, or rather the cover, as it does have four clearly visible screws for dethatching, just like a regular watch is also colored coordinated.
The Gear S2 band feels quite rigid with a nice soft finish. It doesn't really get sweaty or uncomfortable, despite being made of silicon. In fact, the Gear S2 is one of the comfiest wearables we have experienced to date. It is weighted quite evenly and it's not too thick, which helps it fit snugly around the wrist. The buckle does, however, feel a little cheap, especially compared to the aluminum used for the body and the silicon is prone to smudging, especially the white one.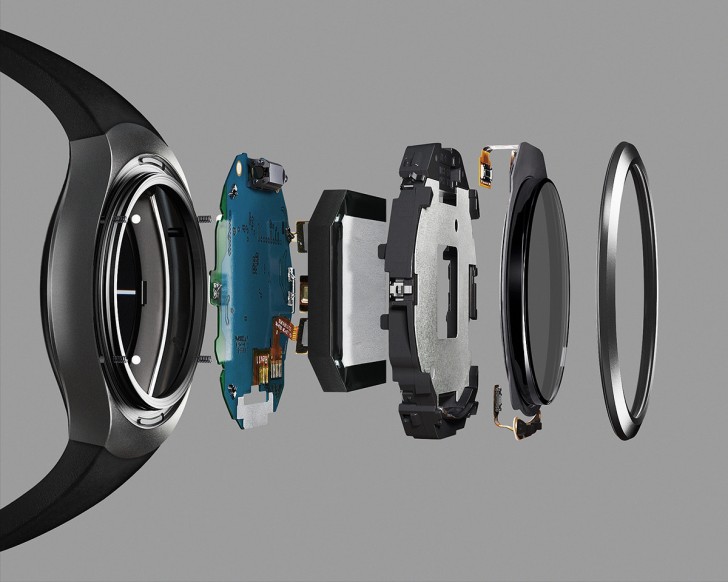 And while we are on the topic of dimensions, the Gear S2 tends to be a bit smaller than most of its other round competitors, but it is in no way tiny. Its exact measurements are 49.8 x 42.3 x 11.4mm for the standard, 39.9 x 43.6 x 11.4mm for the Classic and 44.0 x 51.8 x 13.4mm for the 3G version. It also has a 31 mm screen diameter, making it a bit smaller than the LG Watch Urbane or the Moto 360. With a weight of 47 to 51 grams, it is actually on the lighter side. But, overall, if you are into oversized watches, the Gear S2 probably won't be up to your taste.