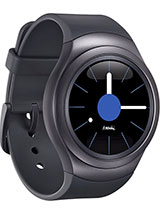 D
AnonD-485230, 07 Jan 2016Is this watch compatible with P8 lite?no, only samsung

if it was android wear yes it would be compatible but tizen os is only compatible with samsung
D
Here the mobile compatiblity list..
www.samsung.com/hk_en/mobile_compatible_list/ind­ex_m.html
Becareful before you buy it..
I just bought and then it is useless..
D
I bought the sports watch version in end October. The strap is quite weak in the hinges and of poor quality and broke in less than two months.
Samsung says no warranty on straps and refuses the replace.
Sports watch straps are not easily available and are really expensive
Please be careful before buying the sports watch...
l
koma, 26 Oct 2015hey GSMARENA. if the Gear S2 did not have 3G support, how is calculated the 48 Hour of 3G talktime?There's a 3G model.
D
simple.... those hours are calculated by matching the watch with the phone previuosly via Bluetooth. Then... you talk using the watch instead of the smartphone. Recalls that this device has a microphone.
Total of 71 user reviews and opinions for Samsung Gear S2.