Samsung at IFA 2015
Samsung Gear S2 and S2 classic hands-on: Samsung at IFA 2015
Samsung Gear S2 hands-on
Samsung Gear S2 is the more casual member of the family. Available with optional 3G network connectivity, the smartwatch features stainless steel body and swappable silicone band with proprietary connector.
There are two color schemes available - silver and gray with black or white silicon band respectively. Of course, Samsung will offer interchangeable bands in a variety of colors as additional accessories.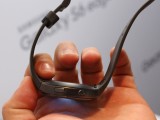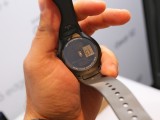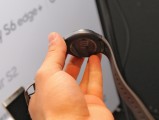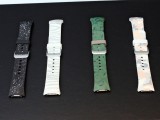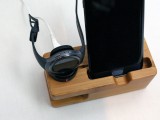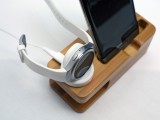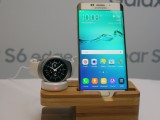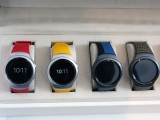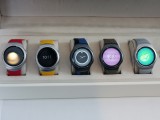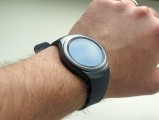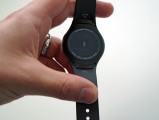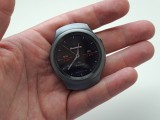 More Samsung Gear S2 live shots
Physical measures of the Gear S2 are 42.3 × 49.8 × 11.4mm, while its weight tips the scale at 47 grams. The 3G variant is slightly bulkier due to its bigger battery and e-SIM card - it measures 44.0 x 51.8 x 13.4mm and 51 grams.
The bundled silicone band of the smartwatch is comfortable and easy to maintain. Because it doesn't require standard lugs, it is seamlessly integrated into the body of the smartwatch, thus offering a sportier, slightly futuristic look.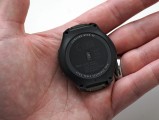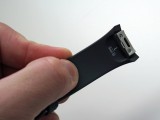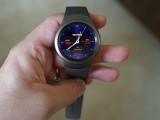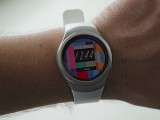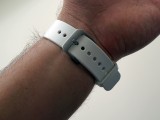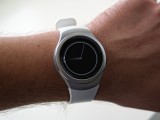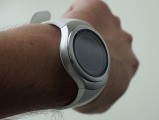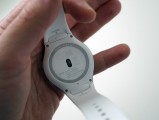 Samsung Gear S2 silicone band with proprietary connector
Build quality of the Gear S2 is excellent. The device's body is crafted from stainless steel, so it promises to hold up well against daily wear and tear.
The 1.2" circular Super AMOLED screen of the smartwatch is excellent. It offers punchy colors, coupled with infinite contrast levels and stellar brightness.
Samsung's innovative rotating bezel has pleasant "clickiness" to it and is a joy to use. It rotates in both directions, thus allowing you to easily navigate the Tizen OS of the Gear S2.
A magnetic charging dock is tasked with charging the device. Using it is a simple and straightforward process.