Samsung Gear S3 receives another update that's meant to improve battery life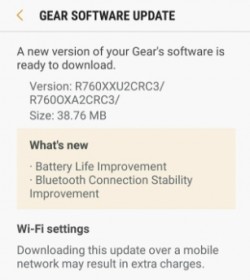 One of the main problems smartwatches face is their usually lacklustre battery life. So as an owner of such a device you're probably quite happy when it gets a software update that should improve its stamina.
That's exactly what's happening today for the Samsung Gear S3. The new release will bring your wearable onto software version R760XXU2CRC3, and its changelog contains only two items as you can see from the screenshot to the left: "Battery Life Improvement" and "Bluetooth Connection Stability Improvement". Both of those are incredibly important for any smartwatch, so we recommend you install this update as soon as you can.
If you haven't received a notification yet, check for it in the Samsung Gear app on your phone by going to About Gear > Update Gear software. The update has already been spotted rolling out in the US, Canada, and South Korea. It should expand to other markets soon.
The Gear S3 received an update to Tizen 3.0 last year, to bring it in line with the company's latest wearables. Unfortunately after that the watch's battery life took a big hit, which prompted Samsung to issue another update soon after, one that supposedly fixed the issues. We're hoping that after you apply today's update the Gear S3's longevity will grow even more.
?
Weekly charging ok but now we have to charge after two days
D
I used to charge every other day, now I have to charge every night after this update. This new update definitely did not help battery life. :(
T
After the update it is even worse. I was getting 3-4 days, now I am at exactly 8 hours ... great trash ...