Root achieved on the Samsung Gear S3, Android Wear theoretically possible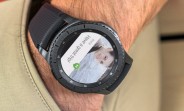 An XDA thread was just updated this morning that briefly outlines the progress of getting Android Wear and/or TWRP (a custom Android recovery) running on a Gear S3 with some modified firmware.
A developer has coupled the source files for the Exynos 7270 CPU (which the Gear S3 runs on) along with an internal firmware that gives the user full read/write access, which would allow for flashing anything that can be made for the Gear S3's hardware.
The ultimate goal would be to get Android Wear running on the Gear S3. Currently the project is still in diaper stages of pre-development and nowhere near testing.
Mockup of Android Wear on a Gear S3
With enough tenacity and hard work from enthusiasts who love to tinker with software, Android Wear on a Gear S3 could be entirely possible. The question is: Would you want to use a Gear S3 running with Android Wear? Both platforms have their strengths and weaknesses.
The Gear S3 will have a superior experience when paired with a Samsung smartphone, without a doubt. However, Google Assistant and Android Wear's much tighter integration with Google services is rather appealing. Would you ever be interested in a Gear S3 running Android Wear 2.0? Let us know what you think in the comments.
D
do you use ONLY on lte whole time ? think and reply as my lg watch urbane 2nd edition... goes with lte standalone for 18 hours thats amazingly true
A
I want tizen to come up wit voice msg system for whatsapp so we can hear and reply easily on whatsapp while using gear.
K
To get this running on the S2 as well would be amazing
ADVERTISEMENTS