Hardware
We couldn't find any official details regarding the processor used within the Gear Sport other than it's a dual-core CPU running at 1.0Ghz. It would be a safe assumption though that it's probably running the same Exynos 7270, dual-core 1.0GHz processor found in the Gear S3.
This is paired with 4GB of storage that can be used for apps and media which showed 1.6GB free when we first powered up, with 768MB of RAM. Whilst 1.6GB initially sounds low, you'll find that apps have a low storage requirement, the Speedo On app for example requires only 747.11KB of your precious storage. Locally stored music will be a bigger storage hog, our 11 track test album consumed 87MB. So whilst you can't carry around your entire music library, you can store enough for your various fitness activities. There is also the option to stream your music from services such as Spotify instead of playing it locally.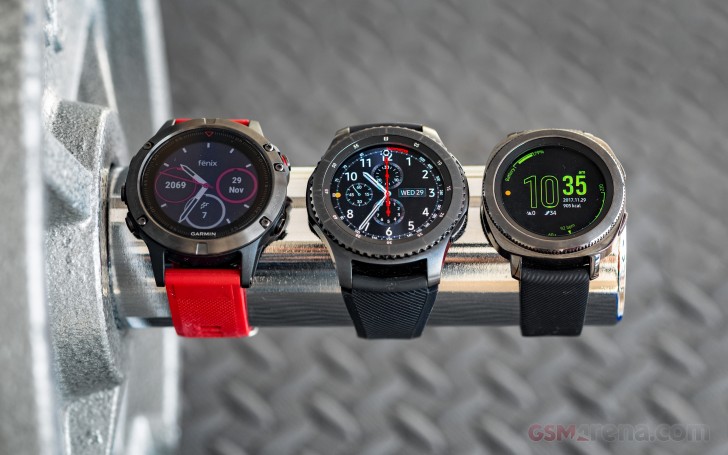 From left to right - Garmin Fenix 5, Samsung S3 Frontier & Samsung Gear Sport
As expected, the Super AMOLED screen is stunning. Its 1.2" screen size with its 360 x 360 resolution provides a sharp-looking pixel density of 302ppi. Being an OLED, the colors are deep and saturated with the Tizen UI making good use of the display. Thanks to its circular shape, third party watch faces in particular look realistic and act as a showcase for the display quality.
An ambient light sensor is employed to enable Auto Low Brightness mode. During out testing we also witnessed the light sensor being used to boost the screen beyond its brightest setting in bright light. As a result, we had no problems viewing the watch in all lighting conditions and we had no issues with the viewing angles during our use either.
In addition to the heart rate sensor, the Gear Sports fitness capabilities are bolstered by the usual suspects that include an accelerometer, barometer and gyro sensor.
Situated between the 'back' and 'home' buttons on the right side of the Gear Sport sits a single microphone which is used for S-Voice which is a nifty system for voice controlling the watch's main features. But more on that further down.
Connectivity is handled by Bluetooth v4.2 to pair to your smart phone and wireless earphones. Wi-Fi 802.11 b/g/n 2.4Ghz allows the Gear Sport to connect to your known wireless networks. The Samsung Gear companion app syncs the Wi-Fi networks that are saved on your phone. This allows your Gear Sport to operate independently of your smart phone, for example to access the Galaxy Apps store.
Samsung Pay uses NFC only in the Gear Sport, dropping the Gear S3's MST functionality which allowed it to emulate any of your cards that are secured only by a magnetic strip. This may be an issue for you if your Country and Bank combination isn't supported yet. It's worth noting that unless you have a Samsung Pay supported smart phone you can't setup and use Samsung Pay on the Gear Sport.
Location tracking is provided courtesy of the on-board GPS/GLONASS/Beidou. We'd picked up on some anecdotal reports that the Gear Sport in populated areas suffered with GPS location accuracy. We had so such issues with GPS during our testing as you'll see.
Battery Life
Having the slightly square body did allow Samsung to pack in a 300mAh Li-Ion battery, which according to Samsung will last for 3 days with typical usage and up to 5 days with low usage. Of course, typical usage doesn't necessarily relate to your own use. In comparison, the Gear S3 is powered by a bigger 380mAh battery, and Samsung quotes it as having a 3-4 day battery life.
During our tests we configured the Gear Sport as follows:
Battery Management set to default
Standard 'Hourglass' watch face with black background (with OLED, black backgrounds consume less power)
Watch always on disabled,
Screen brightness set to 50%
screen on with gesture and bezel.
Auto low brightness off
15 second screen time out.
Do not disturb schedule set for 7 hours every night.
All day heart rate monitoring set to sample every 10 minutes.
Wi-Fi off
We fully charged the watch that evening and strapped it on at 11:00pm paired to our trusty Android smart phone. We charged in the evening, as opposed to overnight, as we wanted to perform sleep tracking, an important metric as part of recovery when training.
On the first day, in addition to the usual smart watch notifications and interactions, we performed a 15-minute walk to perform initial GPS testing and in the evening tracked both a 7 min treadmill warm-up session and 1hr 15min weight training session, neither of the latter pair required GPS due to their indoor nature.
By midday on the second day we received a 20% low battery warning. Alarmingly, just over an hour later the battery was down to a mere 6% which surprised us, so we investigated further. Within the Samsung Gear app you can view battery usage by app which revealed that the default Music app had consumed 22% of our battery. This was probably us performing Spotify and Music playback setup & testing.
2hrs and 30mins later, without any further activities other than notifications, the battery died. The Gear Sport had given us just over a day and half of use.
Using the provided wireless charger, the Gear Sport took 2 hours and 48 minutes to fully charge from 0% battery.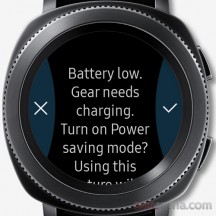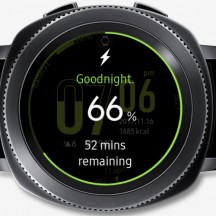 Battery low warning • Gear Sport charging
Concerned about the battery drain during our music playback test - we ran a music test again at the same 75% volume level. This test was undertaken off the wrist, with locally stored m4a music tracks, without any HRM sampling, GPS or Bluetooth connection to a smart phone. We recorded a 10% battery drop in a 20 minutes, so you won't be completing any full marathons whilst listening to music, especially with GPS on - that's for sure.
During our time with the Gear Sport, when used as a smart watch, it compared favorably to other smart watches when it came to battery life and you're probably looking at 2-3 days of usage. However, if you use the watch for working out, then expect to charge every night.