Software
The Samsung Gear Sport comes with Tizen 3.0 out of the gate and brings with it a number of improvements. The fitness tracking and health capabilities have been enhanced, including all-day heartrate tracking. You now have the ability to create reminders and contacts on the watch itself and a number of UI enhancements to further improve usability.
We've covered off the basics of Tizen in-depth in previous reviews, including our Gear S3 review, so we won't cover too much old ground here. Talking of which, during the writing of this review Samsung rolled out Tizen 3.0 to its Gear S3 as part of the Value Pack Update.
When we reviewed the Gear S3 we lamented the fact that you couldn't use the watch with Apple iOS devices. Samsung have since addressed this and the Gear Wear and Samsung Health apps are now both available on iOS but with a few concessions. Due to Apple's tighter controls you can't compose new messages or reply to messages when connected to an iPhone or iPad.
Quick Settings
Swiping down from the top of the screen at any point, even during a workout, pulls down the Quick Settings menu which additionally displays the current battery level, Bluetooth, Bluetooth headphone, Wi-Fi and workout status info.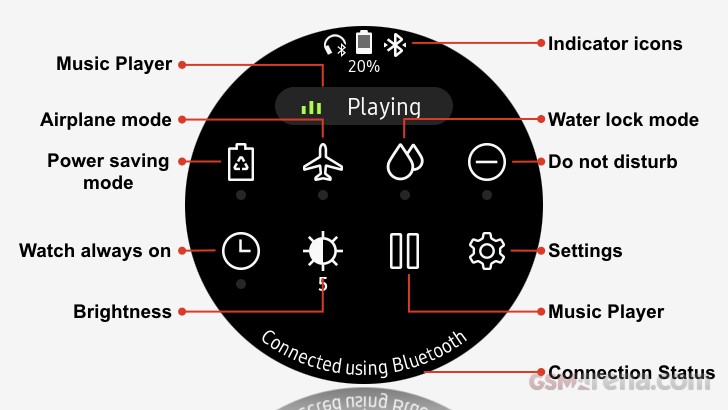 You can customize this screen even further by pressing and holding any of the icons. Given its sporting credentials it's good to see a water lock mode that turns off the touch screen, wake up gesture and watch always on. This prevents accidental inputs caused by contact with water such as when undertaking water sports or showers. Whilst you can also increase the sensitivity of the touch screen to allow use when wearing gloves, useful when hiking or skiing.
Watch Faces
The Gear Sport comes with fourteen pre-installed watch faces with most being customizable by long pressing the watch face itself. All of which can be customized by color. Two of the default faces, Dashboard & Analogue Utility, allow customization beyond simply changing the watch face colors by allowing customized complications such as sunrise/sunset, world clock and music. Customization can also be carried out via the Samsung Gear app.
Another Tizen 3.0 improvements is that when turning the bezel slowly when selecting watch faces for example will fill one watch face per screen, turn the bezel faster and 4 watch faces fit on a screen, turn faster again and 7 watch faces fill the screen in a honeycomb fashion.
Watch face complications and other watch face elements are interactive. The Hourglass watch face shows floors ascended and steps progressing against goal by filling up the two digits that represent the hour, touching either of these digits takes you to the corresponding Samsung Health Summary Page.
As you'd expect, there is a wealth of watch faces that can be downloaded for Galaxy Apps on the Gear Sport itself or via the Samsung Gear app on your smart phone.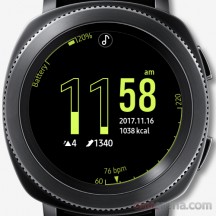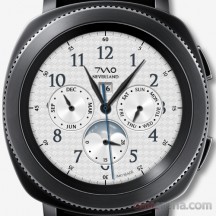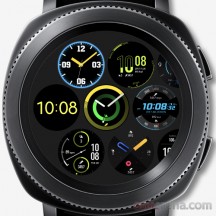 Standard Hourglass watch face • Example of a third party watch face • Tizen 3.0 full screen honeycomb
Widgets
Only a swipe or bezel turn from the watch face widgets provide summaries of information and quick access to associated apps. We don't intend to cover off all the widgets but here's some highlights, in particular those relating to fitness.
App Shortcuts shows the last 6 apps used in addition to pressing the center icon takes you to your full app list. You can also fix your favorite apps here by customizing the widget.
Multi-workouts allows you to configure up to four of your favorite activities so that you can quickly start a workout.
The Health Summary widget collates steps and floor progress, kcal burnt and heart rate. Touching each element shows you the detail. We used this widget to replace the four separate widgets to improve our widget navigation experience.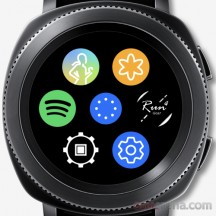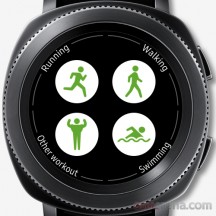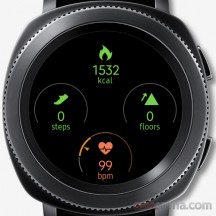 App shortcuts • Multi-workouts • Health summary
You can manually record the number of cups and glasses of caffeine and water respectively that you've consumed in addition to the number of kcals in your meals and snacks through the Caffeine, Water and Food widgets.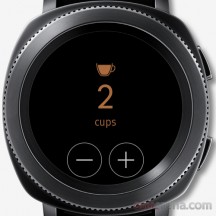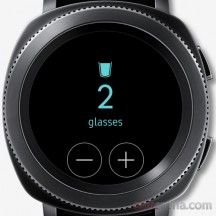 Log your caffeine • Log your water
Apps
Pressing the home button shows you all the apps on your Gear Sport which you select by rotating the bezel and touching the app name in the middle of the screen, if you fancy using the touch screen simply swipe between pages of your apps and touch the app itself.
Within settings you can turn on Auto open apps which automatically launches an app when you've rotated the bezel to focus on the app for a few seconds - this does lead to some spurious app selections though which is presumably why Samsung left this option off by default.
You can also set the app order to Most recent or Custom. You can long press on the app screen and move the app icons around to customize.
Again, we won't cover off all the apps here as most are self-explanatory, but highlights include:
Samsung Health is your health and fitness dashboard, displaying kcal's burned, steps against target, floors against target, activity summary, all day heart, consumed caffeine/water/food, challenges with friends and 24 hour log. Selecting any of this summaries allows you to drill down into greater detail and view your history, and in the case of the activity detail you can start a workout.
Galaxy Apps allows you to select and download watch faces and apps from the store. You can either search for apps, select from curated lists of Recommended, Top watch faces, Top apps or select from predefined categories for watch faces and apps. This also works over Wi-Fi if your phone is out of range.
PowerPoint controller. Samsung Product Planner Sungjin Kim in a recent interview stated that "because smart watch users tend to be tech savvy, and IoT-interactions are becoming more ubiquitous in our lives, when designing the Gear Sport, we prioritized optimizing the device for inter-device connectivity. This ultimately led us to develop cool functions that allow users to use the Gear Sport to streamline how they do things like manage PowerPoint presentations."
So we checked it out, specifically we paired our Gear Sport with a Macbook Air without any issues. During this pairing process we discovered that the Samsung Gear sport is acting as a simple Bluetooth keyboard (up/down cursor keys) and mouse pad. These are activated on the Gear Sport by rotating the Bezel or touching the screen. Not only could we control PowerPoint presentations but Apple Keynote presentations, basically anything controlled by the up/down keyboard commands. Latency was good and in our test we were 15 meters away from the PC. We're big fans of remote control for presentations as it allows you to wander around and engage your audience.
Usefully, the Gear Sport displays your run time and you can set alerts to remind you not to over run or to have intervals when you're presenting your latest 'thang'.