Health & Fitness
From within the Samsung Health app on the Gear Sport you set your profile, measurement units, automatic workout detection and sleep report notifications. You also set the Inactive time alerts, usefully you can also set a schedule by time & day when these alerts will be active. This is independent of your Do-Not-Disturb settings.
All-day activity tracking is well catered for and as expected you can set targets for steps & floors ascended. It would have been nice to see an auto target feature for the step counting to continuously encouraging you to increase your effort. The Gear Sport will auto detect certain activities after 10 minutes. These include walking or running at a healthy pace, cycling, exercising on an elliptical trainer or rowing. It will also detect a dynamic workout if that activity requires vigorous movement.
You can view your activity stats through either the Samsung Health app or via the Samsung Health widgets including steps, kcals burned, floors, heart rate and Caffeine, Food and Water intake.
When you manually start a workout you are given a choice from a number of activities shown in the table below: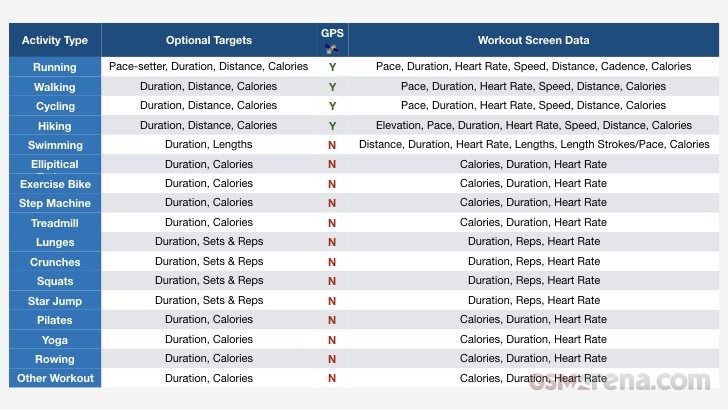 Additionally, you can customize the workout screens themselves, but this is fairly limited in that you're forced to always have three data fields per screen. Conveniently you can have the Music controller as a workout screen.
Before you start your workout, you can set a target based on time or Calories burned, if your activity utilizes GPS you can also set a target based on distance or pace. The Gear Sport doesn't attempt to calculate distance without using GPS for certain key activities so you're unable to set a Distance target when using the Treadmill for example. There is no ability to customize the training targets to support interval training. For example, run for 2 minutes and walk for 1 minute and repeat 10 times.
A surprising omission given their focus on swimming is that Samsung have not included a Triathlon activity. Whilst you could string together the three activities, it's quite cumbersome to move between the three disciplines. If you want to track an open water swim, it's worth noting that the swimming activity doesn't use GPS.
In addition, there is no facility to create a custom workout or copy a workout to give it your own name. In our weight training tests all our workouts were logged under Other workout.
There are a few obvious omissions in what data the Gear Sport either captures and subsequently displays, for example, lap times whilst running and heart rate zones.
If you find the default activity profiles lacking, you can download a number of supplemental apps from the Galaxy Apps store and to this end Samsung has partnered with Under Armour's fitness apps including Under Armour Record, MyFitnessPal, MapMyRun and Endomondo for activity, nutrition, sleep and fitness tracking functions in addition to Speedo for swimming metrics. These apps don't necessarily integrate with Samsung Health.
Daily Activity Tracking
For testing we strapped on the Gear Sport along with a Garmin Fenix 5 on the other wrist for comparison when reviewing activity and sport tracking results.
Steps Tracking - apart from one time when the Gear Sport thought we were sleep walking, the step count between the Gear Sport and the Fenix 5 was within a few hundred steps of each other at the end of the day, which is accurate enough.
Sleep Tracking - In sleep tracking the Gear Sport and the Fenix 5 were within 2 minutes of each other, the difference was most probably down to the fact that they were on separate wrists.
On the surface the two watches did differ greatly reporting the quality of sleep. This is likely a result of how Samsung & Garmin set the thresholds for Deep & Light sleep. Additionally, Garmin use heart rate data during sleep to assist in determining sleep levels. The Gear Sport however was set to measure heart rate every ten minutes in our tests and we can't determine if Samsung utilize heart rate data for this purpose too. So given those differences, when comparing the charts themselves, the two devices have plotted roughly the same peaks and troughs.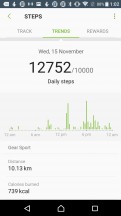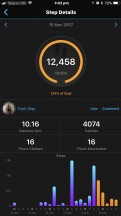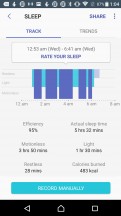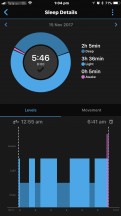 Samsung steps summary • Garmin steps summary • Samsung sleep summary • Garmin sleep summary
Floors Ascended/Descended - Again, both the Gear Sport and the Fenix 5 were identical in the floors ascended count. The Gear Sport doesn't report on floors descended.
All Day Heart Rate - For our testing we set the Samsung to sample our heart rate every 10 minutes. The sampling rate was anything but that though with gaps of up to 1hr between samples. Samsung may be using some battery saving method or data optimization here. It made it slightly tricky to compare but overall the graphs were in line with each other and more importantly, they generally align with the activities or lack of that we were undertaking at the time. On a few occasions we did observe some deviations with the biggest being 13bpm. These differences were probably a result of poor skin contact. These observations were in line with our expectations from optical heart rate tracking.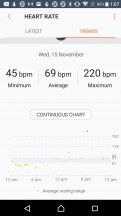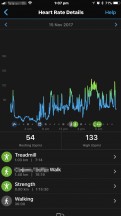 Samsung all day heart rate • Garmin all day heart rate
Sport Tracking
The Gear Sport can't be paired with external Bluetooth heart rate sensors so all the tests were undertaken with the Optical heart rate sensor (OHR) of the Gear Sport.
Test walk - a simple 'walk in the park' test, literally. For this test for comparison we used our Garmin Fenix 5, whilst a smartphone would provide a comparative GPS track. At this juncture it's worth noting that at times the Gear Sport was slow at acquiring a GPS signal in built up areas. Once a signal was acquired though the lock was good.
This test shouldn't have provide decisive but it did. Firstly, throughout all the tests the Samsung recorded what seemed to be a very small sample heart rate! This was no matter what heart rate sampling rate we had set. As for the walk itself, the Samsung reported a lower heart rate than expected.
The GPS accuracy however was what we expected and within tolerances of GPS itself.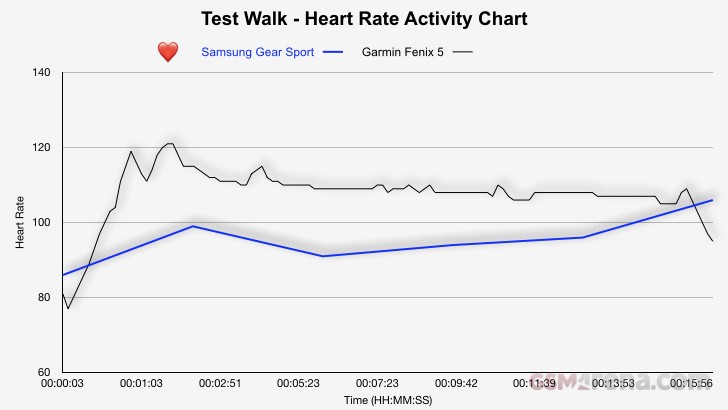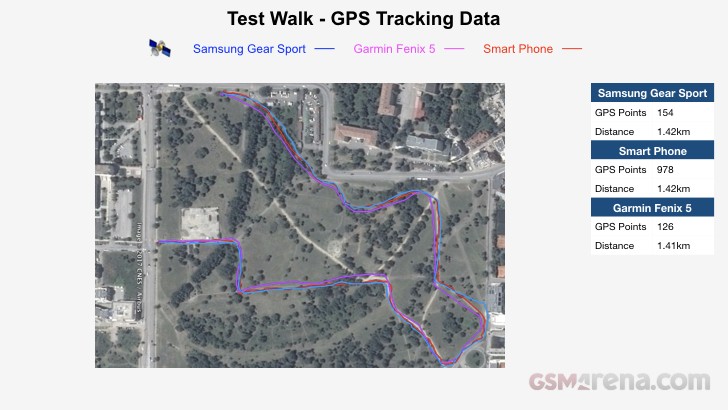 A short 2km jog
For this next test, we went for a short jog in a local park. In addition to the Gear Sport and Fenix 5, we also used a smart phone paired the Polar H10 chest strap HRM to again get the most accurate heart rate data possible all recorded by the Polar Beat app.
Surprisingly, the heart rate data from the run the Gear Sport deviated from the other two quite substantially recording a far higher average than both the Fenix 5 and Polar H10. We didn't expect this as normally steady state runs like these don't usually tax OHR sensors.
When running it's also worth noting that Lap times are not available from the built-in app. Not to be confused with split times that the Gear Sport does log based on distance splits.
Disappointingly, the Gear Sport doesn't calculate your Vo2 Max which is a key fitness metric when running which other fitness wearables give you.
Again, the GPS tracking for all devices was good and well within tolerances for GPS.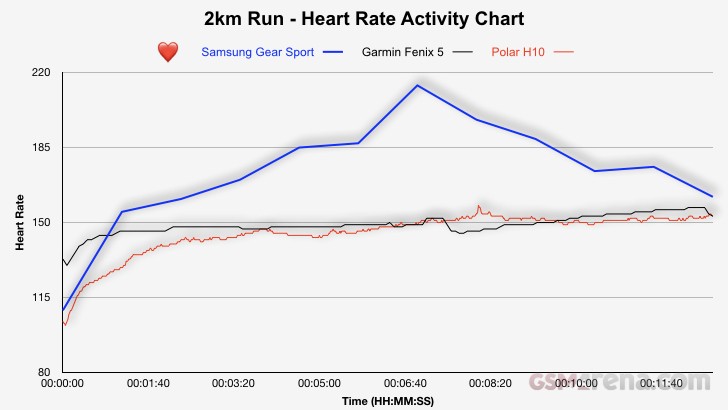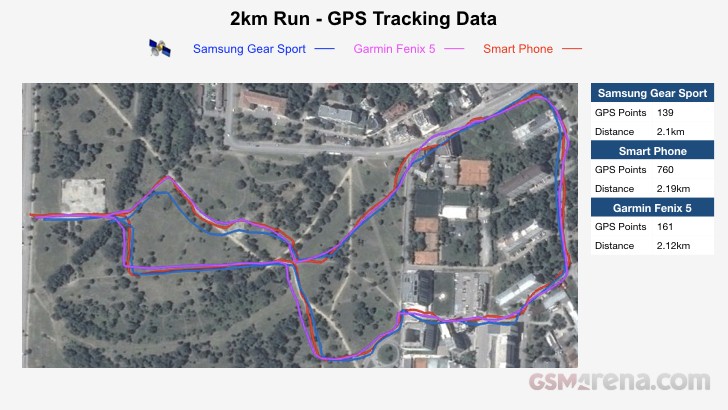 Treadmill Running
The treadmill and Weight Training tests were performed over 2 days with the light treadmill runs designed to get our heart rate up prior to a weight training session.
Treadmill Day 1 Test - We paired the Fenix 5 with the Polar H10 chest strap HRM to again get the most accurate heart rate data possible. As with the Park Run, the Gear Sport recorded a constantly higher heart rate not consistent with either a light treadmill run or my maximum heart rate.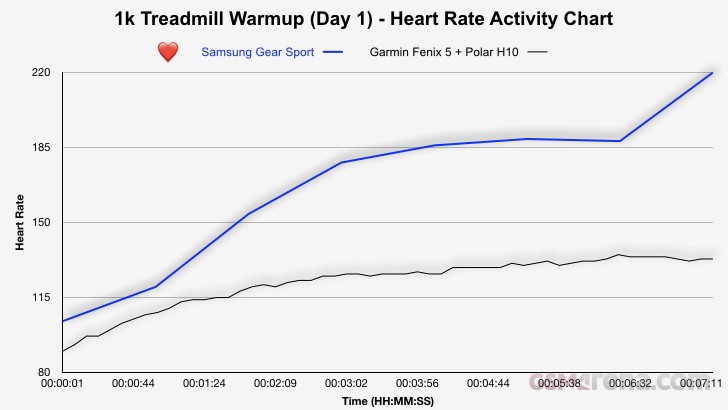 Treadmill Day 2 Test - This time we used the optical heart rate sensor of the Fenix 5. They were closer this time at the start and the end of the run, however for a large proportion of the time the Gear Sport was recording a higher heart rate.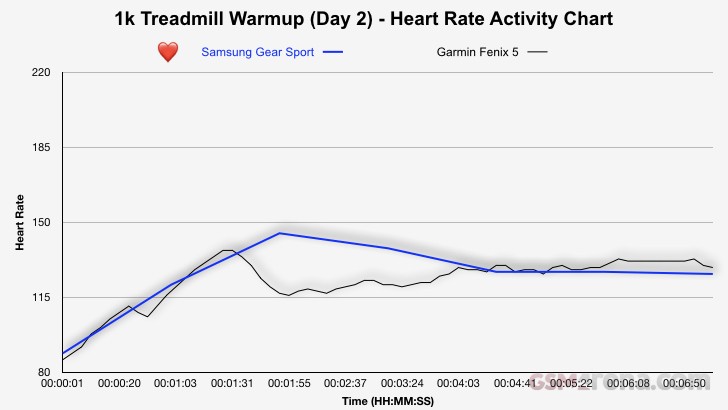 Weight Training
Weight Training Day 1 Test - Fenix 5 paired with the Polar H10. The average and maximum heart rates don't tell the full story here. As expected, the Gear Sport with it's OHR sensor smoothed out the peaks and troughs compared to the Fenix 5 and the Polar H10 which recorded sharper/deeper peaks and troughs as we lifted heavy weights and rested between sets. In this session we recorded 474 Kcal burnt with the Gear Sport compared to 629 Kcal with the Fenix 5.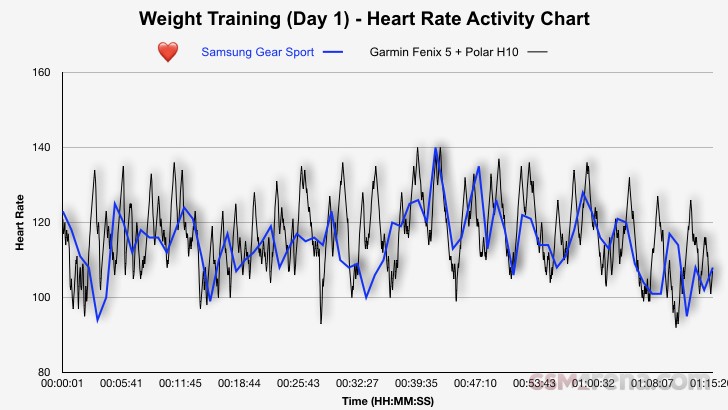 Weight Training Day 2 Test - Fenix 5 OHR and the Gear Sport OHR. As expected both the Gear Sport and Fenix 5 OHR's smoothed out some of the peaks and troughs. It was the Garmin Fenix 5 that was a closer match though to the actual effor undertaken. In this session we recorded 458 Kcal burnt with the Gear Sport compared to 522 Kcal with the Fenix 5.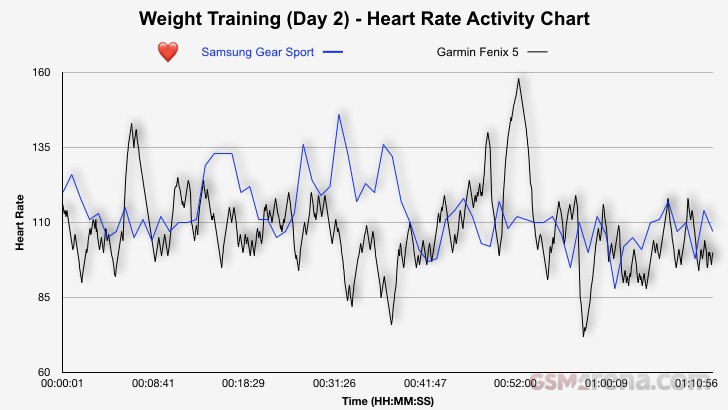 Swimming
Briefly tested by one of the team, they had no issues with the Swimming activity once the pool length was calculated correctly. Your SWOLF score isn't calculated by the default Samsung Health swimming app, you're forced to use the Speedo On swimming app if you want this key swimming metric.