Rumors can never be fully trusted but they often talk of phones that make geeks drool. The unnamed Samsung that entered rumorland today offers 1080p video recording, 4.5-inch display and 1.2GHz processor - or so the story goes.
Leaked slides, allegedly from Samsung, show off what is supposed to be their Android flagship for 2011 - and it's Android 2.3 Gingerbread. The rest of the specs sound too good to be true, so take them with a bucket of salt.
The screen is listed as both 4.3 inches and 4.5 inches "sAMOLED 2". One of these numbers is wrong, but which one? We did hear about a new 4.5" SuperAMOLED screen, however the resolutions don't match. The unnamed Samsung flagship supposedly has WVGA resolution, while the 4.5" prototype sports WSVGA (1024x600). WSVGA should be supported by Android 2.3 Gingerbread.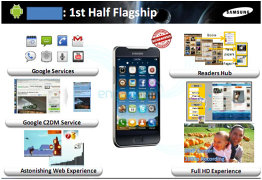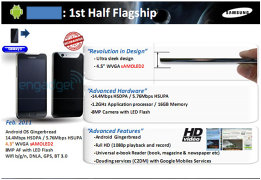 Slides detailing the Samsung Android 2.3 Gingerbread flagship
The slides put the CPU at 1.2GHz clock speed, which could be the successor to Cortex A8 that ticks inside the Samsung Galaxy S. And the Samsung flagship will need it - its 8MP camera can record Full HD (1080p) video.
Other more down-to-earth features from the slides are 16GB built-in memory, GPS, Wi-Fi b/g/n with DLNA, Bluetooth 3.0 and 14.4Mbps HSDPA and 5.76Mbps HSUPA. All this is packed in a "ultra sleek design" - but keep in mind that the picture of a phone held between finger is a photo of an unrelated VoIP phone (which is cause for doubt).
Anyway, the nameless Samsung Android 2.3 flagship will reportedly be showcased at the MWC in February next year.
Update: In regards to suggestions that these info slides are fake - we can neither confirm or deny them. AndroidPolice thinks it's fake and they have prepared a slide of their own explaining the reasons why.
When you go through their explanation, bear one thing in mind. Even if it's an officially existing phone, its representation in the info slide could still be photoshopped simply for illustration purposes by Samsung themselves.
Secondly, there's nothing wrong with the system icons. Yes, they look a lot like the iPhone's, but the Samsung Galaxy S uses similarly styled custom icons as well.
n
samsung sucks at support they dont update and when they do they ship out full of bugs
T
OH HI AGAIN Yes "ANGEL" From my last comment is the same Mean as "ANGLE" just a little typing mistake HEhe ... happens when you write fast with an uncomfortable keyboard. Dudes HOW the Spec. Are NICE i want ONe of these PHONES i...
0
Samsung is really doing an excellent job. will wait for this & will buy it. An Amazing phone with fantasy features...WAAAAAAAAOOOOOOOOOOOOOOOOOOOOOOOOOOOO.
ADVERTISEMENTS