Here come some good news for texters on T-Mobile - there are two new QWERTY phones coming your way. The Samsung Gravity 2 and Samsung Comeback were spotted in the wild a while back, but only now do they make their official debut.
The Samsung Comeback sets up the ground for many properly named sequels, at the small price of not being an actual comeback. The funny name aside, Samsung Comeback takes the Communicator way, being a normal looking, but bulky phone on the outside and opening up to reveal a second, bigger screen and a four row QWERTY on the inside.





Samsung Comeback for T-Mobile USA
The outside display of Samsung Comeback sports a resolution of 128 x 128 pixels, while the inner one comes with QVGA pixel count. Storage can be boosted up to 16GB thanks to the built-in microSD card slot and there's a 2 megapixel camera on board. The Comeback will also pack 3G connectivity, though there's no word on HSDPA support.
Samsung Gravity 2 takes up where the first one left off - classic side-slider with full QWERTY keyboard. Just like the Comeback, it supports up to 16GB microSDs and features a 2 megapixel camera. The most tangible upgrade over the old Gravity however is the 3G capabilities.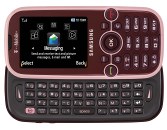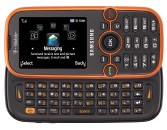 Samsung Gravity 2 for T-Mobile USA
The Comeback is available today for 129.99 US dollars on a contract and the Gravity 2 will hit the shelves in August, its price still unknown. You can get the Comeback in either Pearl white plum or Frost silver cherry and the Gravity 2 in Berry mauve and Metallic pumpkin.
?
does that mean that you can stick a phone charm on the SAMSUNG comeback?
?
their supposed to be teen phones guys
T
i meant the samsung comeback has more features than the saMSUNG GRAVITY
ADVERTISEMENTS