Samsung GT-I9500 made an appearance in Rightware's Browsermark 2.0 database by recording the most impressive score to date. The device is likely the soon to be unveiled Samsung Galaxy S IV.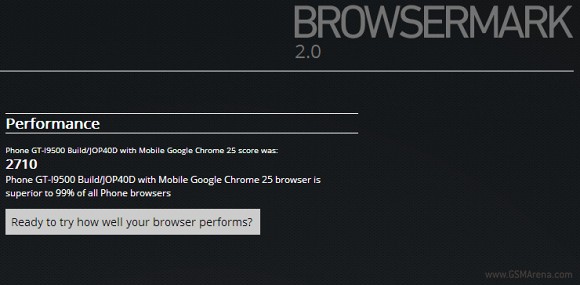 The result you see above is the best we've encountered in our experience with the Browsermark 2.0 benchmark. It is also higher than any score recorded in Rightware's own powerboard.
Here's how the Samsung GT-I9500 stacks up against some of the devices we've tested.
BrowserMark 2
Higher is better
Samsung GT-I9500
2710
LG Optimus G
2555
HTC One
2262
Sony Xperia Z
1865
Oppo Find 5
1797
Nexus 4
1794
Nokia Lumia 920
1774
Nokia Lumia 820
1760
HTC Butterfly
1475
Samsung Galaxy S III
1247
The Samsung GT-I9500 is all but certain to break cover on March 14 in New York City as the long-awaited Galaxy S IV. We will be covering the event live from the spot, so be sure to check in for the full scoop on the device.
I
Shifting back to iPhone admit it man just like Pacquiao gone are the days when IPhone use to rule the world of mobile phone.
D
I just saw it on AnTuTu. Seems to be running 4.2.1 and had a 1.8 GHZ processor. Looking good.
B
These are results based on the experimental 8 core processor that was determined to have issues with overheating and has been changed to the same quadcore processor that's in the LG and HTC that follow it. It's kind of cheating to run the tests this ...
ADVERTISEMENTS