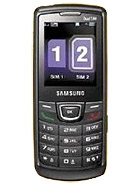 K
good handset.i have bought this mobile today.Price Rs 2000/-(in kolkata)
s
today ipurchased samsung e 1252 (guru dual 26)
from asansol(west bengal)at rs. 1,950/-
nice phone. only negative fm not start without earphone. must buy. i gave it 9 out of 10.
by-
F
Anonymous, 04 Oct 2010it doesn't have memory slot and no gprs it has only fm that's all and also not dual standby ... moreThe micro SD card slot is on the left side, next to the power slot. Just open the back case and you'll find it.
v
in samsung guru 26 if caller busy on sim one then somebody call on second sim then what wil b the response
either busy or ring
S
I purchased this phone 2 days back.
Nice Basic Phone.
Awesome Battery backup.
using a single sim at the moment, but switching is easy.
got it for 2k in Hyderabad.
nice phone to have as a backup while switching bigger ones !!!!
s
it is already launch in india. price is rs. 2,150/- in asansol (west bengal)
R
yes you are right, there is no card slot. No gprs too. only dual sims slot. both are active and standby(dual) but outgoing is fixed on one sim only(can be changed)
?
it doesn't have memory slot and no gprs
it has only fm that's all and also not dual standby only both sims will be active at a time
as i enquired in hyderabad in india
?
Model No of Guru Dual 26, is GT-E1252. It's user manual is available in Samsung India Website
R
OK, this one does not have a 3.5mm jack, a lower phone Dual 25(e1225) has it(only FM no MP3), but why?? Samsung please include 3.5mm jack in phones that play MP3. Also do not launch too many similar feature phones, its dilutes the segment, and please offer color options black samsungs are BORING!
R
First Post! Saw the TVC featuring Aamir Khan. Samsung Guru Dual 26 and Dual 35(looks like e2152, but GSMArena has mentioned it as Dual 36, wonder if it is a mistake) Though Aamir ad s are good, they focus too much on the storyline, & hardly show the phone. Please maintain a balance. Does this have a 3.5mm jack? ..read it somewhere
Total of 73 user reviews and opinions for Samsung Guru Dual 26.