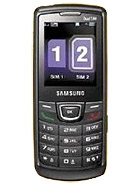 R
OK, this one does not have a 3.5mm jack, a lower phone Dual 25(e1225) has it(only FM no MP3), but why?? Samsung please include 3.5mm jack in phones that play MP3. Also do not launch too many similar feature phones, its dilutes the segment, and please offer color options black samsungs are BORING!
R
First Post! Saw the TVC featuring Aamir Khan. Samsung Guru Dual 26 and Dual 35(looks like e2152, but GSMArena has mentioned it as Dual 36, wonder if it is a mistake) Though Aamir ad s are good, they focus too much on the storyline, & hardly show the phone. Please maintain a balance. Does this have a 3.5mm jack? ..read it somewhere
Total of 83 user reviews and opinions for Samsung Guru Dual 26.