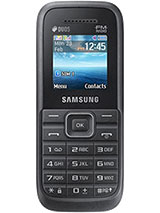 D
nice phone,small in size,comfortable to carry, nice dual sim option.
Good voice quality


D
Bought this irritating phone yesterday. you have to first make one sim default then u can use it to call. This is gross. Other phones are in market which just ask for the sim to be used when u press the call button. u dnt need to keep switching the sims.
MOre than that when i change the default sim from sim1 to sim2. keypad tones are on, even when normal profile is there and i have already muted the keypad tones. Also there is a different ringtone for the second sim that i dint chose.

Besides, there is no ringtone one would want to chose. Nokia 105 is far more better than this. If somebody knows the solution for this keypad tones issue. pls help. i Guess its the handset issue. and just after buying this dabba, i will have to visit the service centre.

g
wow very cute mobile today I got this.am very happy.it's far far far better than micronoki stupid 105 dual sim box. both same price.but Samsung guru plus is king. Amazing thanks Samsung
Total of 54 user reviews and opinions for Samsung Guru Plus .