At the beginning of the month, we showed you Counterpoint Research's numbers for the global Q3 market and today we have a further breakdown, including a cool infographic.
To rehash, in the months July through September Samsung captured the most market share (19%), fending off Huawei (14%), which in turn beat Apple (12%). Oppo and Xiaomi ended on par at 9% each, beating vivo's share by a single percentage point. HMD didn't ship that many phones, but its shipments grew 73% over the same three months in 2017.
The third quarter of 2018 saw 5% less phones shipped, compared to Q3 of 2017 - totaling 380m units.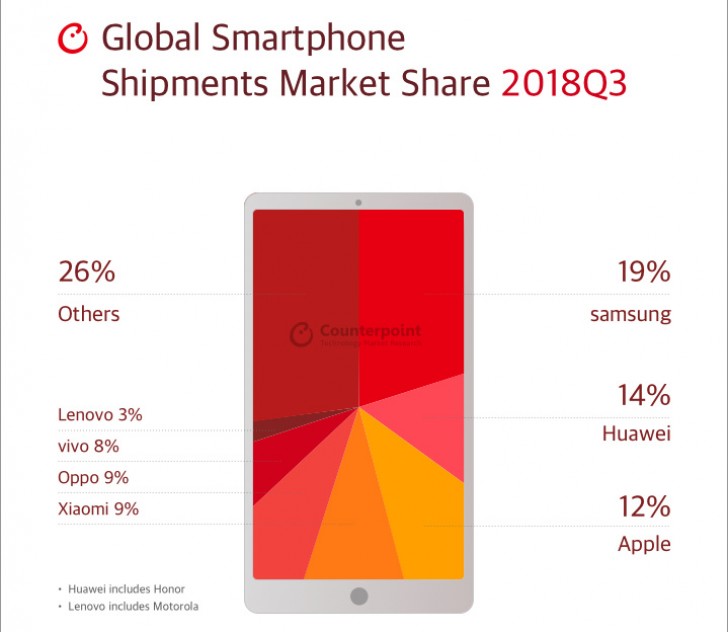 Now the breakdown - Oppo took the Asian market with 16% total, followed closely by Huawei (15%), vivo (15%) and Xiaomi (14%). Samsung was relegated to just 10%.
Unsurprisingly, Apple took the biggest portion of the North American market (39%), followed by Samsung (26%).
Samsung's strongest market was Europe with 31% market share, followed by Huawei's 22% and Apple's 19% - no other makers were close.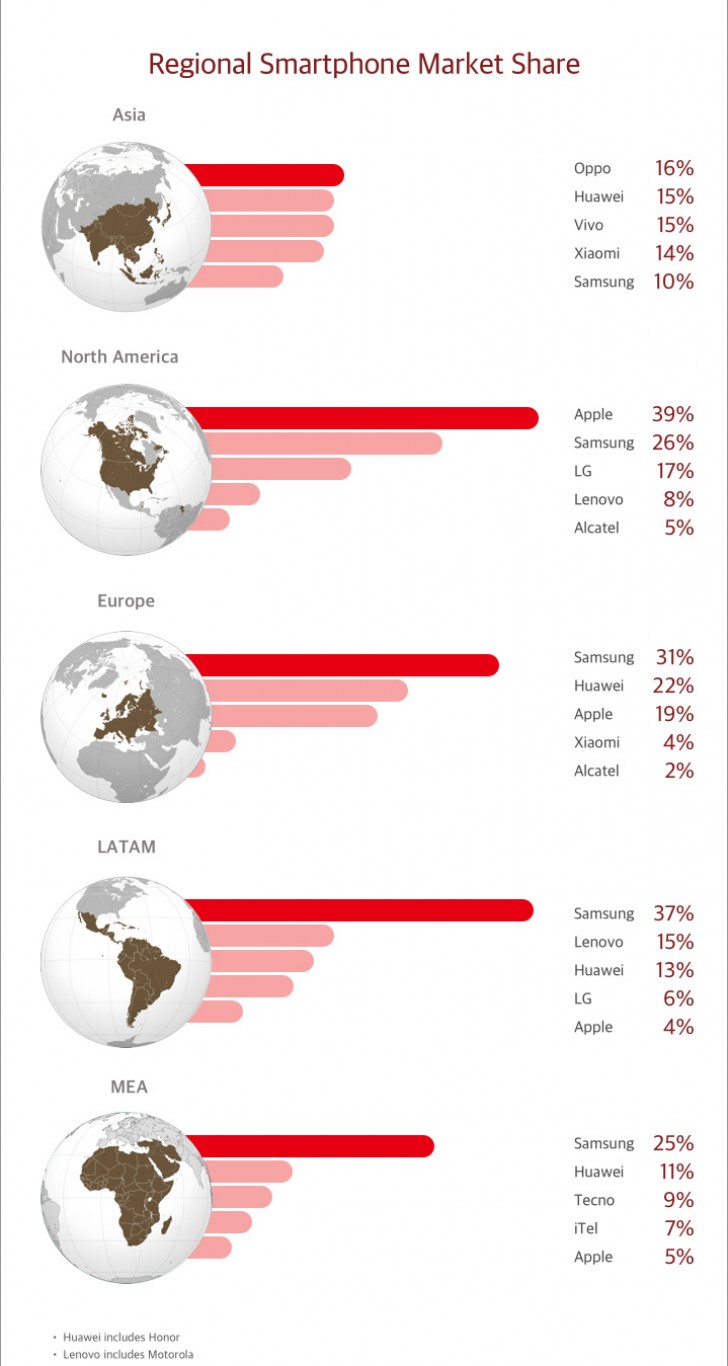 Overall it was a profitable Q3 for some, despite the declining shipments. Samsung posted record profits, while Xiaomi offset a declining Chinese market with a strong showing in India. Apple's shipments were flat but its skyrocketing average sales price helped Cupertino bring in the profits.
C
there are some wrong info! Samsung strongest market was Latam. in which they sold the most! anyways, is wierd samsung not selling that good in asia whereas selling a lot in urope and america and latam!
W
Entirely without US market Huawei still #2 HAHA All I have to say is: when the nationalists in the US Government saw Huawei, they certainly think they saw *Apple's Death Star* or something LMAO, maybe true or not. :) But see them chicken out lik...
?
I'm confused regarding the profit comment at the bottom. Is this comparing their various phone divisions, or the companies' entire overall revenue and operating profit? (i.e. is this including Samsung's fridges, washers & dryers)
ADVERTISEMENT