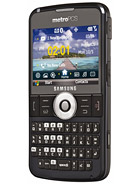 M
After owning the Samsung code for over one year, I am very disappointed at the performance of this phone. It is acting up a lot now. It doesn't deliver text messages there are sent; it does't show the icon for the text messages as well as the voice mail icon; it drops a lot of calls; it doesn't stay in one application for too long, it keeps dropping out of it.
I am not even go into the battery because it has been always a sore point. Very short battery life. Thumbs down.

Total of 1 user reviews and opinions for Samsung i220 Code.