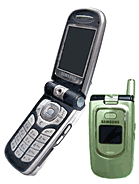 g
It seems like a really good phone not as good as some other sart phones available but its holding its own the question is does it hae mp3 playback ? and video playback ? ..........
j
WOW!!!
a clamshell samsung phone. It's a great phone. If you don't already have it, please get it, it's brilliant!
?
do my eyes deceive me?? a samsung with bluetooth???? really?? please sayits true
M
man this phones looks awesome. i think it could be compared to the motorola v1000. Man there are many new and awesome phones coming out later this year. It will be a hell of a competition.
?
Wow......
at last! A Samsung clamshell smartphone!
s
when is it coming out, where can i get find it and how much is it...cause i really want one!!!
I
da fone rockz..if dey cud get away with dat antenna it wud b better..nevertheless..itz kool !!
j
samsung's mobile phones are number one in the world, also great design,features and performance .. i like very much.....
m
i think its the time to say SAMSUNG is the best company in the mobile phones .. this mobile have anything that you want .. ill buy it
Total of 29 user reviews and opinions for Samsung i250.