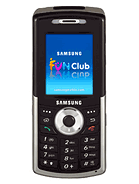 G
Specs look awesome.
The handsfree would be stereo too, I assume. Right?
Also, any ETA on when it will start to sell and price?
u
thers only one thiing missing that would make this fone the best in the world....FM RAdio, but then again, with the huge memory...it doesnt really matter so i guess it is the best fone iv seen os far...but is it coming out....samsung always show new models and never bring them out!
f
240x320 screen, 3gig memory, dual speakers..
i'm in love! too bad it's going to cost a million dollars though.
?
has samsung gone crazy? so many great phone at one go?! dont they afraid that they'll spoil their own market?
J
Arguing about memory is futile, especially if Samsung want this model to compete with the SE W800 / K750 .... where is the radio capability?? Otherwise the 3GB HD is an excellent idea. Wonder how it will effect battery lifetime though ..... duh just bought D500E and samsung go an an issuing spree ...
m
3gb microdrive? why the hell would they need a transflash slot when 512mb aint even out yet? no one shud complain about expainsion with 3gb!!! ok design tho
Total of 330 user reviews and opinions for Samsung i300.