Innovative music controls
The music player looks exactly like on other Symbian 3rd edition devices. At least, that's what you may think when you first look at it. In fact there are two different music players on Samsung i450.
The first one is accessed from the menu and has only minor differences from the one on Nokia's smartphones for example. The other one is activated by sliding the phone down. It is controlled with the dedicated Touch Wheel key and is definitely much better looking.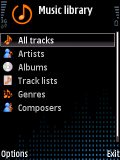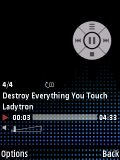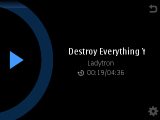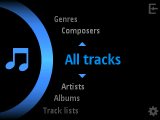 The two music players have little in common in terms of looks
Other than that, there are no changes regarding functionality. As usual, there is support for a huge number of audio formats including MP3, AAC, eAAC+ and WMA. The M3U playlists are also managed flawlessly and files are automatically added to the music library once downloaded to the phone.
Tracks can easily be transferred to the phone via Bluetooth, USB or by simply downloading them from the internet. Upon completing a USB transfer, the phone automatically prompts scanning for new music tracks and, if allowed to do so, adds the new ones to the music library. You can sort tracks based on their artist, album, genre and composer.
The player comes with 14 equalizer presets, which is a count we have never seen elsewhere. However, these work only if a headset is connected to the phone which doesn't really make much sense. Plus, the equalizers cannot be edited and new ones cannot be created. This is not a major flaw and may even be fixed in the retail version of the handset.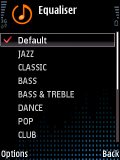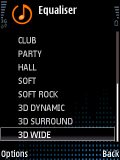 A huge number of equalizer presets is to be found on Samsung i450
Another thing to mention is that the phone also supports the A2DP Bluetooth profile. Not that we can remember when was the last time Samsung released a phone without it, but still worth mentioning. This means that you are able to play your favorite tracks on stereo Bluetooth headphones. We had no problems pairing Samsung i450 with third party Bluetooth headphones, and we guess the phone is perfectly compatible with almost any headset that can come your way.
Samsung i450 also features Real player and Flash player. The video player can display the videos in landscape or portrait mode depending on the user's preferences. You can also switch to full screen to make better use of the large display. When in fullscreen, the Softkey graphics are hidden, so they don't stand in the way, and only pop up when a key is pressed. The good picture quality and the decently sized display make playing videos a nice experience with Samsung i450.
As far as the Flash player is concerned, there is nothing special to note - it does the job it's meant to. No bangs and whistles here.
If you get bored with the preinstalled content on your Samsung i450 you can always turn the radio on for some fresh music. The FM radio automatically scans and saves the available stations in your area. RDS support is also included to make it as good as it can get.
And we come to the audio quality
Being able to listen to your favorite tracks is one thing but playing them properly is completely different. We were somewhat surprised to see that the results of Samsung i450 weren't the best around - and that's something unusual for the South Korean manufacturer.
Now, don't get us wrong they are not bad by any means and are still able to outdo most handsets. However every single Samsung we have tested so far has been exceptionally good. Therefore we are somewhat confused that a supposedly music-oriented handset as i450 falls a little short of that achievement.
However due to the fact that our unit was a beta version, we will refrain ourselves from publishing the results as these may change with the final version.
Browsing your images
Samsung i450 doesn't have the 3D rotating gallery of the Nokia N-series smartphones, which is our favorite among phones on this platform. Images and videos are presented in list view only. However, there are no differences in terms of functionality. You can view the pictures and videos both in portrait and landscape mode, as well as full screen.
Once you pick a picture you can zoom on it and view it in greater detail. The actual zooming is also very fast, in line with the overall performance of the smartphone.
Otherwise the gallery has nice file-management functionality and you can select and send multiple files. Besides, the smartphone has the usual file manager that does a pretty decent job when it comes to filtering files according to the memory used, and marking, moving, copying and managing files.
| | |
| --- | --- |
| "...The player comes with 14 equalizer presets, which is a count we have never seen elsewhere. However, these work only if a headset is connected to the phone which doesn't really make much sense. Plus, the equalizers cannot be edited and new ones cannot be created..." | ADVERTISEMENTS |
As for application management, there is also a separate Application manager. The latter is very familiar, as it doesn't differ from other Symbian devices. Its purpose is to keep track of the installed and removed programs on you phone and facilitate uninstalling of unwanted programs.
Regretfully, Samsung i450 has no feature similar to the "Search" application found on the Nokia handsets. This means you have to spend extra time organizing your applications, unless you want to end up with a mess that will take ages to deal with. Anyways, you can always download third-party applications that are just as good.