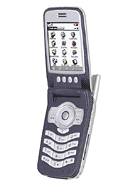 ?
for Korean. no need(no time)to use bluetooth...just crazy for watching movie,taking pics,videos,shopping, buying stocks,send&receive video clips,find the friend(with GPRS)online game(:real time
P
Looks like a smiley face on crack. Samsung is playing catch up with other companies. No bluetooth, lame design.... pass.
S
Can anyone tell me if the Palm OS is better than the Windows one? I know nothing about these things.. as ya can tell.
T
its using UFS. the latest and best color screen in the market currently. better than TFT of coz :) and UFS is developed by Samsung's R&D !
K
I would definitely have loved this phone if it hit a market last year... i mean HELLO !!!! UFB 65K color screen in nowaday???? at least better be TFT !!! actually i love and like to try a palm phone but not this one really !! if u guyz want a palm OS phone, let have a look at others
Total of 28 user reviews and opinions for Samsung i530.